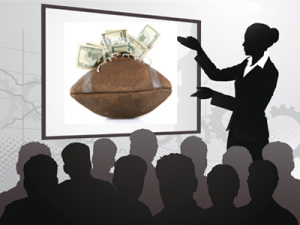 Today's post is courtesy of guest blogger Neda Tabatabaie.
Back in 2005 when I got my first job in the Sports Industry, the NHL had just gone through its first lockout. One year without hockey….I really don't know how Canadians survived! After the lockout was over, MLSE hired 100+ people within a few months, many of whom were new to the Sports Industry. As part of the transition into the organization, we had "training camps", basically classes on different topics relating to the business and the industry. Our COO at the time, Tom Anselmi, held A Business of Sports Training Camp, which was one of my favourites. At the time, a lot of people used to question whether sports is a business and Tom's camp covered three areas that every business needs: business model, strategic planning and leadership. I'm not going to get into the details of the camp here, I just want to touch on what make sports like other business and what makes it different.
What I personally love about sports, beside the competition on the ice, court, pitch and the field, is its impact. There is nothing like the look of a little kid when they meet their sport's idol. I got the opportunity to visit the Sick Kids Hospital once with the Toronto Raptors and I will never forget the reception from the parents and the kids….for a few moments they got to forget about their problems. Sports also brings people together, we saw that after the Boston Marathon bombing and this past week in Canada.
Sport is:
Cultural: Sports is a culture. Think hockey in Canada, soccer in Brazil and baseball or football in US. Personally, hockey helped my transition when I moved to Canada in 1997. I fell in love with it after four months of moving to Canada….I am not having the same experience with football since my move to New York.
Aspirational: Athletes are heroes, icons and celebrities.
Emotional: Despite what Tom Hanks said, there is crying in sports!
Generational: Sports memories are moments in time that bond generations.
Transactional: Sports is the perfect medium for reaching the 18 to 34 demographic.
Like any other business, sports business has products:
Game tickets
Corporate rights and advertising inventory
Executive suites and premium hospitality
Broadcast rights
Broadcast production
Online and media content
Merchandise and consumer products
Community events
Sports also have customers: season ticket buyers, casual fans, broadcast viewers, broadcast and corporate partners, community partners, website visitors and social media followers.
Sports business also has brands. Each team is a brand, just like Coca Cola is.
Products, brands, customers, revenues and expenses, debt, lenders and capital costs, people, policies and processes…that's what makes a business. Sport is a business.
But at the same time, sport is different than any other business. Why?
1. Brand avidity and passion of the fans: No other industry has consumers that are so emotionally invested in them. Sports fans live and breathe their teams. Have you ever
seen people with red wigs and face paint next to the Coca Cola shelf in a store? Coca Cola Tattoos? Grown men in body suites taunting the Coca Cola delivery men?
2. Product quality is inconsistent: My former President at MLSE (Richard Peddie) used to always say that hotdogs taste better when the team wins. Unlike Coca Cola which tastes the same no matter when or where you buy it, product quality for a sports team is always different. Budgets and sales targets are set based on the predicted success for the year. These days more and more teams are using analytics to forecast, set goals and in many cases even dynamically change ticket prices on a day-to-day or even an hour-by-hour basis (similar to airline ticket prices), but the inconsistency of the product is another data point that needs to be factored into the equation.
3. Team dynamics: The sport product is very dependent on the team and there are many hard to measure softer factors that affect the team, like the team and coach's sensitivities and rules, dressing room dynamics, media scrutiny and in some cases player's personal situation. There is also the Collective Bargaining Agreement (CBA) which the teams have to adhere to while trying to run their business. For example, there are only a handful of times that you can demand the full team to attend an event at the same time. Another rule is that the players need to be available to the media after the game (at least in NHL and NBA) or they will be fined for not talking to the media. Just imagine having a horrible day at work and having to do media interviews as you are trying to go home.
Every business wants to win, but unlike other businesses the sports business has two measurements of winning: on the playing field and off the playing field. Believe me the latter is much easier than the former!
If this is a topic that interests you, I recommend picking up "Dream Job" by Richard Peddie. Richard's book covers some great lessons on the sports business, leadership and some inside gossip. My signed copy reads: "Neda, you taught me about CRM!"
Neda Tabatabaie is Vice President, Best Practices at KORE and is responsible for Consulting Services. Prior to joining KORE, Neda was Director, Business Intelligence and Digital at Maple Leaf Sports and Entertainment (MLSE) overseeing CRM, email marketing, research, analytics and digital for the Maple Leafs, Raptors, Marlies and Toronto FC. You can follow her on Twitter at @NedaData.