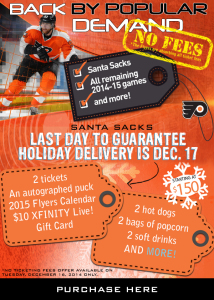 During the Black Friday / Cyber Monday marketing blitz, several teams used the offer of "No Ticket Fees!" as their main promotional message, and for good reason. Customers HATE paying ticket fees, and the removal of these fees as a way to "discount without discounting" leads to strong conversion rates and ticket sales. Well the fact that this works should tell us something about the model teams use with their ticketing partner to sell tickets. Simply put…
If consumers hate ticket fees, then let's stop using them!
StubHub learned this lesson years ago, which resulted in their decision to start using all-in-one pricing. They watched millions of customers browse through their inventory, add tickets to their cart, get to the end when the additional ticket fees were revealed and walk away. They experimented with different tactics on how to use inclusive, transparent pricing from start to finish, and eventually got to a point where they significantly improved fee-driven cart abandonment and increased overall customer satisfaction.
So if StubHub can do this successfully, why can't all teams? The simplest answer is usually because, "that's how the ticketing provider makes their money" which I understand. Ticketing providers sell a valuable platform for teams to manage inventory and transact sales, and as a condition for using that system, the provider gets a small fee for each ticket. This model is not unique to sports, but for some reason, we are one of the only industries that actually highlights this fee structure to our customer (another company that does this is Fandango with movie tickets, which I disagree with for the same reasons).
How do you feel as a consumer when you stay at a hotel that adds a mandatory spa or resort fee when you never use those amenities?
How would you feel if major retail outlets or service providers added on the credit card fee that they have to pay when you reach the register?
What would you do if you were making a purchase on eBay and in the final step, they added a "convenience fee" rather than take the fee from the seller behind the scenes?
If you go back 10-15 years where many tickets were still sold at the box office vs. online, maybe this model made sense for the actual convenience of buying online, but the tables have flipped and it's time to retire it. Customers want to know that the price they see is the price they will pay. They want to spend their money on a product, not on fees. In turn, it should be up to the teams and their ticketing partners to create a pricing model that accounts for both of their needs without highlighting that financial relationship as part of the customer's buying process. Based on StubHub's results, I'm confident this will lead to greater customer satisfaction and more ticket revenue for everyone.