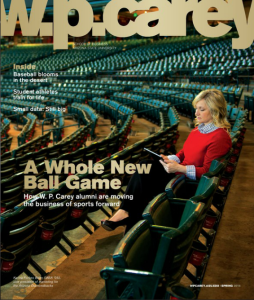 I recently had the chance to contribute to the latest issue of W.P. Carey Magazine, a publication from the business school at Arizona State University (I received my MBA from there in 2008). The Spring 2015 issue of the magazine uses sports business and analytics as an overarching theme. Along with quotes used in the main article "A Whole New Ball Game" by Betsy Loeff, I also wrote a article for their Whiteboard section discussing the impact that small data tactics can have on any organization, in or out of sports.
I've included an excerpt from the main feature below and you can click here to view the entire issue. A special thank you to Liz Farquhar, Managing Editor of W.P. Carey Magazine, for the opportunity!
—–
Pricing it right
"In all major sports in the U.S., 10 percent of the tickets sell for double their face value on the secondary market, and 50 percent of tickets go unsold," says AJ Maestas (MBA Sports Business '05). Now founder and president of Navigate Research, a company he started with fellow W. P. Carey graduate Stefanie Francis (MBA Sports Business '05), Maestas explains that, "maximizing revenue is a common problem in athletics."
His company addresses this problem in several ways. For organizations looking at stadium naming rights, he offers what he calls a Kelly Blue Book of sponsorship value. "Before you walk onto a car lot, you have a reference guide that tells you what people pay, on average, for a given car," Maestas explains. His company creates a similar reference guide, then does research on top of it to ferret out the proper price a company should pay for the benefit of having fans walk into the stadium under a door sporting the company name.
How much are stadium naming rights going for in the marketplace? How many people will see or recognize the sponsorship? How passionate are the fans, and will that passion transfer to the brand name on the stadium? These are the types of questions Maestas considers. His organization also surveys the fans themselves to discover that sponsorship value.
That's the ticket
Of course, all fans care to one degree or another about ticket prices. Now that dynamic pricing has hit stadium and arena seating, prices aren't nearly as predictable as they used to be. The San Francisco Giants pioneered dynamic pricing, notes Bradley Fay (W.P. Carey School marketing doctoral candidate). Instead of "setting prices a year and a half in advance and trying to guess what a ticket is going to be worth," the team began experimenting with a couple thousand seats and found those seats increased revenues by around $500,000, he recalls.
Andy Rentmeester (MBA Sports Business '05) knows there's plenty of room for pricing fluctuations. He is vice president of sales planning and analytics for Madison Square Garden Sports, owners of the New York Knicks (NBA), New York Rangers (NHL), New York Liberty (WNBA) and Westchester Knicks (NBADL). According to Rentmeester, "For each game, we may change the prices five or six times." The payoff can be substantial. "Depending on the game, we can see a 200 percent increase in yield."
The Anschultz Entertainment Group, owners of the Los Angeles Kings and the Los Angeles Galaxy, among others, also uses analytics heavily in ticket pricing, says the company's digital strategy and analytics vice president Aaron LeValley (MBA Sports Business '07). He uses multiple types of analysis before the organization even begins to set initial prices. Among them are regression analysis and visualization exercises, such as a heat map showing where fans most want to sit.
"We create a visualization of how the arena is built and overlay color to show what seats get sold and for how much," LeValley explains. Sometimes, he and his team drive analysis down to each row and even each seat. The group factors in all the possible reasons one seat may be more attractive to fans than the next, including which seats are likely to see more action or where concessions and bathrooms are in relation to a seat. According to LeValley, the process is a combination of "gut feel and market research."
Rentmeester says his organization also looks at trends — what happened year-over-year for particular games with specific opponents. And, ticket pricing is only half the equation: "We're always balancing two things," Rentmeester says. "Revenue maximization based on current market conditions while maintaining our sell-out streak."
Please, take your seats
Unlike the Knicks, most teams aren't defending a sell-out streak. "Sports used to be seen as a recession-proof industry," says Russell Scibetti (MBA Sports Business '08). "No matter what happened, every year teams would put out their invoices and people would pay."
As vice president of KORE Software, a company that makes customer relationship management software for sports, media and entertainment companies, Scibetti helps teams combat disturbing trends: the exodus of fans from the stadium to the living room.
"In football, almost every team used to sell more than 90 percent of their tickets to full season ticket holders," he continues. To demonstrate the change, Scibetti points to shifts in the NFL's blackout rules. Up until 2012, games would only be televised if the stadium was 100 percent sold out 48 hours before the game. Now, teams have the option to drop that threshold down to 85 percent.
One reason teams are fighting for on-site spectators is technology. Fans can sit at home and watch the game on big screen TVs with movie theater sound systems, Fay says. "There's good food and beer in my fridge, and I don't have to wait in lines, fight traffic or listen to someone who doesn't know what he's talking about yelling in my ear."
So, the challenge is moving folks from sofa to stadium. "They call it de-couching," Scibetti says. It's driving huge investments in research and in-park perks.
De-couching the fan
Karina Forbes Bohn (MBA Sports Business '05) is the vice president of marketing for the Arizona Diamondbacks and focused squarely on ticket sales.
"One way we've used analytics is through traditional regression modeling," she says. "We take all the factors known going into the season: who opponents are, days of the week, promotional items we're giving away, add-on concerts and anything else we can include to drive attendance. Then, based on our regression model, we project out single-game ticket sales and measure success based on how far we exceed those ticket sales."
Bohn reports that, overall, the team has come within tenths of a percent in forecasting accuracy for specific games. So, she's working now with the team's business analytics group to uncover more precise details to drive sales success.
"We're not just saying that if we do a bobble head giveaway, it will sell an extra 6,000 tickets," she explains. "We're getting down to saying, 'If we run a promotion on a Saturday and support it with an advertising plan of 400 TRP (Target Rating Points — how many people within a target segment saw the ad based on purchased airtime) and 2 million online impressions, we'll see these results.' We're trying to get better at combining the science and the art of selling baseball tickets."
Click here to read the full article from W.P. Carey Magazine.