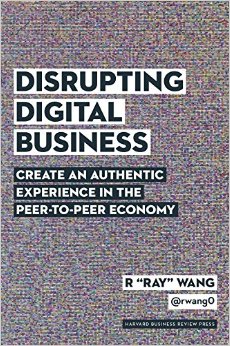 Today I'm excited to share an excerpt from Disrupting Digital Business, a book released earlier this year by R "Ray" Wang. Ray is the Principal Analyst & CEO at Constellation Research, a research firm that advises Global 2000 companies on the future, business strategy, and disruptive technology adoption. Ray has also participated recently in several sports business and technology related events, including a panel on sports engagement at his Connected Enterprise conference, the Seattle Seahawks CIO Summit in January and the SEAT Conference last month.
While his book is not sports-specific, his analysis of how digital evolution is changing business is very applicable for sports teams, leagues, brands, venues, media outlets and more. Ray was nice enough to let me share the excerpt below from Chapter 3, "Data Exhaust: How Contextual Relationships Drive Relevancy and Engagement." I picked this particular section as I'll think you agree the examples resonate with how a sports property needs to engage with their fans across a variety of systems, each of which adds more context to the relationship.
As a bonus, we are going to give away a signed copy of the book to one lucky reader. To enter, all you have to do is tweet a link to this blog post with the hashtag #disruptingdigital – the Tweet button on this post is already set up for you! You must tweet before 5PM ET on Friday to enter, and I'll reach out to the winner early next week. And of course, you can click here to order your own copy via the Harvard Business Review website.
—–
Before the digital age, we had relevancy through our interactions, but not at scale. People's memories of a good shopkeeper or businessperson provided context. Good shopkeepers' reputations or brands were proven over time with each interaction. They remembered what you ordered, what you liked, what you disliked. The history of the relationship was built over time in formal and informal communications. Unfortunately, there was little recorded information in those transactions. But the frequency of interactions and the relationships built over time drove the strength of the relationships. Store owners trained their staff to remember their VIP customers' preferences and purchase histories. This delivery of context was what allowed the best merchants to differentiate themselves.
This level of personalization worked with a small set of customers and products with a limited number of interactions. Great shops were known for their personalized services and their ability to know what the customers wanted before they did. That ability to deliver based on context was critical to the authenticity of the merchant's brand and the authenticity of the relationship. In fact, that authenticity could not easily be copied by a new competitor. Those contextual relationships were a massive barrier to entry for competitors and a barrier to exit for customers.
But in the environment of digital business, things are different. Skill is required to bring back that shopkeeper level of intimacy between businesses and customers. Today, every "check-in," every "like," every purchase creates a digital footprint. And that digital imprint happens when no one is really looking. It can happen across any channel at any time, and it may not always be tracked or always provide a 360-degree view of interactions. This "data exhaust" is made up of everything we interact or engage with. These signals provide the context of our interactions.

continue reading "Disrupting Digital Business – Excerpt and Contest"