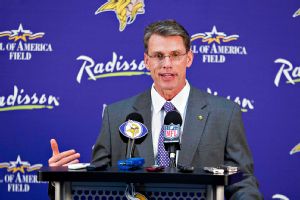 Today's post is a very short one with one very specific piece of advice for teams.
While I know that sponsors pay a lot of money for logo placement all across your press conference backdrop, there are times when logic would dictate use of a team-only branded background. This is especially true when dealing with controversial issues, as we saw this week with Radisson and the Vikings regarding the Adrian Peterson abuse charges. I don't know if Radisson would have stayed a sponsor if their logo wasn't featured prominently during this, but it certainly didn't help. This issue also came up with recent Ravens press conferences dealing with Ray Rice and domestic violence.
There are plenty of ways that a team can "make good" by temporarily redirecting their partners brand exposure to alternate channels. So when in doubt, make sure to protect your partners from the potential backlash that comes with these press conferences and proactively communicate with them during these challenging situations to make sure you are aligned with your partner's goals and objectives.
Photo Credit: Bruce Kluckhohn/USA TODAY Sports