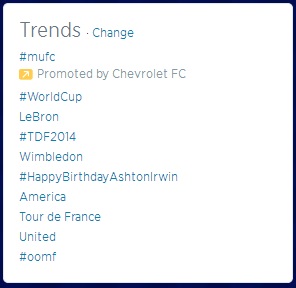 Hopping on to Twitter this morning, I saw that #mufc was at the top of the Trends list, ahead of #WorldCup. While I'm sure this hashtag does trend on its own during Manchester United matches, today it's there because it's being promoted by Chevrolet FC, and account that was created back in 2012 around the time when Chevrolet signed their official deal with Man U to become the official shirt sponsor starting in 2014, which by the way will cost them about $70M per year until 2020-21.
When you click on the sponsored hashtag, you get directed to one of the following tweets. Make sure to watch the YouTube video from the first tweet, and note that the second tweet includes a Thunderclap link.
To wear the shirt is to #PlayFor glory. March through history to prepare for the @ManUtd shirt, featuring #Chevrolet: http://t.co/rkGVMYrfr2

— Chevrolet FC (@ChevroletFC) July 2, 2014
Excited to see the new #mufc kits? Click here to be the first to wear the new look! http://t.co/zK0PUfLgCL pic.twitter.com/J14McUf7bU — Chevrolet FC (@ChevroletFC) June 23, 2014
Also, if you go to the Man U website today, you get this splash page: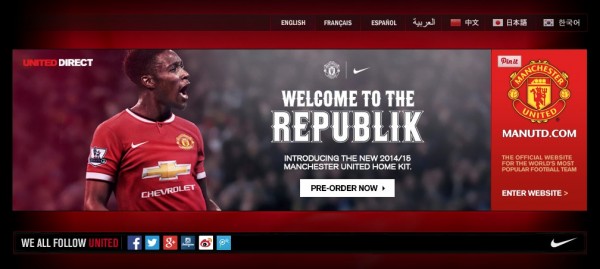 You can read today's official press release on the new home kit here on the Man U site. Overall, I think what Chevrolet is doing today is excellent – here are some of the reasons why:
1. I LOVE the fact that Chevrolet is promoting tweets around the much more organic hashtag #mufc rather than trying to force their own brand-specific tag, which most companies seem to do. They do have the #PlayFor hashtag that seems more tied to their own marketing efforts, which is great, and they are correctly tagging tweets with both to connect the two brands.
2. Great 30-second YouTube clip to tease the release, especially since they were willing to show past shirt sponsors to recognize the team history, and NOT show their own jersey yet, ensuring this really is a teaser video and driving the user to consume more content around the actual release today.
3. By using Thunderclap, there is going to be a release of several thousand tweets and Facebook posts later today, that in theory could reach over 1.7M people. Thunderclap is an emerging social utility that gets people to commit to sharing content, and if you get enough people committed, releases those social messages from all participating users at one time.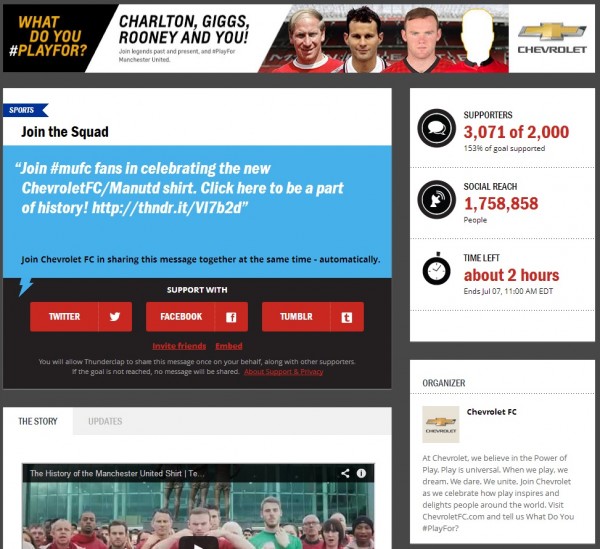 4. I like the idea of the Chevrolet FC dedicated Twitter account, especially since based on the timing, it really seems tied to their United deal. Some people feel that you don't want to split your brand into too many separate accounts, but with the right content and cross-promotion, they will still reach the right audience and drive a higher level of engagement via this account.
5. I don't know how much influence Chevrolet had over this, but timing the kit release during the quarterfinals of the World Cup when global interest in futbol/soccer is at it's highest should provide an ever better lift. This is also great for Nike, who also have their logo on the shirts (FYI, neither company has an official World Cup relationship, so this can be seen as another "ambush" style tactic).
6. The only mildly disappointing thing is that Manchester United seems to be using a different hashtag, #MUFCkit in a lot of their content today. I think Chevrolet would have preferred all content related to today's kit release to use the same hashtag.
Overall, this is excellent social activation around a key sponsorship platform for Chevrolet. I hope other brands look at this as a best practices example they can learn from.