In my most recent perusal of team marketing emails, I noticed one from the Minnesota Timberwolves with the subject line "Win a Suite for the Lakers Game by Completing Your Pack Profile." Being as data and CRM oriented as I am, I decided to take a closer look at how the team was using this email and incentive to learn more about their fans, and I came away very impressed with the process.
To start, here is the email which does a great job highlighting the valuable incentive and giving a brief, honest explanation as to why the team wants to know more about them.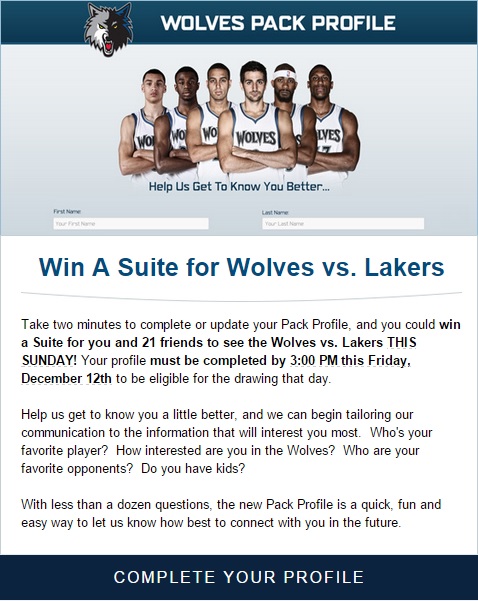 I imagine that when the Timberwolves segmented their database, I was included because as a generic newsletter subscriber, they don't know enough about me to try and qualify my as a prospect. So, they can either attempt to call through their entire database, which will take an incredible amount of staff and time, or they can try to learn more about these semi-anonymous fans and target them with the appropriate products and messaging. Fans are typically quite willing to share information about their fandom to the team, and when you combine that with a valuable incentive such as the chance for a free suite night, the data you get back can have a huge impact on your sales and marketing efficiency
The Timberwolves did a really nice job with this particular data collection effort, breaking the process down into seven simple steps, focusing on key data points that align with their sales, marketing and communications processes. For those interested, I'll walk you through each step of their process below with some of my thoughts. You can also click on the email image above to go through the process for yourself.