Today's post is courtesy of guest blogger Christy King.

I attended the inaugural Sports Business Journal Game Changers conference in New York last year by happenstance. I was frankly shocked that they got the conference content so right. The approach was respectful. The conference addressed the sensitive, emotional topic (for some of us) of women in leadership roles, without pandering. To use the oft-quoted women-in-sports metaphor, they did not "pink it and shrink it." I am happy to report that this year's second annual conference content was just as good addressing timely issues, and presenting current facts and figures.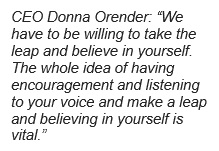 Interestingly, I noticed a new theme pop up this year that I have been pondering. Several speakers mentioned that the conversation about women in sports, and the sports business, should happen in front of a gender-neutral audience. The assertion was women already know that we should be respected, included and promoted, and that businesses make more money when a spectrum of people are included in leadership roles.
In other words, having these conversations in front of an audience made up of 98% women was "preaching to the choir." Due to my experience, I find myself uncomfortable with this idea.
Women working in male-dominated businesses are often seen as ground-breakers and pioneers, but many of us old enough to have watched our mother's struggle – and fail – to excel professionally, have a secret weighing beneath our awareness. We learned to go along to get along, and in so doing, we perpetrate a disservice to both the men we work with, and any women trying to break into new territory.
My professional path has led me to be isolated from other women. Not only have I spent most of my career in news and sports, my expertise is in technology. While I truly celebrate that women have made significant inroads into parts of business, those parts are usually in areas like human resources, accounting, public relations, and marketing. At 46 years of age, I am still far and away one of a tiny minority of women represented in engineering, computer science, TV production and distribution technologies.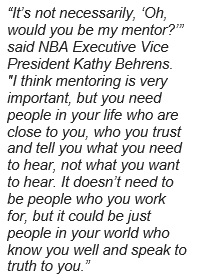 Do I want men in leadership positions to have the facts and tools to understand how business will improve by sharing leadership positions with women? You bet I do.
But I also worked in early childhood education long enough to know that the most profound changes happen for people during so-called teachable moments: Those seemingly small instances where an individual can see someone struggling with an idea, and seize the opportunity to give them a piece of information or insight that will codify their understanding.
The thing to remember here is that the facts being shared about women's positive influence on businesses are still new to some of us. I am absorbing these facts and marveling at the idea of using this information to influence the minds and hearts of our fellow men. Conferences like Game Changers can be an opportunity for someone like me to internalize the latest facts, figures, attitudes, and trends. Only when these ideas have gelled can I go back into "my world" to look for those teachable moments and take action.
There is a personal reason why I think this kind of grassroots, evangelical style culture change is a real and useful idea, and gives context to my perspective.
When Sheryl Sandberg's book Lean In was published, I resisted reading it. Despite my long-time frustration being marginalized throughout my career, I was unable to pick up her book and crack the spine. I found myself both embarrassed and deeply thoughtful about what that meant.
Eventually, I noticed that a bright young woman who worked for me was exhibiting some of the same frustration I remember feeling at her age. I felt at a total loss of what to do to help her, other than commiserate and lamely assure her that she would learn to feel less frustrated. Then it dawned on me what I just said. I had told her that she would learn to subsume her frustration with more emotional grace. As the cool kids say, "OMG! WTF!"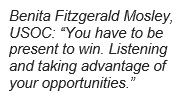 Out of sheer desperation, I finally picked up Lean In and still struggled to stick with it. It was an easy read, but my whole body was resisting every word. What was going on?!
I gave up reading it and started listening to it in audio book form. I feel asleep one night listening, and woke up hours later, sitting straight up in bed. I finally got the notion I was fighting:  I feel guilty.
What I came to understand is that it doesn't matter that I am not driven to be "at the table." When a segment of any society is marginalized, the entire society suffers. Leaning In is not an option for any woman right now, it is a requirement for the success of all humankind.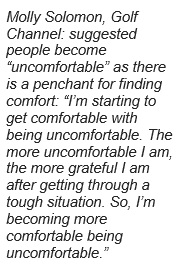 I have always had the skills and expertise to make the companies I work for better, but when they don't ask for my participation in decision-making, I don't participate. Men assume that they are required to participate; women assume they have to be invited. This situation is not only bad for the company, but bad for every young woman who comes behind me. How can I expect young women of today to want to join me in the joys of technical exploration if I don't fight to make it possible for them to fully participate in the decision-making process and power structure?
So we come back full circle to the Game Changers conference and whether it is better to push the content into another conference that makes it more palatable? / easier? / logical? for men to attend or, to continue focusing on an audience of women who I believe still desperately need the language, tools, and information to put strength, straighter spines, better ideas, and power back into our individual lives; spread the seeds of change in our workplaces and communities.
I for one, am perfectly willing to admit that I could use a few more years of Game Changers conferences focused on an audience of women sharing the skills I missed during so many years of trying to fit in with the boys, and get really comfortable with being uncomfortable being seen and heard.
Christy King is the CTO and Co-Founder of the startup mobile video company VidLasso, and serves as the VP of Technology R&D for the sports promoter UFC. She is a recent transplant to New York City where she can be found wandering the subway tunnels ever hopeful she will find her next meeting destination on time. You can follow her on Twitter at @broadtechbiz.