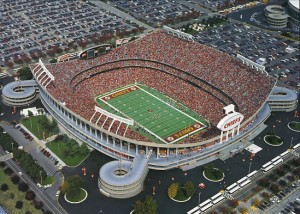 The NFL season is quickly approaching and fans across the country are getting their tickets ready. Game tickets, however, won't be the only way some fans can get into football stadiums this season. Along with games every weekend (and some weekdays), many franchises are monetizing their stadiums on off-days and during the offseason by hosting stadium tours.
While in the scheme of things, stadium tours might seem like a pretty small part of the business, it has several great benefits that could be easily overlooked:
For some fans, the cost of tickets might simply be too expensive for them at the moment, especially in the NFL, but they still want to experience being inside the venue. Think of this as a small first step in the long-term sales funnel for this audience.
On a similar note, stadium tours can provide a great group outing experience. Teams can create special group tour packages for youth groups, local sports teams, business organizations and other special interest groups, and tickets are much more affordable than game tickets. A group could have a great experience via a tour, and eventually upgrade to game tickets.
Every team has a significant percentage of fans that live outside their home market. This is obvious from some of the metrics I've seen where upwards of 75% of team followers on social media are not local consumers. When this audience travels, there is a good chance that your team doesn't have a game that overlaps with their schedule. Making stadium tours available is perfect for this audience, who still engage with your brand via digital, television, merchandise and more. This point is particularly important for international fan development, which is definitely important to the NFL.
Finally, this is a great engagement opportunity for existing season ticket holders. I would give these customers up to four free stadium tour tickets per season, which provides them a great "behind-the-scenes" opportunity. This can be further enhanced by adding a "STH exclusive" component to the tour experience, which would show the other tour participants some of the great value that comes with being a season ticket holder
Jesse Lawrence from TiqIQ has gathered some great data and insights around the prices for NFL stadium tours, which he was nice enough to share below.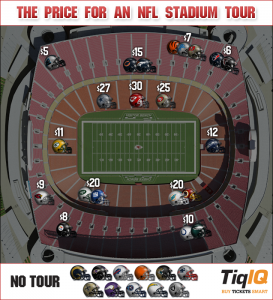 The most expensive stadium tour is at Kansas City's Arrowhead Stadium with a price of $30 for an hour and a half long walkthrough. Opened in 1972, it is one of the oldest stadiums in the NFL. The next most expensive tours are from three of the newer stadiums in the league, AT&T Stadium, Levi's Stadium and MetLife Stadium.
For its inaugural season, a tour of Levi's Stadium costs $25, though the price varies between peak and non-peak days. The tour goes through the main concourses and locker rooms, things that have only been used by the San Jose Earthquakes for an MLS game held against the Seattle Sounders (the 49ers will play their first preseason game there on August 17). If the trend of new stadiums having the highest tour prices continues, the new Minnesota Vikings stadium could have around a $25-$30 price tag for a tour in 2016.
While some of the older stadiums such as O.co Colisem and Qualcomm Stadium do not offer tours, there are some noticeable stadiums absent from our venue tour list that would likely have plenty of demand, including Gillette Stadium in Foxborough and the Mercedes-Benz Superdome in New Orleans.
There are actually eight teams in the league that offer this tour for under $10. The Carolina Panthers offer the most affordable tour at $5, and the Atlanta Falcons and Houston Texans have tours available for just $6. The Cincinnati Bengals, Tampa Bay Buccaneers and Detroit Lions all cost $7, the Pittsburgh Steelers cost $8 and the Arizona Cardinals cost $9.
There are also teams like the Green Bay Packers and Seattle Seahawks who have loyal fan bases and tremendous on-field performance that also have fairly inexpensive tour prices. Tours of Lambeau Field are just $11 while a tour of CenturyLink Field, home of the best home field advantage in the NFL comes in at $12.
For a full list of venues and prices for NFL stadium tours, visit the TiqIQ Blog.