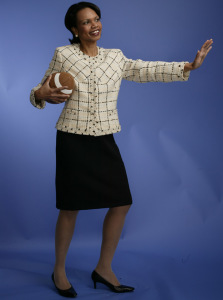 There is a current story in the college sports world where former Clemson coach Tommy Bowden does not like the fact that Condoleeza Rice is a member of the College Football Playoff selection committee. I read this quote yesterday on CollegeFootballTalk.com:
"If the selection committee wants to get it right, and find the most knowledgeable people about the sport of football, go get people who played the game and preferably coached the game," Bowden said at Monday's Knoxville Quarterback Club meeting, according to the Knoxville News-Sentinel. "… But just because she likes to watch football doesn't necessarily mean she knows anything about football."
This actually reminded me of other conversations I've had with sports business personnel that are looking to hire for their departments, where they specifically mention that they want someone with sports experience. You'll also see this on almost every job description on any team or league website. I understand this desire for industry background, as it can be quite valuable depending on the role, but overall, I think in our industry, we can also fall victim to this approach in a way that limits our potential performance.
Now I'm not saying that I'd want to hire someone without a sports background to be a head coach, but that is because the applicant is unlikely to have the skills necessary for the job. However, in most other positions, whether it's sales, marketing, finance, customer service or analytics, the relevant skill set can be developed, and often times further developed by someone who has worked outside of the sports industry. My day-to-day background is more in the CRM, database and digital realm, and I know teams sometimes struggle to find the right new hire in these roles. However, if you expand your search outside of sports, there are lots of highly qualified candidates in this area. I've seen great sales representative come from financial services, excellent customer service staff come from telecommunications and top brand marketers come from retail.
Now you may say the Condoleeza Rice example falls more in line with choosing a coach than a sales representative, but I disagree. The goal of the CFP selection committee is to take an overall set of performance data, evaluate the  performers and come to a collective decision. This is a complex process, which involves more than just understanding of football. There are plenty of coaches and football personnel involved in the committee that have the requisite skills to evaluate the  more intricate components of the on-field product. However, many of those individuals will have differing opinions, some perhaps inadvertently biased. The skills that you need on this committee are related to receiving complex and sometimes incomplete information from multiple perspectives, evaluating the arguments and helping to identify a solution. Now that sounds a LOT like what Condoleeza Rice has tremendous experience with from her political background. And I would go one step further in saying that because she does not have a football background, her decision process is even more likely to be objective, something I think everyone would agree college athletics needs a little more of.
In the last several years, we've seen and will continue to see the sports world go from an "old-fashioned, this is how we always do it" type of business to a modern, sophisticated industry like any other. Our willingness to look towards non-traditional applicants with rich skill sets that just happened to be developed outside of sports is just another way to advance that evolution.