Editor's Note: I'm excited to announce that I will be working with students in the Columbia University Graduate Program in Sports Management to provide additional content for the site. You can follow them on Twitter at @CUSportsBiz. Today's first post comes from their Full Court Press interview series with leaders in sports business.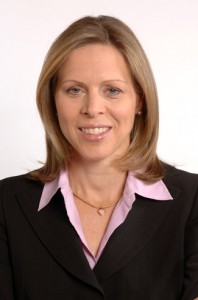 Val Ackerman is the commissioner of the Big East Conference. Tanner Simkins recently sat down with the founding WNBA President and former USA Basketball President for a discussion on her leadership and commentary on her career. Ackerman's brief bio is provided after the Q&A.
**** ***** ****
Full Court Press: For those who may be unfamiliar, tell us about yourself and your work?
Val Ackerman: I'm currently the Commissioner of the BIG EAST conference, which is one of the 32 conferences in Division i of the NCAA.  I previously served as President of the WNBA (eight years) and President of USA Basketball, and am concluding a second term as the US representative to the International Basketball federation (FIBA).
FCP: Why sports?
VA: I've had a lifelong interest in sports.  I played many sports in my home town growing up, was a varsity letter winner in three sports in high school (field hockey, basketball and outdoor track) and attended the University of Virginia on a basketball scholarship.  It's a dream to be in sports as a profession.
FCP: Describe your leadership style?
VA: Hands-on and collaborative.  I'm deliberative and like to have a lot of information before I make a decision.
FCP: What are some industry trends or developments that you are closely following?
VA: NCAA governance reform and NCAA legal actions involving student-welfare (O'Bannon litigation, Kessler lawsuit and Northwestern unionization effort).  Will keep an eye on FIFA World Cup.  Anything having to do with women's sports.
FCP: Who is someone you learned the most from? What did they teach you?
VA: David Stern:  taught me to always be prepared and that no detail is too small.
FCP: What is your biggest regret?
VA: Certain WNBA teams folded under my watch.  I'm sorry we couldn't make the league work in those markets.
FCP: If you go back, what would you tell you?
VA: Balancing work and family is harder than you can imagine and there's no magic formula.
FCP: What was the last book you read?
VA: John Grisham — The Racketeer.  Airport pick-up and it got me through three flights last week.
FCP: Any tips for aspiring sports professionals who may be reading this?
VA: Work hard; be reliable; have a good attitude; follow your passion; make your boss look good!
**** ***** ****
Val Ackerman was named the Commissioner of the Big East Conference on June 26, 2013. She has spent 25 years in the sports business as an attorney and executive, primarily in the sport of basketball, where her experience has encompassed both the men's and women's games at the collegiate, professional and international levels. Val was the founding President of the Women's National Basketball Association (WNBA) and a past President of USA Basketball, which oversees the U.S. men's and women's Olympic basketball program. She currently serves as the U.S. representative for men's and women's basketball on the Central Board of the International Basketball Federation (FIBA), the sport's world governing body.
Special thanks to Tanner Simkins for conducting the interview. Follow him at @TannerSimkins  for sports business insights and analysis.