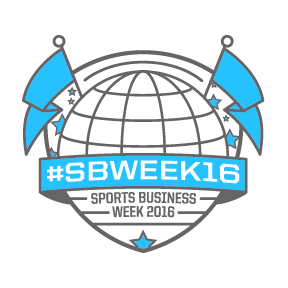 Sports Business Week (aka #SBWeek16) is back for 2016, with networking events taking place around the world throughout the week of September 12th.  This is a great opportunity to come out and network with other sports business professionals that work or live in your area. All backgrounds are welcome, from those just starting out to industry veterans. The format of the evening is very casual, featuring 2-3 hours of open networking over drinks with your industry peers. All of our events will be listed on our Eventbrite page at thebusinessofsports.eventbrite.com, and each city will have its own direct link below. You can also click here for a recap of last year's Sports Business Week.

Tickets for these events are $5 in advance or $10 at the door with 100% of this money being donated to The V Foundation for cancer research. As a reminder, we do NOT make any money from these events. The goal is the same as it has always been – to help fellow members of the sports business community connect with one another. However, one of the best parts about working in this industry is how charitable it is and how sports can be used to support the community. As such, our goal for this year is to have events in 50 cities and raise at least $10,000 for The V Foundation!
Here is our list of cities that are either participating or we are trying to expand to – we are still working on dates and locations, so as details get confirmed, we will add links to each registration page. If you live in a city that you don't see on this list and want to help bring #SBWeek16 to town, live in a city where we're looking for a host, or just want to find a way to help with any location, please click here and let us know!
U.S. Cities
Atlanta, GA
Austin, TX – Looking for a host!
Baltimore, MD – Looking for a host!
Boston, MA
Charlotte, NC – Monday, September 12 at 6:00PM at Queen City Q
Chicago, IL
Cincinnati, OH – Looking for a host!
Cleveland, OH
Columbus, OH
Dallas, TX
Denver, CO
Des Moines, IA
Detroit, MI
Houston, TX – Looking for a host!
Indianapolis, IN – Looking for a host!
Jacksonville, FL
Kansas City, MO
Las Vegas, NV – Looking for a host!
Los Angeles, CA
Miami, FL
Milwaukee, WI – Looking for a host!
Minneapolis, MN
Nashville, TN – Looking for a host!
New Orleans, LA – Looking for a host!
New York, NY
Oklahoma City, OK
Orlando, FL – Wednesday, September 14 at 6:00PM
Philadelphia, PA
Phoenix, AZ
Pittsburgh, PA – Looking for a host!
Portland, OR
Raleigh, NC
Sacramento, CA
Salt Lake City, UT – Looking for a host!
San Diego, CA
San Francisco, CA
San Jose, CA
Seattle, WA
St. Louis, MO
Tampa, FL
Washington, DC
International Cities
Amsterdam, Netherlands
Barcelona, Spain – Looking for a host!
India: Bangalore, Delhi, Mumbai and maybe more!
London, England – Wednesday, September 14 at 6:00PM
Melbourne, Australia
Montreal, Canada – Looking for a host!
Paris, France – Looking for a host!
Sao Paolo, Brazil
Sydney, Australia
Toronto, Canada
Vancouver, Canada
Wellington, New Zealand
BONUS: We are also working on putting together a "virtual" event to cap off the week on Friday, September 16th – more details coming later!