Sports Business Office Hours TODAY – Thursday, November 9th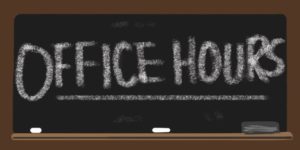 Special announcement for today – please read…
Remember back in college when your professor would have extra time where you know they'd be in their office and available? You could use that time to ask questions about an assignment, prepare for an upcoming exam or just discuss any topics on your mind from lecture that week.
Wouldn't it be great to have office hours for work the same way we did for school? Well today we do!
By a stroke of luck, my schedule today, Thursday, November 9th, is completely open so I'm doing something a little crazy. I will have a GoToMeeting line (below) open ALL DAY from 9AM to 5PM ET (I may have to pop out occasionally but I'll "post a note" on the GoToMeeting screen).
Bring any and all questions! It could be about data & analytics. Maybe I can help you with a dashboard you're working on. We can talk about career development or technology platforms. Heck, it could be about almost anything and I'll do my best to help! Anyone is welcome to participate, professionals and students alike!
Please share with anyone that might be interested in this today, and if it goes well, maybe I'll make it a regular thing once or twice a month.
https://global.gotomeeting.com/join/996993029
You can also dial in using your phone:
United States: +1 (571) 317-3117
Access Code: 996-993-029
Here are a couple of international phone numbers in case you're outside the US:
Canada: +1 (647) 497-9379
United Kingdom: +44 330 221 0097
Thanks in advance for participating in this experiment and I hope it can be useful for some of you today!