LAFC Announces Heineken as a Golden Boot Club Founding Partner
Time for some recent news from around the world of sports business. As usual, I'm going to share the contents from the official press release and then my own quick thoughts.
Official Press Release: Heineken And LAFC's 3252 Supporters Union To Collaborate On Design Elements Of First-Ever Supporters Dedicated Bar At Banc of California Stadium
The Los Angeles Football Club (LAFC) announced that Heineken, the world's leading international premium beer brand and the official beer of Major League Soccer (MLS), will take its place as one of the club's Golden Boot Club Founding Partners as LAFC prepares to kick off its inaugural season in 2018. The multi-year partnership with LAFC further establishes Heineken's commitment to the global game of soccer, with Heineken serving as the "Official Domestic and Import Beer of LAFC".
"The Heineken brand is connected to soccer at the highest level throughout the world – from MLS to the UEFA Champions League," LAFC President and Owner Tom Penn said. "This is another exciting and historic development for the club as we move forward with Heineken towards our shared goal of uniting the world's city through the world's game and providing an unparalleled match day experience for our supporters."
Heineken joins Banc of California and Delta Air Lines/Aeromexico as LAFC's inaugural Golden Boot Club Founding Partners. The Golden Boot Club provides exclusive access, visibility and experiences for LAFC's founding partners.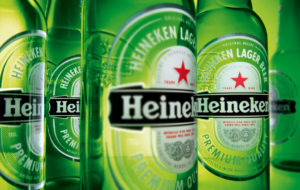 "Heineken's commitment to growing the beautiful game in the United States is one of our top priorities, and this partnership with LAFC from the start helps us grow and connect with what we believe will be one of the league's premier clubs, in a market we know and love," said Pattie Falch, Director of Events and Sponsorships at HEINEKEN USA. "Signing on early was important to us, and we look forward to offering our portfolio of premium, high end import beers for years to come."
Heineken and LAFC's 3252 Supporters Union will collaborate on the design and implementation of the first-ever Supporters dedicated bar at Banc of California Stadium. In addition, Heineken will play a leading role in enhancing the overall beverage experience at Banc of California Stadium.
"We are ecstatic about our partnership with one of the most iconic premium international beer brands in the world," LAFC Senior Vice President of Corporate Sponsorships Jamie Guin said. "Heineken is a world leader in the sport and we look forward to making history together."
Heineken will serve as the Presenting Sponsor of Rivalry Week and help promote the club's community initiatives such as supporting local adult soccer and futsal leagues in Los Angeles and on a campaign promoting responsible drinking. The partnership also includes IP rights, an immersive stadium brand experience, digital signage, retail activation and unique fan engagement.
My thoughts:
This is a natural brand fit for Heineken, continuing their use of soccer-related assets and tapping into the massive Los Angeles market that LAFC has already done an impressive job of connecting with before even a single game has been played. The combination of physical assets, digital assets, IP, local activation and Rivalry Week role (which is a large platform for MLS) ensures that Heineken gets the most value from the relationship.
The most interesting part to me is how Heineken is both the official domestic and import beer. Many properties would look to leverage that into two separate deals, but it must have made more sense for LAFC to create a single, larger relationship, which of course helps Heineken keep a stronger hold on the entire category.