A Suite Director Becomes an Entrepreneur
Jessica Gaffney, formerly a premium seat executive with organizations such as the New York Jets and Aramark, has taken her lessons learned from the sports industry and started her own business that enables teams to increase engagement by delivering white-glove service to their most premium clients.
By Jared Frank, ALSD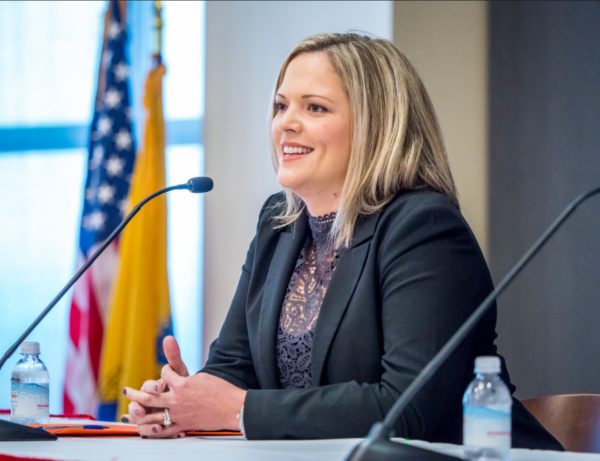 Jessica Gaffney knows how to service the VIP customer. She's done so her entire career and at the biggest events we have in sports and entertainment. With two decades of industry experience, Jessica is continuing her passion for pleasing people and has followed her dream of starting her own company.
The company is called Wavework, Inc. and features the product Wavework Concierge, a web-based platform and accompanying mobile app that provides a one-stop premium communications hub and white-glove service offering to premium seat holders on gameday… and every day.
"Forget in season versus offseason," says Jessica Gaffney, Founder and CEO of Wavework. "We want to help create an everyday season."
Coming Out of Her Shell
Jessica herself is a woman of all seasons. She speaks three languages, enjoys her two young children with her husband, and enjoys a day at the Jersey Shore whenever time allows for it. The native of northern New Jersey began her sports and entertainment journey at the University of Maryland.
"I always knew I wanted to go to a large school," Jessica remembers. "When I visited Maryland and walked on campus, it just felt like that's what college was supposed to feel like. And the proximity to Washington, DC and the opportunities that location would present really won me over."
The young Terp double-majored in Communications and French, which she admits has only been directly applied on a few vacations to France and to St. Barts. But languages, like music, have other uses for ambitious right-brained thinkers.
"Languages always came easy to me," Jessica says. "When I applied to college, I did not know what I wanted to major in, so I put French down, and that was that. But being able to communicate in different ways has helped me to be able to adapt and evolve in my professional life."
While mastering verb conjugations, Jessica became active in SEE (Student Entertainment Events) at the University of Maryland, an organization that works to bring entertainment acts to campus. "From there, I just knew I had to be in the event industry," she says. "That's where my passion began."
Breaking into the Biz
After graduation and a sojourn in Europe, Jessica slipped her foot in the door at FedEx Field, where she worked for Ridgewells Catering, a premium hospitality provider for many major spectator events throughout the country at the time. While a greenhorn at Ridgewells, Jessica had opportunities to travel and work multiple events, some as big as the Super Bowl and the U.S. Open Golf Championship – an enviable start to a career in sports.
Her next step took her back north, a homecoming to New Jersey. Aramark scooped up Jessica and hired her to oversee premium services at Giants Stadium, which was the home of the New York Giants, Jets, and MetroStars (now Red Bulls) of Major League Soccer.
"I'm no stranger to the hard work that goes into major events," she says. "It's certainly not a 9 to 5 world."
From Giants Stadium, Jessica took a giant leap forward, becoming Aramark's General Manager at two executive conference centers in Midtown Manhattan for Citigroup. After a few years with a more predictable lifestyle without working weekends or holidays, she caught the sports bug again in 2010, returning to the industry to work for the New York Jets. At the time, the Jets had relocated their team headquarters from Long Island to New Jersey and were preparing, with the Giants, to open MetLife Stadium.
The opportunity was one-half serendipitous, one-half the result of a strong network. After opening MetLife Stadium, Jessica oversaw premium services for five seasons.
"I firmly believe everything in life happens as a result of timing and relationships," Jessica says.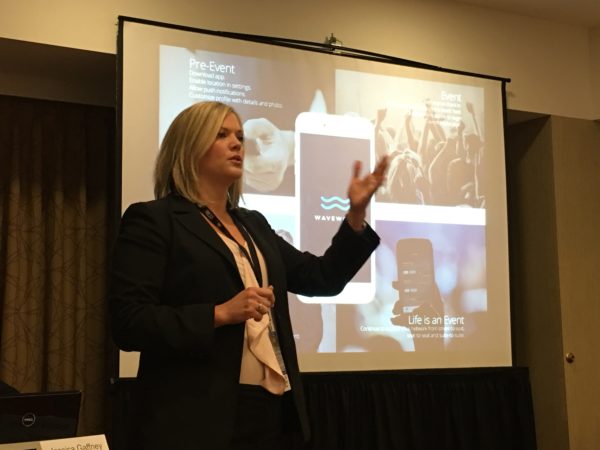 Riding the Wave
Through her years of relationship building and managing the needs and wants of sophisticated premium seating clientele, an idea started to grow in Jessica's mind.
"[Premium seat holders] are not easily impressed with free swag," she says. "Those things don't win them over. They're looking for business development opportunities."
Seeing an opportunity to bring value to corporate end users and a greater return for their business investment, Jessica, with her idea in tow, dove headfirst into the deep end of the pool. Making waves in doing so, her idea became a company called Wavework.
Pulling from anecdotal personal experiences as well as industry-wide end user research and ongoing conversations with venues, Jessica and her team fill a common need. As readers of this publication will know, premium clients, although a small percentage of overall seating capacity, represent a significant percentage of overall revenue for any team – 40% on average. Yet those same seat holders can be the most underserved customers in the building.
"The level of spend does not match the level of service that [premium clients] receive," Jessica says.
Oftentimes, teams are lightly staffed on the service side. Adding salaries, health insurance costs, and payroll taxes for additional customer service providers is difficult for any bean counter. It's easier for a manager to ask a CFO for more salespeople because those additional hires come with a quantifiable return. Wavework's aim is to bridge that gap and expand the existing capabilities of service teams with a technology solution that improves service levels but does not necessitate adding headcount or any of the ancillary costs incurred in doing so.
So What Is the Solution?
In simplest terms, Wavework Concierge is a powerful engagement tool for teams, venues, and end users. It improves service levels, and improved service levels increase retention rates.
As we've established, service staffs are often small. Wavework Concierge solves the problem of a person only being able to be in one place at any one time. On any given gameday, an individual service provider can realistically only get to 10%-15% of the clientele. Even with departments that divide and conquer and supplement staffing with part-time workers, overall bandwidth is limited.
Also part of the value proposition are analytics features used to capture service team performance through its response rates, as well as live polling of end users to measure premium clients' satisfaction, or dissatisfaction that needs to be addressed, before they leave the venue.
"[Teams] can identify operational and staffing needs based on those analytics," says Jessica. "It's not as easy to measure results on the service side. However, we'd probably all agree that keeping a client is much less expensive than trying to get a new one. And that's our focus. We're collaborating with teams to assist them in their retention efforts on an ongoing basis, and not just when the need is upon them."
The entire web-based (and mobile-friendly) platform integrates with a team's existing CRM. A live chat feature (think of it as a text message service) allows clients to directly reach service reps every day, not just on gameday. Automated responses can be programmed as well to answer frequently asked questions. All communication is archived to create a living history in every account profile.
"A CRM is an incredibly valuable data collection tool that many teams live or die by, but unfortunately, a CRM is not an engagement tool," Jessica says. "It is simply a database."
As an engagement tool, Wavework Concierge demonstrates its value by aggregating all relevant event information in its news feed feature. As noted by a recent ALSD Member Question, many teams are looking for different ways to communicate with suite holders outside of the numerous, often repetitive, emails sent out every week. Wavework Concierge provides a hub for suite holders to access information about SRO's, parking passes, upcoming events, etc.
In Lance Tyson's editorial in the Spring 2017 issue of SEAT Magazine, we learned that 20% of corporate email marketing doesn't even make it to the intended recipient's inbox. In lieu of the multiple emails teams send out (that are probably not read, and possibly not even received), the news feed is a virtual assistant available for guests to read materials at their leisure. Suite admins will no longer fumble through an avalanche of emails to look up how to procure more parking passes, order catering, or address any of the seemingly infinite details of gameday. Wavework Concierge is essentially an all-in-one web-based platform for all things premium.
"We did a nationwide survey of actual premium seat holders and received feedback stating they are frustrated by the overload of email communication," Jessica says. "They want to know what pertains to them specifically. They want ease of use, real-time responsiveness, and to stay connected to the team to access the exclusive benefits that their contracts promise them."
Digital Sponsorship Opportunity
The Wavework Concierge business structure entails a one-time set-up fee, which includes onboarding for staff and clients and a white label of the platform so it will have the brand, look, and feel of each team. Monthly fees are assessed for ongoing licensing, maintenance, and support.
To offset costs, teams can offer sponsorship of the platform, creating a direct marketing channel to the highly desired premium audience.
"We've considered the costs to a team, and have incorporated the ability to add sponsorship to this platform to allow [teams] to pass through the costs and generate revenue with a new digital sponsorship asset," says Jessica.
White-Glove Service
Most teams have a mobile app offering at this point, providing fans access to videos and photos, team rosters and stats, transportation and in-venue wayfinding, as well as much more. But those solutions often don't reach the premium audience, and are meant for a different set of end users. Wavework Concierge is premium-centric. It's a one-stop hub for streamlined communication, a one-stop access point for premium clients to maximize their benefit redemption, and a "white-glove service" for team reps to anticipate needs and position value.
"The Wavework Concierge platform supports teams in driving engagement with their most distinguished and valuable clientele, creating efficiency in that service department, adding value to those relationships, and elevating the overall experience," Jessica summarizes.
The platform is currently available for demonstration, and teams will begin onboarding in June.
"There's always apprehension being a trail blazer and implementing something new," Jessica says. "But what is a unique differentiator that sets us apart as an expert in the space is that I've lived in this world. This is a tech solution created by someone who understands the unique challenges of the business. Our goal is to support teams in their best efforts, and to help them do what they already do well even better."