Sixers Trust the Innovation Process
On and off the court, the Philadelphia 76ers are a well-known commodity. Recently due to their coined 'Trust the Process' people are taking notice of the potential of their young, talented opening day roster for this upcoming season. But it might be their off-the-court roster focused on startups that could soon attract more than a few eye balls.
Yesterday, the Sixers opened their doors to an 8,000 square-foot space at their new Philadelphia 76ers Training Complex in Camden, New Jersey. These doors are opened thanks in large part to City of Camden Mayor Dana Redd who believes that, "great energy will come from the Innovation Lab and we can feel it already. We know that others will come, grow, and inspire to new heights here."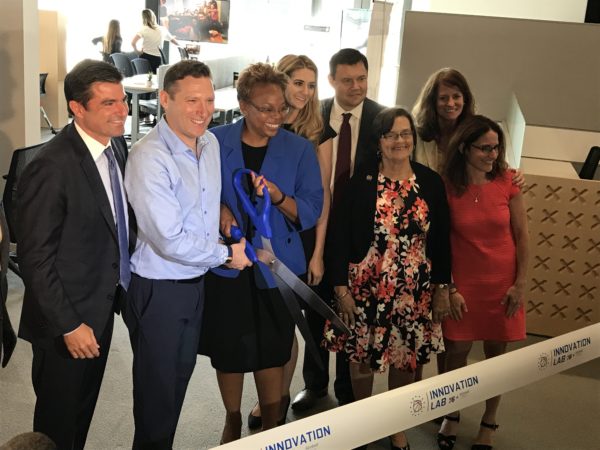 The office complex is forward-thinking and conveys the ambitious mentality the Sixers and their constituents plan to embody. The Sixers sponsorship team approached Kimball Office, known for their award winning office furniture which inspires productivity and collaboration, to craft the Innovation Lab's look and feel.
Mike Wagner, General Manager of Kimball Office, noted the importance of the focus when dealing with the Sixers. Their sponsorship team asked what mattered most and Wagner told them the adaptation of the furniture business and the aspiration to be like the Google's of places to work. Wagner elaborated on the details reciting the Sixers turned around a proposed concept in a week and the ideation became a reality which you see in the Innovation Lab. Wagner credits Scott O'Neill, CEO of the Philadelphia 76ers, with his vision to develop champions within the Innovation Lab.
To help brand the Innovation Lab, Chris Stephens and Maven Creative were instrumental. Stephens' vision is similar to O'Neill's and he stressed that by saying, "This place [Innovation Lab], in a world of takers, will be able to give because no entrepreneur should have to do this [run a business] alone and the Innovation Lab allows them to go through their businesses together."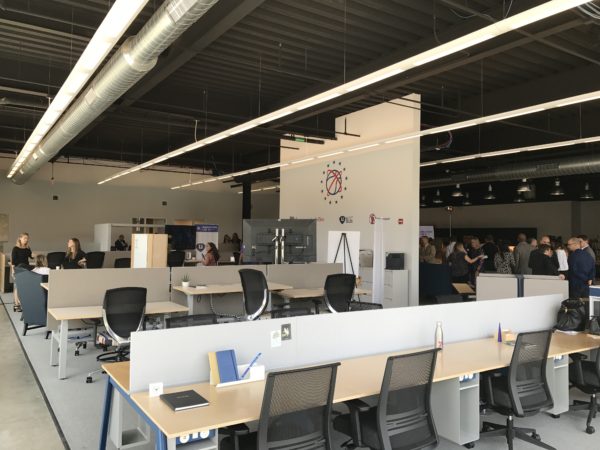 Scott O'Neill knows from his experience that running a business alone doesn't get you too far. He enlisted an old pal and founder of AND1 sportswear, Seth Berger to be the Managing Director of the Innovation Lab. Seth and Scott share a similar mindset focused on business and centered on a relationship with the love of basketball. When the Innovation Lab was a concept, Seth was the easy choice for Scott. Next up would be inviting hundreds of startup companies to begin pitching. As the Sixers open their doors to the Innovation Lab, their ribbon-cutting ceremony includes announcing the four companies who make up their diverse inaugural class.
The youngest entrepreneur of the batch is Dylan Elder and his company Monster Roster. A San Francisco native who postponed his degree from Georgetown University to accelerate Monster Roster with the Innovation Lab. Monster Roster is a daily fantasy sports lineup recommender that combines a unique process and powerful algorithm to help daily fantasy sports users build their best lineup with proven results. Monster Roster has a patent-pending algorithm which will provide optimum recommendations for each position that will allow players to individually complete their weekly lineups. Dylan spoke about how he's been working at the Innovation Lab since August and has already learned more there than any other class or course in college can teach him.
The other companies include esports, pet care, and digital cause media. UGITGUD is an online, training platform ran by Shinggo Lu and Alan Liang that due to the cold in Ithaca, New York took to becoming gamers. They were one of the first witnesses to the growth in esports and feel fortunate enough to be working with a forward thinking organization like the Sixers. These two gamers saw a need in educational resources since there was only YouTube videos and tutorials to analyze gaming performance. Last year, colleges and universities offered $4M in scholarships for esports. UGITGUD will provide a personalized analysis of player's gaming history. Their educational resource will be able to sift through data and analyze tendencies to highlight areas of improvement. UGITGUD is built to help every gamer reach their full potential. With the Sixers being the first team to get into esports, this is a natural fit. The 76ers acquired Dignitas and Apex and with the highly coveted League of Legends Championship Series, these gamers can utilize UGITGUD to improve their skills. 
Dr. Elizabeth Bales focused on keeping cats happy and healthy when she launched Doc & Phoebe's Cat Co. Her first product is concentrated on resolving issues with traditional "bowl feeding" to cats.
A familiar face to Sixers' fans and employees was the CEO of the fourth company, Christian Crosby. Live Life Nice is a cause-driven digital media company with a simple mission to inspire people to Be Nice, Do Nice. Starting out as a trampoline dunker, in-game performer and now media personality with the Sixers, he's jumping into a new role as a founder of a startup company.
These four startups make up the first class. Moving forward, selected companies receive office space in the Innovation Lab, access to industry experts, executives, financiers, third-party branding, marketing and legal services, free meals and housing in the Philadelphia area and the opportunity to pitch industry-leading investors and venture capital firms. For more information or to apply visit SixersInnovationLab.com.
Caleb Mezzy is current the industry relations specialist and a sport management professor at Neumann University. Prior to Neumann University, Caleb's expertise is in sports business, social media, public relations and marketing, and you can follow him on Twitter at @caleb_mezzy.
This slideshow requires JavaScript.