Random Idea: Lifetime Education Partner for Professional Leagues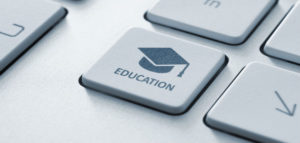 Here's a thought…
What if professional leagues each created an official partnership with an online education provider to provide lifetime access to their athletes?
What prompted this:
There is a renewed discussion going on about the NBA's minimum age requirement, which is currently set at 19. Some want to see it lowered to 18 to allow high school graduates to jump right to the NBA, possibly with the G-League as an intermediate step, while others want it raise up to 20 or 21 to encourage more time at college both for education and training.
Of course, there is a large risk to anyone that makes the jump right to the NBA and bypasses their college education. If basketball doesn't work out, their future career path could be significantly hindered.
My solution:
The NBA (or any league for that matter) can sign on a new partner in the area of online education. This could be an official paid partnership or ideally, the league could forego the partner revenue in exchange for the value that free education can provide to all of their players.
For athletes that do go to college before turning professional, this would still have tremendous value since many of those players never finish their degree. In fact, depending on what program they attended, there's a greater than zero chance that the quality of some of their classes could be "questionable."
I was recently talking to a friend about MLB's development programs in Central America, and this could have a great impact there too, where teenagers often sacrifice even their high school education in exchange for a signing bonus and the outside chance of making it to the big leagues.
For the education provider, whether it's a for-profit school like the University of Phoenix and APUS or the online program at a traditional university like Arizona State and the University of Maryland, this partnership would absolutely drive up their application volume and provide a valuable marketing platform. I see opportunities for league-branded scholarships, new sports business related courses and more.
So do you think this could work? If you work for a league office (or a team for that matter, it can work there too), please feel free to take this idea free of charge and run with it. I think it can be a great think for your athlete. Just let me know if you decide to implement it!