Using Sponsorship to Drive Franchise Growth
I'm used to getting lots of marketing emails from sports teams on behalf of their partners to get me to buy, subscribe, enter to win, sign-up, purchase, learn, test drive, attend, sample and any of 100 other calls to action, almost always with a B2C (Business-to-Consumer) focus. However, today I received one that was quite unique and I can't remember seeing this approach before.
Take a look at the email below from the Philadelphia 76ers in conjunction with their new partner, F45 Training:
Subject: Sixers announce partnership with F45 Training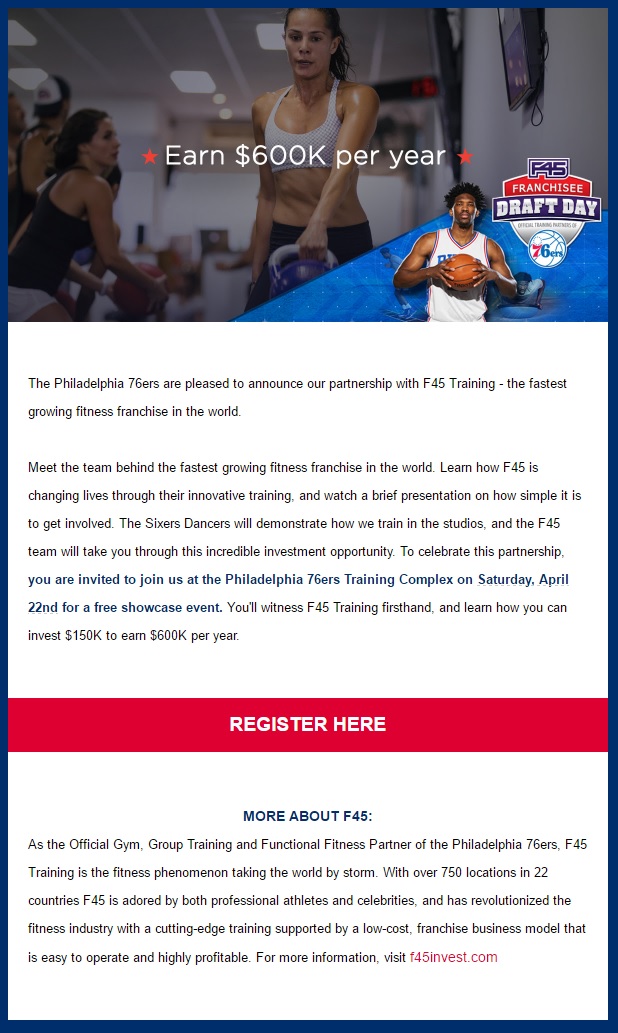 What I thought was originally going to be a standard B2C message around some type of gym membership was actually a B2B message around a franchising opportunity. The call to action is to RSVP for a showcase event (F45 Franchisee Draft Day) where attendees can "learn how you can invest $150K to earn $600K per year."
Additionally, the link at the very bottom of the email is to the company's franchise sales page, f45invest.com, which if you visit, prominently features this upcoming Sixers event.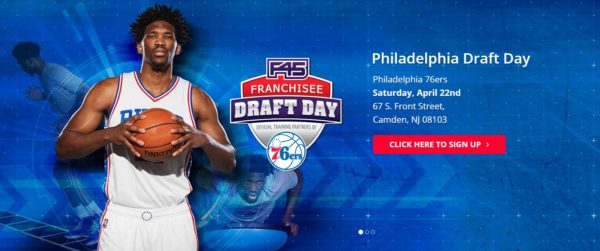 Scrolling down a bit more, it turns out F45 is also the the "Official Training Partners of the Dallas Mavericks" so its possible that deal was also about franchising but I just hadn't noticed since I don't live near Dallas.
Now I don't know what type of segmentation was used for this message. I am signed up for the Sixers email list (I'm subscribed to most team newsletters) and live in NJ, so I'm close enough to be a viable participant in what could be a pretty fun event. Maybe they did some additional targeting based on some demographic or behavioral data that would indicate that the recipient was a viable franchise investor (not something I've ever considered for myself).
Either way, I thought this was a fun take on a new partnership that has a clearly different objective than most, and one that should be fairly straightforward to measure the success of from the sponsor's perspective.