What Can Sports Venues Learn From Movie Theaters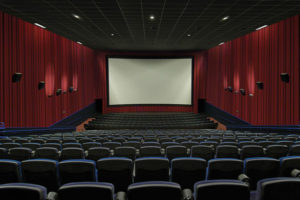 This weekend I had a bit of free time and really wanted to see Logan while it was still in theaters (what can I say, that trailer won me over). Based on the time I was free, I had two options:
10:15AM at a theater about 2 miles from my house
12:00PM at a theater about 5 miles from my house
Logan has been out for a couple of weeks already, so I wasn't worried about needing to buy my tickets in advance. However, when I opened the Fandango app to grab a ticket for that 10:15AM showing about 15 minutes before the start time, I was shocked to see they were sold out. I was a bit disappointed, but hey, there was that noon showing a bit further down the road. Logically, I grabbed those tickets right away not wanting to get shut out again – I guess the good reviews for Logan are driving more sales this weekend than I expected!
Fast-forward about two hours when I arrive at the other movie theater, expecting a fairly packed house but instead I see a whopping three other people in attendance for this showing. This made me wonder, how could one theater be completely sold out while the other was essentially empty?
First, let's identify what these two options had in common so we can eliminate these possible causes:
Content – This was the same movie in same format (no 3D, 4D, IMAX or other special format).
Location – While not identical, these theaters are essentially in the same "market" so I wouldn't expect much impact here.
Time – Again while not identical, in both cases, this was the first viewing of the day for each theater and both were fairly early in the day.
Cost – Since both shows were the first viewing of the day, they were both at matinee prices within $1 of each other.
With that out of the way, let's focus on the things that were different, which is going to give us a pretty clear answer:
Size – The 10:15 movie was at a much smaller theater (9 screens vs. 18) with fewer seats per theater (roughly 30-50 per screen vs 100+).
Seating – The smaller theater had bigger, more comfortable seats that could recline along with pull out dining trays while the other theater had traditional movie theater seating.
Amenities – The smaller theater had a much larger set of dining options (including a full bar, although at 10:15AM, not sure if that mattered yet) and they provided a wait staff that would deliver your order to your seat. The other theater had the traditional popcorn, candy and soda options.
So we have a smaller, more comfortable, more "luxurious" viewing experience that easily sells out the room vs. a traditional movie experience with a near-empty house. This sounds a lot like what sports venues are currently facing when it comes to the composition of their seating options and amenities. There was actually an article in this week's Sports Business Journal that was showing very similar renovations being done in the Diamond Club for the Kansas City Royals, including a picture of "rows of padded theater-style chairs."
Whether you want to talk about millennials, the on-demand economy or any other buzz-worthy topic, a clear common thread is the proliferation of entertainment options at everyone's fingertips, which puts more pressure on any live-event business to create the best possible experience for attendees. And while we are seeing these seating and amenity improvements primarily in what we'd consider the "premium" locations of arenas and stadiums, maybe we need to think more about the rest of the building too. Even consumers with low-disposable income have greater expectations on their entertainment spending – note that in my movie example above, the cost difference between these showings was negligible.
We need to constantly push ourselves to deliver a greater level of comfort and pleasure across every section, row and seat in the house, otherwise it may end up being a pretty empty house.