Interactive Analysis of Fan Cost Index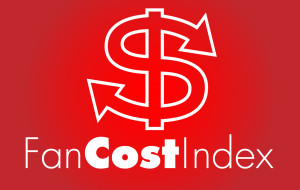 In case you're not already familiar with it, Fan Cost Index is a metric that's been calculated and tracked by Team Marketing Report since 1991 as a way to estimate the cost for a family of four to attend a live sporting event. The specific details vary a little over the years based on the availability of data, but the basic formula is to total up the cost of the following items:
Two adult average price tickets
Two child average price tickets
Four small soft drinks
Two small beers
Four hot dogs
Two programs
Two adult-size caps
Parking.
Recently, I discovered that Rodney Fort, Professor of Sport Management at the University of Michigan and author of Sports Economics, has put together a Sports Business Data page that has a ton of valuable information around ticket prices, salaries, franchise valuations and more. One of the data sets he's tracked over the years is Fan Cost Index, which gave me the idea to create the interactive dashboard below.
On this dashboard, you can dig into Fan Cost Index in several different ways by clicking on the tabs and icons throughout the workbook, including:
Across one or more seasons
By league (MLB, NBA, NFL and NHL – unfortunately I do not have FCI data for MLS)
By team across a league
Year over year FCI
Year over year percent change in FCI
By DMA (looks at the value of all teams in a specific region)
By team within a specific DMA
Based on years when new venues opened vs. not
The raw list of data with teams' FCI and average rank (most to least expensive within their league in a given season)
I've set the default filters on the dashboard to show the average value from 2012 to 2016, but you can change this by clicking on one or more years. For more notes on some of the logic in the dashboard and links to all references, click on the Notes tab on the dashboard.
I hope this can be a valuable reference for everyone. If you have any questions or feedback, please don't hesitate to contact me.