North American Venues for U.S. Sports Properties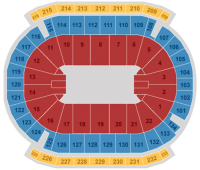 In my efforts to find public, sports-focused data sets, I stumbled upon data from the Department of Homeland Security on Major Sports Venues and their usage – this was perfect to put together a new interactive dashboard. On the visualization below, you can view things like:
The number of venues per category and usage by state and city
The average, largest and smallest capacities across Horse Racing, IRL, MILB, MLB, MLS, NASCAR, NBA, NCAA, NFL, NHL and WNBA

Note: The PGA venues do not have capacity data

Detailed locations, sizes and web links for 800+ venues
Since this data set is managed by DHS, it does not contain EVERY property (for example, they only had metrics on 46 MILB venues across the Pacific, Mexican and International Leagues), but I still think this makes for some interesting data exploration. Click around and enjoy!