Sports Business Analytics – New Book Excerpt and Contest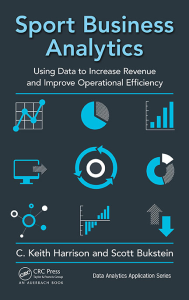 Today's post is an excerpt from Chapter 1 of "Sports Business Analytics: Using Data to Increase Revenue and Improve Operational Efficiency," a new book co-edited by C. Keith Harrison and Scott Bukstein.
Anyone who tweets/retweets a link to this post with the hashtag #sportsbizanalytics will be entered to win a free copy of the book (the Tweet button on this post has already been set up for you). The contest ends at 11:59PM ET on December 31, 2016. You can also order your own copy at Amazon.com.
Here is a brief synopsis of the book, courtesy of Scott Bukstein.
The book aims to provide students and industry leaders with practical strategies to collect data and then convert that data into meaningful, value-added information and actionable insights. A primary objective of the book is to help sport business organizations utilize data-driven decision making to optimize revenue-generation in areas such as ticket sales and corporate partnerships. Readers will learn more about the role of big data and analytics in areas such as ticket pricing, season ticket member retention, fan engagement, sponsorship valuation, customer relationship management, digital marketing, market research and data visualization.
Enjoy the excerpt and don't forget to tweet for your chance to win a copy of the book.
Overview of the Sport Business Analytics Process
The sport business analytics process generally involves data collection, management, visualization, implementation, and evaluation. Sport business organizations are encouraged to focus first on clearly defining business strategies, goals and objectives before developing a data-driven initiative or staffing an analytics department. Next, organizations need to identify the data systems that will be used to collect and capture data. For example, a sport team could leverage ticketing and point-of-sale software systems to monitor season ticket holder accounts (e.g. frequency of ticket utilization and most recent game attendance) and concessions sales (e.g., track food and beverage inventory along with corresponding revenue at each sales area).
In addition to determining the "right" system(s) for data collection, it is imperative for organizations to access and assess the "right" data based on business strategy. For example, if a sport team plans to utilize intercept surveys to determine the probability of season ticket holder renewals, the team could focus on collecting the following information from current season ticket holders: (a) amount spent on season ticket(s) and personal seat license (if applicable); (b) years of season ticket membership; (c) number of games attended during the current season; (d) whether season ticket holder is an individual or business; (e) distance of season ticket holder commute to each home game; (f) number of times season ticket holder attempted to resell tickets; (g) success rate with respect to season ticket holder attempts to resell tickets; and (h) attendance/engagement at ancillary team events with exclusive access for season ticket holders.
An effective and efficient data management system (i.e., "data warehouse") will enable a company to organize, standardize, centralize, integrate, interconnect, and streamline the collected data. An organization will then be able to quickly mine the data and create an analytic model that transforms the raw data into practical, actionable insight. For example, a sport team could use Microsoft Excel or statistical software such as SAS to pinpoint all first-year season ticket holders who purchased the least expensive season ticket package, live over forty miles from the arena, have resold over 50 percent of their tickets through the team's official season ticket exchange program, and have not personally attended a game in over two months. The team would likely flag these season ticket holder accounts as "most likely not to renew," which could directly impact the renewal prioritization strategy of team sales and service representatives responsible for renewing season ticket accounts.
Data presentation and visualization will then empower analytics team members to communicate results so that data is accessible, understandable and usable with respect to developing operational strategies. After an organization implements the data-driven recommendations, key decision makers should consistently monitor and evaluate initiative effectiveness so that the organization can adjust both business operations and future analytics processes. Sport business organization leaders should also continuously track industry best practices with respect to data-based opportunities for collaboration and innovation.
Business Analytics Application Areas in the Sport Business Industry
Ticket Pricing and Sales Inventory
Sport business organizations utilize analytics to inform the ticket inventory and pricing decision-making process. Most sport teams focus on a combination of "attendance maximization" and "revenue optimization." Teams also focus on creating customer value (e.g., fan event experience) in addition to understanding the importance of "customer lifetime value" (e.g., cumulative amount of total business derived from a current or prospective ticket holder). Ticket demand models combined with direct feedback from customers assist sport organizations in developing ticket pricing strategies and customized ticket promotions.
Customer Relationship Management (CRM) and Fan Engagement
Sport organizations develop customer relationship management (CRM) systems both to create fan profiles and to structure ticket sales strategies. The CRM data warehouse functions as a centralized, integrated database for information related to customer demographics in addition to customer ticketing, merchandise, and food and beverage purchase patterns (M. Smith, 2015). Organizations can then analyze this data to develop customized messages for specific season ticket holders (or other categories of customers). For example, a college athletics department could mine the CRM data to identify that a particular season ticket holder typically purchases nachos and a soft pretzel at the same concession stand at the end of the first quarter of every home football game. The analytics team would also have access to customer background information such as the birthdate of each season ticket holder. Equipped with this data, a team representative could be waiting at the concession stand at the end of the first quarter during the football game that is closest to the ticket holder's birthday in order to provide the ticket holder with a personalized thank you—and free nachos, soft pretzels and soft drinks for the entire family. An effective CRM data warehouse can also help sport organizations identify—and subsequently create "pitch packages" for—pre-qualified sales prospects (M. Smith, 2015).
Social Media and Digital Marketing Analytics
Gauging the value of social and digital media marketing campaigns "has become a large concern across the industry" (Spanberg, 2016). Sport organizations attempt to analyze both impression-based metrics (e.g., website page views, number of Twitter "followers," and similar key performance indicators) and attention-based metrics (e.g., measuring the authenticity, quality and extensiveness of consumer engagement) to determine the overall effectiveness of social and digital media marketing campaigns. Sport business industry leaders such as Bob Bowman, MLB president of business and media, understand that corporate sponsors "have gotten smarter about understanding that more subtle, immersive experiences on social media get better results" (Spanberg, 2016). For example, time spent watching video content on a website combined with relevant comments in response to a social media post are likely more reliable indicators of consumer engagement as compared with merely "liking" a Facebook post or visiting a website. Likewise, visual analytics applied to consumer Twitter posts of sport team or corporate partner logos/images might provide superior insight on the reach of (and consumer engagement with) a team or sponsor brand as compared with basic Twitter retweets and consumer use of hashtags (see Jensen, Limbu, and Spong, 2015).
Corporate Partnership Acquisition, Valuation and Evaluation
As explained by Mondello and Kamke (2014), "One area of sport business research that continues to remain elusive centers on how to accurately quantify the respected return on investment (ROI) involving corporate sponsorships" (p. 4). Industry research indicates "about one-third to one-half of [United States] companies don't have a system in place to measure sponsorship ROI comprehensively . . . many companies still do not effectively quantify the impact of these expenditures" (Jacobs, Jain, and Surana, 2014). Although sponsorships in the sport industry typically involve large financial investments, sponsors are "often at a loss in coming up with a viable means for measuring the ROI of these investments" (Wolfe, 2016).
Common sponsor objectives include the following: (a) improve brand reach, awareness and visibility via experiential marketing; (b) increase consumer brand loyalty and community goodwill; (c) drive retail traffic and showcase/sell product; (d) personalize client entertainment and prospecting; and (e) leverage the right to use a sport organization's marks and logos (i.e., monetize intangible sponsorship assets). Evolving corporate partnership ROI and ROO metrics include the following measurement categories: (a) sponsor recall; (b) brand awareness, perception and affinity; (c) sponsor cost per consumer dollar spent (i.e., direct revenue from sponsor activation); (d) media impressions; (e) social media engagement; and (f) lead generation for future sales (see Kim et al., 2015, for a detailed analysis of factors that influence sport sponsorship effectiveness).
References
Jacobs, J., Jain, P., and Surana, K. (2014). Is sports sponsorship worth it? Retrieved from http://www.mckinsey.com.
Jensen, R. W., Limbu, Y. B., and Spong, Y. (2015). Visual analytics of Twitter conversations about corporate sponsors of FC Barcelona and Juventus at the 2015 UEFA final. International Journal of Sports Marketing and Sponsorship, 16(4), 3-9.
Kim, Y., Lee, H. W., Magnusen, M., and Kim. M. (2015). Factors influencing sponsorship effectiveness: A meta-analytic review and research synthesis. Journal of Sport Management, 29(4), 408-425.
Mondello, M. and Kamke, C. (2014). The introduction and application of sports analytics in professional sport organizations. Journal of Applied Sport Management, 6(2), 1-12.
Smith, M. (2015). Fan analytics movement reaching more colleges. SportsBusiness Journal.
Spanberg, E. (2016). Placing values on social media engagement. SportsBusiness Journal.
Wolfe, M. (2016). The elusive measurement dilemma of sports sponsorship ROI. Retrieved from http://www.bottomlineanalytics.com.