Dinner on the 50 Yard Line
Log this one in the "Good Idea" file: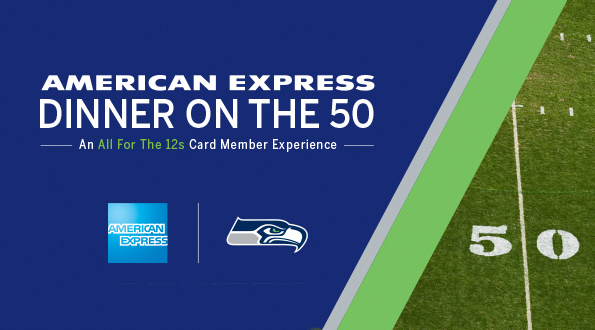 Here's the copy from the email:
Dinner plans August 27?
You may want to cancel those.
American Express is giving Card Members exclusive access to the Seahawks with American Express Dinner on the 50, a remarkable opportunity to dine on the 50-yard line of CenturyLink Field.
This experience includes:
• 4-course meal curated by Seahawks Chef and proprietor of some of the Seattle area's finest restaurants, John Howie
• Appearances by Seahawks players
• Pre-dinner reception and activities
• A performance by Sea Gals and Blue Thunder
Tickets go on sale tomorrow.
Keep an eye out for the American Express newsletter for more info!
This is something that can be replicated by any team in any venue (substitute the 50 with Home Plate, Center Ice, Half Court, etc) and hits so many of the right notes:
A fan centric, exclusive, and incredibly memorable experience
An event fans are willing to buy tickets for, generating incremental sales revenue
Combines the the team passion with great food, another thing that consumers are often passionate about
Great sponsorship asset for American Express, well aligned with their brand positioning
Supports the local restaurant community
To use a food analogy, the only thing missing is the "cherry on the sundae" of a charitable component. Otherwise you have the template for a great ancillary event. Here's a link to the event tickets page in case any of you in Seattle were interested!