Sports Business Recap: Jaguars, 4Goals and State Farm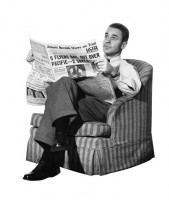 Time for another recap of some recent news items from around the world of sports business!
Jacksonville Jaguars Launch Inaugural 'Jaguars Se7ens Cup'
The Jacksonville Jaguars will be offering American Football fans around the UK and Europe the opportunity to compete to become the inaugural winners of the 'Jaguars Se7ens Cup.' The seven-on-seven flag football tournament will host four regional heats –Edinburgh (Scotland), Manchester (North), Birmingham (Midlands/Wales) and London (South/South East) – around the country this October before culminating in the National Final in November.
The tournament is suitable for players aged 18 and above with any experience of American Football – so get a team together and register your interest now at www.jags-sevens-cup.com!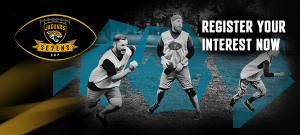 Each regional tournament has space for 16 teams with an entry fee of £150 per team of 10 (the equivalent of £15 per person). The entry price includes an exclusive Jaguars Sevens t-shirt specially made for Jaguars Sevens competitors. Each team is guaranteed to play at least four games.
Along with the action on the field, the Jaguars will look to create a festival atmosphere in order to bring the best of the NFL to both competitors and spectators.
With venue details and confirmed dates to be announced soon, teams are being asked to register their interest now online. Head to www.jags-sevens-cup.com and follow the instructions to sign-up to ensure you book your place.
Field Hocky and the 4Goals Cup

The 4Goals Cup will proudly host the Harrow Cup for 2016 at Brown University in Providence, RI on July 30-31, 2016. 4Goals is excited to join forces with Harrow Sports to become the leaders in post-collegiate field hockey competition as well as providing excellent tournaments for all ages. Along with Teams competing for The 4Goals Cup, a $10,000 prize for the Women's Open Division winner and a $5,000 prize for the Men's Open Division winner will be awarded!
4Goals Field Hockey, specializing in Olympic-level field hockey instruction and competition, announce a long-term strategy to join forces with Harrow Sports who are the Global leader in specialty sports equipment. Together, they will present the preeminent all-ages competitive field hockey tournament in the United States.
"We are looking forward to a long-term partnership with Harrow Sports as we grow The 4Goals Cup Series throughout the nation," says 4Goals founder and University of Michigan Head Field Hockey Coach, Marcia Pankratz.
"We have been committed to cultivating a lifetime-sport ethos by providing opportunities for players to compete after college careers have finished. By joining 4Goals, we extend this opportunity to the youngest players, now able view field hockey as a long-term sport with a definitive tournament they can compete in well into adulthood" says Harrow CEO, Mark Hayden.
Additionally, 4Goals proudly presents the second field hockey tournament in the 4Goals Cup Series to be held in Las Vegas on December 29-30, 2016 at The Kellogg Zaher Complex on their Field Turf Fields.
4Goals is dedicated to providing outstanding playing opportunities at all levels including, Women's Open, Men's Open, Men's Masters, Women's Masters, the Collegiate Women's division, U18 Boys, U14 Boys, U19 Girls, U16 Girls, U14 Girls, and U12 Mixed. All divisions will be competing for The 4Goals Cup, and the Men's Open, Women's Open, Men's Masters, Women's Masters will be vying for the $5,000 prize!
For more information, visit www.4Goals.net.
State Farm Chicago Legends to Honor City's Rich Hoops Heritage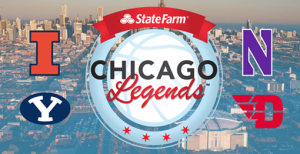 Chicago has provided the game of basketball with countless legendary players, coaches, teams and moments. From the playgrounds in Jackson Park to the hardwood at the famed Chicago Stadium and now the United Center, many legends of the game have called Chicago home. To honor this heritage, the inaugural State Farm Chicago Legends will be held at the United Center on December 17, 2016. The debut event will have a decidedly local flavor with Illinois and Northwestern matching up against perennial NCAA tournament schools BYU and Dayton, respectively. Chicago is home to more than 230,000 alumni from the combined universities, creating a natural fan base for the first-time event. Game times and television information will be announced later this summer.
In recognition of the players and coaches who have made Chicago a hotbed for hoops, a selection committee will annually recognize former standouts as Legends of Chicago Basketball. The newly named Legends will be honored on the court during the doubleheader.
"The State Farm Chicago Legends will be an impactful event not only in Chicago, but also in college basketball and we are excited to be part of it," said Ed Gold, advertising director at State Farm. "State Farm is a proud supporter of college basketball and to help launch a fixture event in Chicago that will annually honor the city's basketball heritage and feature great hoops competition is a fantastic opportunity for us."
"Chicago is a great sports town and has a special place in basketball history," Chicago Mayor Rahm Emanuel said. "We are excited to welcome a new college basketball doubleheader to town that will highlight Chicago's rich history and provide fans with a great day of college hoops. We look forward to hosting the inaugural State Farm Chicago Legends college basketball doubleheader and welcoming fans from throughout the Midwest and across the country."
"When it comes to basketball, Chicago has a tradition that is second to none," said Steve Skinner, CEO of KemperLesnik, a Chicago-based sports marketing agency that will produce the event and also manages the Maui Jim Maui Invitational and the CBS Sports Classic. "Our goal is to build the State Farm Chicago Legends into an annual event that will celebrate the City of Chicago and its basketball heritage."
Information on the event, and to sign up for email notifications regarding ticket news and team updates, can be found at www.chicagolegends.com.