The Fundamentals of Sports Media and Sponsorship Sales – Excerpt and Contest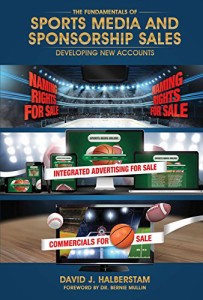 Today's post is an excerpt from Chapter 6 of "The Fundamentals of Sports Media and Sponsorship Sales: Developing New Accounts," a new book by David Halberstam. 
Anyone who tweets/retweets a link to this post with the hashtag #sponsorship will be entered to win a free copy of the book (the Tweet button on this post has already been set up for you). The contest ends at 11:59PM ET on June 15th. You can also order your own copy at Amazon.com.
From Chapter 6 – Your First Conversation with the Prospect
Getting people on the phone today is more difficult than ever. Bill Sutton, the acomplished author and sports professor at the University of South Florida, describes how young people view telephones today. "In their world," he says, "the phone is a device for texting, creating and sharing contacts and last but far from least, a magic portal to learn about each other and ultimately connect with each other through social media."
Living and breathing secretaries have gone the way of the two-martini lunch. Friendly telephone introductions have been sapped by caller identification, turning sellers' prologues into distant voicemail message of cold hard facts.
Today, even telephone calls are scheduled by email, so when you secure these conversations make the best of them.
Material and being organized for the call
Have material that you'll need at your fingertips; a cheat sheet on the prospect's history, needs and product lines. You'll, of course, want notes on your own property, subjects you want to address, buzz words and product benefits of a sponsorship with the entity you're representing.
Keep thorough notes and make sure they're easily accessible. One location might be under contacts in Outlook. If the client mentions a key person in the decision-making hierarchy, his wife's name or a new brand that will be introduced, make sure to mark it down. You'll want to reference it next time.
Personality and breaking barriers of unwillingness
Be yourself, your authentic self, your unique you. Don't be someone you're not. It will manifest itself immediately. You'll be uncomfortable and so will the potential client. Radiate with confidence in a conversational tone. Don't try to sound like the late sonorous Don Pardo of Saturday Night Live. On the phone, you're being judged by word and voice as opposed to in-person visits where face and manners play a role. Be genuine, natural, enthusiastic and knowledgeable. Use individualism, magnetism and charm.
One thing that might break some tension is a common interest that bonds you and your prospect. Try one or two common threads, restaurants, recent sports development, traffic or weather. If you get pushback on small talk or the prospect is taciturn, segue into the business discussion.
Don't try to impress the target with how brilliant you are. A. G. Lafley is CEO of P&G, a company lifer who revitalized the company after some down years. His mantra is plain and simple, hardly anything sophisticated, "Consumer, the Boss." U.S. News and World Report quoted an unnamed board member, "Lafley isn't the sort of guy you meet and think 'wow,' but he wears well." So cold callers shouldn't try to overimpress on their first call.
The phone can be distant. Even a landline is informal. There's nothing like eyeball-to-eyeball contact, where you can reach out and touch the flesh. Try to break the voice-only barrier with a happy telephone face. If you've ever listened to the Hall of Fame sports announcer Dick Enberg, it sounds like he's always smiling when he's talking. People want to talk to folks who are happy. Joy and happiness can be infectious even over a cold telephone line. When you're on the phone, do smile when you talk; your inflections will produce a psychological smile.
One day, I was sitting in my Manhattan office when this poor construction worker seemed to be hanging precariously from a ledge. I began describing it to a prospect with whom I had just gotten on the phone; it got his attention. Everyone likes a good story, as long as it's short.
The Call
When asked the perfunctory, "How are you?" I might say something innocuous like, "I'm just trying to make a living." The person on the other side of the phone can relate. He or she is trying to do the same thing. It also segues into the serious business discussion you're hoping to have with a would-be prospect. You're trying to break the tension.
One quick way to forge a connection is asking targets where they are from or where they went to college. It invariably leads to a colorful exchange of memories and reminiscences. Targets love talking about the favorite teams of their youth. If you find out the prospect is from Columbus and a fan of Ohio State, get into it with him or her. If it's a city you're familiar with, bring up a familiar venue that was mutually enjoyed. It would understandably help if you have some of this intelligence before your first vocal encounter. This way, when you ask these questions, you'll be prepared to answer them. LinkedIn, of course, is a marvelous source.
Don't be limited. Yes, you're selling sports, but if the prospect likes business or pop culture, go in that direction to break the ice. Switch to something innocuous. Find common agreeable ground before getting to the meat of the matter: sports.
If your instinct says the prospect is distracted, preoccupied and doesn't want to talk, it's best to call back. Ask the prospect when you can call again.
Unless the target is a busy no-nonsense individual who doesn't have any time to be entertained, you can spice things up with some quick humor. It's difficult to read the person on the other end, but if the response is tepid, be very businesslike. Never be a wise guy.
Learn fast about who is on the other end of the call. Are you talking to the decision maker? If not, politely and not imperiously ask who else should partake in the call. Naturally, don't ask the question if you're confident that the real deal is on the phone. If you do, you might be pawned off on someone with no power to say yes. In today's world of split responsibilities, sponsorship and media might fall under the bailiwick of two managers with separate titles. As such, you should, of course, contact the appropriate party.
First Impressions
Fast food, fast cars, fast world and fast deals. The first 30 seconds are critical. That's when you'll have the most attention. At the start, the prospect is listening to you carefully.
Share a quick, hard-hitting but easily understood vision statement, one with a lasting impression and image. It shouldn't be alarming, yet it should perk up ears. For instance, "Our property has five of the most appealing qualities that are on all sponsors' wish lists":

We have a rich tradition, and we win every year.
We sell out our stadium.
Our broadcasts get the highest ratings in the marketplace.
Our sponsors enjoy one of the best ROIs in sports.
Our sponsor retention and satisfaction are the best in sports, bar none!
"I will take five minutes to provide a little color, and when we're done, I will request an in-face meeting so that we can make a customized proposal."
Say something uplifting. If you're selling baseball in the dead of winter and there's a thaw in the air, how about a bright reference, "Touch of spring in the air today. Let's go out and play two. Baseball season is around the corner."
REMINDER: Anyone who tweets/retweets a link to this post with the hashtag #sponsorship will be entered to win a free copy of the book (the Tweet button on this post has already been set up for you). The contest ends at 11:59PM ET on June 15th. You can also order your own copy at Amazon.com.