The Role of Big Data & Mobile in College Sports: Part 5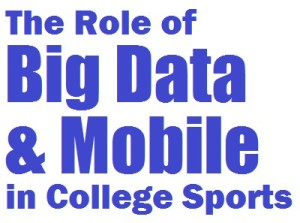 Today's post is the completion of a five-part series this week by guest authors Scott Tester, Preston Shytle and Allison Whitworth. Click here if you missed Part 1, Part 2, Part 3 and Part 4.
Measuring and Monetizing Social Media
The new world of technology and social media has opened a vast array of opportunities to create revenue generation and to better steward collegiate partnerships. In an interview with social media monitoring and analytics company Brandwatch, one account executive at a leading sport and entertainment agency said, "Social media activity and conversation is now increasingly becoming a huge part of agencies' and sponsors' evaluation of campaigns mainly due to the fact that a brand's prestige and image is easily built or ruined in an instant with the speed at which ideas and impressions can be developed online." Measuring the value of social media has been a challenge for intercollegiate athletic departments. It is hard to comprehend the impact of social media with little resources behind data analytics and no expertise in this specialized field.
As ticket sales continue to take a dip in the sports industry, sponsorship revenue becomes even more important for intercollegiate athletic departments. Athletic departments around the nation continue to churn out social media content that highlights the student athlete, sports teams, donors, and events. The greatest challenge to sponsorship offering the use of social media to add value lies within the relationship within the department. Companies like Learfield, Outfront Media Sports, and IMG are responsible for selling sponsorship with their prospective intercollegiate partners. According to IEGSR, IMG College's 2010 acquisition of ISP Sports significantly changed the college sports landscape by creating a national marketing platform similar to the NFL and other pro sports leagues. Unlike pro sports leagues, the platform affords access to intellectual property, digital assets and other team inventory. The third party vendor relationship makes it difficult to create the synergy needed to sustain a successful social media plan that can foster sponsorship value. The decision to tag sponsors or corporate partners has to be vetted by many internal decision makers. This can create a conflict of interest as the spotlight turns away from the student athlete and towards a sponsor. The most imperative piece to creating value in social media for sponsorship is communication between all invested entities within an athletic department. Even with internal obstacles in the way, collegiate sponsorship should still make an attempt to generate revenue and add value through social media.
How much could an athletic department charge for sponsors within their social media content? This question poses a very difficult challenge for marketers and sponsors. Many angles are questioned with the thought of who would purchase it, how would you sell it, and what price makes sense? Any athletic department stepping into this realm would be a pioneer. As an example, the University of Maryland creates a graphics-heavy statistic sheet that is distributed via social media after every game. The simple and very appealing idea would be to place a sponsor's name within the content. The simple phrase of "Tonight's Stat Line proudly presented by the blank company would work perfectly to heighten visibility. This could generate a large amount of incremental revenue annually with the number of games are in a season in mind. Let's say a school could potentially sell the opportunity at an overall price of $25,000 with an added variable price for the Cost Per Click (CPC). Maryland's Twitter followers are only 81,000. Imagine what the value of a sponsored tweet from the University of North Carolina- Chapel Hill (UNC) Basketball, with over 280,000 followers would look like.
Currently, there isn't a standardized scientific formula to actually compute the value of a retweet or like on social media, though some have tried. However, by collecting data on your customers and the traffic and conversations they generate on social media, you are able to quantify your value on some level, putting you ahead of most. Lets say a department has uncovered that amongst their Twitter followers, lies an especially engaged group of fans that share an income or lifestyle attribute that fits into the target market of a potential sponsor. Or, consider a situation that showed through meticulous tracking of social media traffic, that there were certain days of the week, or opponents that drove hoards of social media followers to your site time and time again. These types of insights are uncovered by putting the tools in place to collect data, but also analyze it efficiently and activate it to your advantage.
Sports sponsorship industry leader Navigate Research did a study on the social media scoreboard. Out of 1,500 people surveyed on the topic of what they would change on the social media page of their favorite sports team, only 1% stated less advertising. The top recommendations were free giveaways and more personal stories. As collegiate sports organizations continue to see revenue dip, other ways of generating revenue will have to be created. Social media is a sleeping giant as fans are driving their focus to follow or retweet their favorite universities sports scores. As colleges continue to figure out this new space, the doors will open to endless possibilities that lie with sponsorship. Using fan data to support social media traffic gives any athletics department extra ammunition to shop their social media assets around to gain sponsorship dollars.
The Future of Big Data
For years, creating a sales culture was something that most organizations needed to do a better job focusing on. Slowly but surely, college athletics departments have made investments in proactively selling tickets, donations, and sponsorships, by building outbound sales teams and focusing on outreach. Now, the same opportunity presents itself with big data. For an organization to successfully use data as an advantage, it is integral to create a "data culture." Like it is important for coaches and staff members alike to be encouraging their contacts to buy tickets to support their programs, the first step for an athletics department is to invest in data and to get everyone in the organization to "buy-in" to the collection of data as an important step in growing and understanding their fan base.
Many athletic directors and leaders have not fully bought into the fact that an investment in understanding data is going to uncover anything that they don't already know. As an example, one university AD was quoted as saying he fears data is simply going to "tell us what we already know." At a high level many times this is actually true – Scibetti calls intuition and personal experience "small data" that is nonetheless data that is valuable in making any decision. However, big data allows leaders and athletic departments to take their intuition and run it thought the smell test. It provides a peace of mind for decision makers to confidently move in the right direction based on the support that the data provides. Additionally, data reveals exactly how and where to take action on a belief and can bring a great idea to life.
Lisa Arthur finishes with, "One thing is clear: Every enterprise needs to fully understand big data – what it is to them, what is does for them, what it means to them –and the potential of data-driven marketing, starting today. Don't wait. Waiting will only delay the inevitable and make it even more difficult to unravel the confusion. Once you start tackling big data, you'll learn what you don't know, and you'll be inspired to take steps to resolve any problems. Best of all, you can use the insights you gather at each step along the way to start improving your customer engagement strategies; that way, you'll put big data marketing to work and immediately add more value to both your offline and online interactions."
Professional sports leagues are already well on their way to harnessing the power of the data revolution, with most teams and even league offices at the NBA and NFL investing heavily in data programs. Similarly, college athletics departments have begun or will begin investing in more robust data infrastructure and management in the very near future. In short, once you realize the power of marketing with data, marketing without it seems pointless. Those who fail to act now may be ok in the short term, but will eventually be left behind. This investment is critical to all parts of their business – including ticketing, development, marketing, sponsorship, operations, and beyond. In today's environment, we have the ability to know almost anything about our fans. With an investment in the right technology and people, athletics departments will position themselves to use big data and mobile to their advantage.
Thanks again to my incredible guest authors Scott Tester, Preston Shytle and Allison Whitworth for sharing their work with us! 
Click here to view a complete list of references for this series.