The Role of Big Data & Mobile in College Sports: Part 4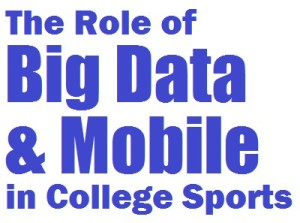 Today's post is the fourth in a five-part series all this week by guest authors Scott Tester, Preston Shytle and Allison Whitworth. Click here if you missed Part 1, Part 2 or Part 3.
Improving the Fan Experience
A day at the stadium is a tradition cherished by many families and fans of college sports teams. From the pregame festivities to the postgame celebration, the experience of watching our teams compete live along with tens of thousands of fellow fans is at the center or our passion for sports, and is the lifeblood of sustainability for organizations through driving gate revenues. Many sports fans would choose spending a day at the stadium as one of their favorite pastimes. In today's bad economy however, with ticket prices skyrocketing and unprecedented live television coverage of our sports teams, and changing fan behaviors and expectations, many supporters are choosing to save their money and cheer from the comforts of their own homes in front of their flat-screen televisions and mobile devices. In response to this, college athletics programs are raising the bar on the in-stadium game day fan experience. Teena Maddox of industry blog Tech Republic paints the following picture:
"Imagine walking into a stadium and your smartphone immediately pings you that a $30 premium seat upgrade is available for purchase on your mobile device. As soon as you settle in to enjoy that awesome view of the game, you use your smartphone to order a pulled pork sandwich and imported beer delivered right to your seat. Then, when your favorite player scores a touchdown, you use the team's app to watch an instant replay at multiple angles and a stadium-exclusive video feed of the players on the sideline. Later on, when nature calls, the app directs you to the closest restroom with no wait time…This isn't a far-fetched futuristic stadium experience. It's already available at some venues, and others are rushing as fast as they can to add next generation digital systems that will make attending a game in person an immersive, connected experience."
In fact, the fan experience has undergone dramatic improvements at many colleges in direct response to the trend of empty stadium seats and the need for more revenue; the key driver of this evolution – Big Data. While certain factors such as winning and weather are always going to be outside of a intercollegiate athletics administrator's control, the experience a fan has at the stadium from the time they leave home until the time they pull back into their driveway is now enhanced by gathering relevant data and using it to create a personalized experience for each fan in attendance. University of Colorado Associate Athletic Director and Chief Marketing Officer Matt Biggers supported this when he said, "Winning cures everything, but what we can control is the fan experience. We want fans to come back game after game, no matter what happens on the field." This personalized experience is powered by data analytics, connectivity, and game day apps.
The first step in upgrading your stadium to improve game day experience is installing and providing a robust Wi-Fi network to allow fast and reliable connectivity during games. Kevin Blue, Stanford University Associate Athletic Director of Business Strategy said in an interview with Athletic Business magazine, "Installing a Wi-Fi network in any stadium is a very complicated engineering problem – far more complicated than people initially believe it to be." But this is a necessary step with today's hyper-connected, younger generation fans.
According to a 2014 survey by conducted by Zogby Analytics almost 90% of Millennials say their phones never leave their sides, 80% say the first thing they do every morning is reach for their smartphones, and 78% spend more than two hours a day texting, surfing, talking, tweeting and — more importantly for businesses — shopping, banking and more. Michelle McKenna-Doyle, senior vice president and CIO of the NFL, said, "It does bear out in the research that as generational shifts happen, the expectation level goes more from a 'this would be nice to have' to a 'what, you don't have it' kind of feature. I have a lot of contacts in college sports, and it is definitely the case where they are seeing some of their younger fans leave if they don't have connectivity."
The majority of football programs in the Power 5 now have WiFi connectivity in their stadiums, or are currently working on it. In a 2016 AECOM/Ohio University survey of 87 athletic directors across the nation, 79 athletic directors indicated improvement to their connectivity were at least important on some level, and 99% of them planned to spend at least half a million dollars over the next five years improving their facilities. Game day apps are the most common way schools are choosing to interact with fans on game day.
A 2015 Flurry Analytics study showed that the amount of time people are spending on apps compared to the mobile web today is extraordinary. The study reported that 90% of the time consumers are spend online on their mobile devices, they are spending on apps. "Stanford Gameday Live" App is the best example of a college app with advanced features, which include video replays, mobile food ordering, the game day program, and integrated social media. The majority of Power 5 schools (Alabama, Arizona, Auburn, Washington State, Kentucky, USC, as examples) have some version of a game day app available. Even smaller mid-majors or the "Next 5" schools such as Western Kentucky have developed a working version to try to keep fans engaged with location specific maps, weather alerts, replay, play-by-play and more.
In-seat food delivery through the apps is the next step in getting couch potatoes into the stadium seats. Brandon Lloyd, chief executive of mobile software company Bypass described sports venue concession sales as highly inefficient. This new service of ordering refreshments at your whim from your smartphone provides a more personalized, and "VIP" level alternative to rounding up the kids and schlepping up and down flights of stairs to grab a hot dog and a soda during halftime. An article detailing startup app company FanGo summarizes the experience: "Visiting concession stands at sports stadium can be a frustrating experience. Not only do you often have to face long lines, but you miss parts of the event you are watching. And the task of carrying back the foods to your seat can also be challenging in a crowded venue."
The apps keep fans engaged starting with the ticket buying process and engaging them throughout the game with interactive content, suggestions to upgrade their experience, an opportunities to share their experience with friends through social media. The data fans provide while on the apps gives further metrics into fan behavior when tied to a ticket account or when used to order food delivery or upgrade seats when available. The more sophisticated schools are with their data storing and analytics, the more quickly they can target those willing to spend a little more for a more comfortable experience. The ability to fully utilize and app and maximize the personalized experience for fans though, begins with a robust data management system. By having systems and databases that speak to each other, storing data efficiently all in one place, and analyzing it to be acted upon, athletics departments position themselves to increase attendance and revenue, while providing a fan experience that one-ups the at home experience. The idea of the past was to bring the experience in the stadium to at-home experience, and today it has flipped to bringing the at-home experience to the stadium. Kramer says, "With mobile phones and social networks, people take their friends with them wherever they go. Mobile ticketing is a key driver of any sports mobile adoption program. Data systems must be in place to talk to them one-to-one."
Coming up next in part five: Measuring and Monetizing Social Media and The Future of Big Data
Click here to view a complete list of references for this series.