The Role of Big Data & Mobile in College Sports: Part 3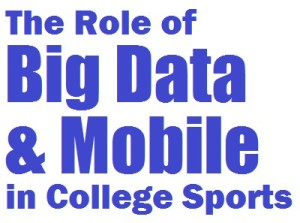 Today's post is the third in a five-part series this week by guest authors Scott Tester, Preston Shytle and Allison Whitworth. Click here if you missed Part 1 or Part 2.

Market Fragmentation as an Advantage
The fragmentation of the market over multiple platforms represents a great opportunity for schools to target their fans in a much more meaningful and impactful way. Being able to effectively cater to multiple traditional, digital, social, and email channels provides media teams, "a wonderful opportunity to integrate messages in targeted, compelling ways that can lead to tangible audience engagement," according to Stephen Hillebrand, CEO of the world's leading market research firm TNS. The development of fragmentation creates a classic example of the implementing the classic 4 P's of marketing– put the right product & promotion in front of your customers at the right price in the right place. "Each platform has its own language and unwritten rules of conduct, and marketers need to prioritize certain networks over others," depending on what those 4 P's are in each campaign, according to media research expert Aaron Paquette. If athletics administrators can gain a deep understanding of the mediums available and present their content in a relevant way, they have a better chance of being seen. Its the same "driveway-to-driveway" approach that is becoming standard for teams to talk to their fans in the MLB and NBA – customizing the fan experience to each individual ticket holder leads to higher engagement and returns, and so will marketing to your consumers in a segmented and intentional way on multiple platforms.
Success all starts with a strong brand, which many universities have. Traditions passed down through the generations give college sports marketers an advantage. However today, succeeding in the sports business world also requires a strong understanding of your audience. If marketers can gain a deep understanding of the mediums available, Facebook, Twitter, Instagram, e-marketing, television, radio, grassroots, and beyond, and communicate their message in a consistent and customized way, it will eventually lead to staying power and top of mind recall that all brands strive for. Tom Stein, President and Chief Creative Officer at Stein Rogan & Partners sums it up by telling PR Newswire, "If we can deploy content across channels, if we can deploy it in the formats that are most conducive to consumer consumption, if we can find ways to do that efficiently and to measure results, then we have the opportunity, I think, to turn channel fragmentation into an advantage for us. "
Generating Better Leads
A key benefit to pulling all of your data into one place is having the ability to segment your customer base to generate better leads. This ability comes as a result of having a full profile of fans available to managers and front-line employees who work with customers on a daily basis. According to Emily Huddell of Sport Business Journal, market segmentation is "the act of parsing customers and potential customers into subgroups by identifying each group's unique characteristics and traits." Teams and organizations can use that information to leverage the value of each segment and connect with segment members in an efficient, customized and personal way. Additionally, increasing the success rates of sales initiative leads to happier, more motivated employees, more satisfied, less annoyed fans. Huddell continues by saying, "Sales representatives are motivated by success, and, as such, it's imperative for managers to ensure that the representatives are best positioned to succeed. A simple way to accomplish this is to use defined database segments for marketing and product matching. This will lead to more efficient mail campaigns and sampling programs, customized sales calls, and elevated close rates." The same can be applied for email marketing. Rather than bombarding your fan base with email after email and leading to unsubscribes and spam flagging, a targeted email approach allows athletics departments to connect with fans where it counts.
Lets take a list of season ticket holders and think about what we know about them without the power of big data – we know their name, mailing address, phone number, email address, and ticket package they buy. Now take that same lead and add in a data warehouse and analytics team that pulls together and evaluates the same patrons income level, social media activity, concession sales, merchandise sales, donation history, ticket scan data, and email and web behavior. This information allows athletics departments to better target who may have the capability to increase their donation level, who is not attending games, who may prefer a package that includes food or merchandise, or who may be looking to upgrade to season tickets.
"Identifying the characteristics and affinities of our current buyers and fans, and then using that information to segment out our consumer profiles has helped us frame our sales and marketing efforts, enabling us to cut through the clutter," said Robert Rardin, interactive marketing manager at the Orlando Magic. "Learning as much as possible about our consumers and modeling that information out allows us to mirror those aspects in new leads and lists and thus have a better chance of appealing to them in the right way. It makes more sense for us, and saves both time and money."
Competing with Secondary Market with Better Ticket Pricing
The secondary market has exploded in recent years and now accounts for a major share of ticket sales for sports events. In fact, market trends indicate well over 60% of ticket sales begin today with a Google search, and not a visit to a team or school website, as trust in fan-to-fan ticket sales and the investment in a phenomenal e-commerce experience by resale companies has legitimized the business and made it a viable and attractive option for fans. According to StubHub, there were over 90 million unique visitors to their platform in 2014 alone.
Although a variety of factors impact customer decisions and spending habits, it is certain that price and availability is always a factor. Simply put, price is the value measured between two parties where the buyer has to give something up to gain something offered by the seller. Pricing needs to reflect supply and demand, the actual value of the object, and the perceived value of it in the mind of the consumer. A price that does not reflect these factors and is either too high or too low will lead to unsuccessful sales. This is why an organization's pricing is so essential to their success. The reason for this importance is that where the rest of the elements of the marketing mix are cost generators, price is a source of income and profits. Through pricing, schools can manage to support the cost of production, the cost of distribution, and the cost of promotion.
Although valuating price is complicated, it is also flexible and changes over time. This is especially true in sports with the fickle nature of fans in response to wins and losses and short-window TV night games filling team schedules. It is important to understand shifts in demand and be ready to react. It is also crucial to have price integrity and to maintain consistent value for your brand and products. The up front price of tickets is a key indicator of value for fans, and can trigger first impressions on whether to buy or not. This is especially true when running sales promotions. Used wisely, special offers can generate interest and increase revenues, but its important to do so in a way that maintains the integrity of your overall price strategy.
As an illustration, according to the Pac-12 Conference, a post-event fan survey with Turnkey Sports after the 2014 Football Championship Game revealed that ticket price and seat location were 2 of the top 3 most important factors responders indicated were important to them. Rather than rely on quick comparisons or abbreviated internal research and intuition, a detailed analysis of market conditions and price demand will earn schools more traffic and ticket buyers on their websites. It is integral that schools use primary and secondary data to make smart decisions when it comes to ticket pricing.
Coming up next in part four: Improving the Fan Experience
Click here to view a complete list of references for this series.