The Role of Big Data & Mobile in College Sports: Part 2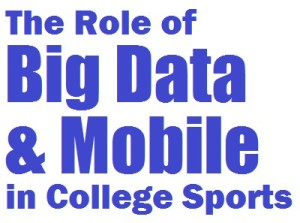 Today's post is the second in a five-part series this week by guest authors Scott Tester, Preston Shytle and Allison Whitworth. Click here if you missed Part 1.
A New Generation of Sports Fans
Another significant challenge for sports marketers is the digital and mobile revolution and the fragmentation of the market, in that the ways that customers consume and fans interact with the world has dramatically increased. While the digital age has revolutionized how people communicate, it has also completely changed the game of business. No longer are universities able to depend on two or three traditional channels to market their teams to their fans and this presents both a challenge and an opportunity to sports organizations and brands. Along with more traditional mediums like television, print, and radio, the emergence of the e-commerce, social media, and mobile phones, has made the development of sales plans a much more challenging endeavor.
So, market fragmentation is a challenge mainly because consumers are now spread out over multiple platforms, meaning more resources and knowledge are necessary to keep up with the ever-changing environment. Today, it is increasingly important and simultaneously difficult for a marketer to both control and monitor how their brand is being received both proactively and organically. Ellen Zichinno, CMO of JP Chase Morgan agreed in a 2010 interview with PR Newswire by summarizing, "We have all of these different channels to contend with, because our clients go to all different types of channels but not every client goes to every channel. We have to spend a lot of time and effort ensuring that the right content is delivered to the right individuals, using the right channels."
As the Baby Boomers are slowly being overtaken in overall share of the customer base for most sports teams, a new generation of dominant fans has emerged – the Millenials. This group of 20 and 30-somethings is different than any other in history. Millenials grew up in the age of technology and therefore expect a premium digital experience during both the purchase process and inside the stadium on game day. Market trends also show that Millenials prefer different products and shop for tickets in different ways than their predecessors. They also have proven that they will shop around to find the best deals and have no problem purchasing tickets on secondary market sites like industry giant Stub Hub. A 2015 Sports Business Journal piece provides us a look at millennial purchase behavior from Ticketmaster, by far the ticketing industry's largest player:
Millenials represent roughly one third of Ticketmaster's live event database.
They attend 12.15 events per year, slightly above the 11.8 for non-millenials.
84% search for live event information on smartphones, and 67% actually buy on their devices, each much higher than non-millenials.
They are 70% more likely than non-millenials to use their phone for admission to a live event.
81% are more likely than non-millenials to tweet about attending a live event.
54% are more likely to be influenced to attend a sporting event by a Facebook post.
On average, they spend 13% less than non-millenials on sports.
They are 40% more likely to look to another website for tickets, and 26% more likely to use the secondary market.
In college sports, older alumni are still dominant, however young fans are not going to as many games as their predecessors. According to Mark Kramer, Head of Digital at Pac-12 Networks, there are more college sports fans than ever, but simply less of them in the stadiums on game days. With the unlimited options for consuming sports, the game day experience is not as culturally engrained in this younger, tech-savvy group of fans. A key piece of the attracting fans in this soon-to-be dominant age bracket is offering the infrastructure to support mobile connectivity and social media use in stadiums and arena, and marketing to them on a more personal level.
Unorganized Data & Lack of Funding
There is certainly a pleather of data at the fingertips of college athletics departments that can be used to increase customer service levels and grow revenue potential. These data sources include things like primary and secondary ticketing data, gate information, concessions and merchandise, donor information, unique visitors to a team website, social media data, email opens, and game day WiFi and app registrations. Despite this, college athletics departments around the country have been slow to jump on board in pulling all of their data sources together to make them work in unison. At the college level, there are many issues that make the data itself difficult to rely on. One of those is the fact that data on individual customers is often scattered across multiple platforms and departments on campus. For example, one individual may have an account in a database for the university, an account with the alumni association, an account in a development foundation database, an account in a marketing database, and an account with the athletic ticket office…and that's even before considering that during any online transaction, many customers will fail to login and instead create a new account for themselves creating duplicate accounts.
Therefore, it is difficult to be confident in seeing a full snapshot of whom you are marketing to, as fan profiles are not complete and are scattered across multiple platforms that don't speak to each other. Many interdepartmental university databases do not share information with each other either out of being oblivious, or by design or privacy rules. However, to the average fan or a supporter of a team or university, they see the school as one unified brand. The communication they receive from one department is tied together in their minds, while this communication is completely separated and mostly unknown to the departments on campus. The result is large inefficiencies through over communication and disenchanting fans or missed opportunities for sales and engagement.
According to Russell Scibetti, a data expert in the sports industry, colleges are more interested in big data than ever. However, due to budget constraints, most are not able to fully invest in data initiatives to the level that is necessary to succeed. Instead, athletics departments normally choose only one tool – such as a central data warehouse, or business intelligence analytics software, or a CRM system – when the solution is likely a mix of data management tools layered on top of each others. Additionally, while there is a trend beginning for some schools to invest in these tools to aggregate data into one central location, the hiring of qualified staff members to focus on analyzing the data and making it actionable is not growing at the same pace.
According to an internal study of the Power Five schools across the nation, no conference has even half of their schools with an employee that has "data/database," "analytics," or "CRM" in his/her job title. Two of the conference even had three or less staff members overall with these job titles on the campuses of their member schools. Overall, in college sports, there are not nearly enough funds being allocated to collecting and analyzing data from either a people or technology standpoint, both of which are essential to fully realize the benefits. Bryan Colangelo, former general manager and president of the Toronto Raptors agreed by saying, "There are mountains of opportunity in analytics now. If you're not spending $250K and having two to three people dedicated to it full time, you're probably too light on it."
Big Data as a Solution
In order to address the issues that are currently facing college sports – declining attendance, rising expenses, market fragmentation, and changing buyer behaviors, it is essential for athletics departments to take advantage of all of the data that is available in today's world to understand their customers better and produce more meaningful engagements with them. Done correctly, new technologies provide opportunities for college athletics departments and brands to solidify their position, magnify their message, and round-out their attack in marketing their products. The ability for college athletics departments to pull all of their data sources into one place allows them to generate the following five advantages:
Communicate with fans how they want to be communicated with
Spend more time calling leads and emailing fans who are more likely to buy
Price your tickets better and stop losing fans to the secondary market
Improve the in-stadium experience and value for fans attending games
Use social media as a revenue generator
By embracing the data revolution and adjusting business practices to meet the needs of managing it, athletic department officials can take the guess work out of their day-to-day decisions and allow themselves to become proactive rather than reactive.
Coming up next in part three: Market Fragmentation as an Advantage, Generating Better Leads, and Competing with the Secondary Market
Click here to view a complete list of references for this series.