The Role of Big Data & Mobile in College Sports: Part 1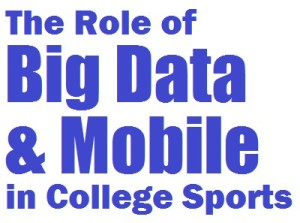 Today's post is the first in a five-part series this week by guest authors Scott Tester, Preston Shytle and Allison Whitworth.
The Role of Big Data & Mobile in College Sports
As the world has changed rapidly to a fast-paced, hyper-connected, and mobile focused environment, businesses have had to adapt their practices to keep up. With this change has come a vast amount of data being generated every second. Many companies struggle with harnessing the power and size of data to make it work for them and generate insights that lead to incremental revenues and loyal customers. However, that challenge seems to be especially poignant in college athletics.
Over the next few days, we'll discuss what Big Data is, why college athletics programs need to pay attention to it, unique challenges that they face in understanding their data, and with some key benefits that an investment in Big Data resources brings. At its core, developing an understanding of fan data allows you to segment your customers and target them with marketing and communication in more meaningful ways, providing better customer experience, fan loyalty, revenues, and efficiencies. The train on Big Data and mobile is pulling out of the station quickly and it is integral for athletics departments to jump on board, or be left behind with missed opportunities.
What is Big Data?
Big data is a term that many in the sports business world are talking about, but not many seem to be able to define. Its marketing power has been used in non-sports sectors of the economy for years, such as banking, airlines, and retail, and is a trending topic today at league meetings, industry conventions and sports properties. If you work in sports administration, there is no doubt you are being contacted regularly by companies with products that aim to harness the power of big data and uncover deep insights into your customers. But really, what is big data? According to Lisa Arthur of Forbes, "Big data is a collection of data from traditional and digital sources inside and outside your company that represents a source for ongoing discovery and analysis." While big data is a wide-ranging term, for all-intensive purposes it is a large amount of data that cannot be processed, stored, and analyzed by standard computing systems efficiently.
In today's connected world, the amount of data in the universe is exploding at a rapid pace. With advancements in technology and the omnipresence of the Internet in today's world, and most people's reliance on mobile phones and social media, people are logging larger amounts of information about themselves than ever before. To gain a better perspective on how much data is being generated and managed by big data systems, consider the following noteworthy facts from Villanova University and SAP:
90% of the data in the world today has been created in the last two years alone.
Walmart controls more than 1 million customer transactions every hour.
According to FICO, the credit card fraud system helps protect over two billion accounts all over the globe.
Facebook holds more than 45 billion photos in its user database, a number that is growing daily.
There are more than 400 million tweets each day on Twitter.
There are 48 hours of YouTube video content uploaded every minute.
The human genome can be decoded in less than one week, a feat which originally took ten years to complete.
The total amount of data will grow by 50 times in the next 8 years.
While this may sound intimidating, big data is really simply a glimpse into your customer's lives, a collection of behaviors that can help you understand them better. Big data is available for all to access, but due to its ambiguity and massive size, it can be a scary and difficult endeavor for any organization to try and tackle. For sports organizations, the time to begin is now, with mobile use and data generation expected to continue to rise at an unprecedented rate.
More Money, More Problems
A commonality of course to all collegiate athletics departments is that they want to sell more of their product to more fans – more ticket sales, new sponsorships, increased donations, and merchandise and concession sales are needed to offset the high rising costs of running an athletics department. At first glance, one would assume that college athletics departments have never been healthier, as revenues have skyrocketed with the emergence of huge TV contracts, increases in ticket prices, the addition of luxury seating and personal seat licenses, sophisticated annual donation programs, landmark stadium naming rights deals, blockbuster sports apparel and merchandise deals, and now the monetization of digital advertising. Revenues that schools are able to generate have never been higher, illustrated by the University of Oregon's recordbreaking $196 million in revenue in 2014 as reported by the NCAA.
However, due to competition from high quality HD television and online streaming, and the rising costs of attending games for fans, watching live sports is more accessible than ever to fans, and attendance at games has started to slowly decline. In 1998, an ESPN sports poll revealed that 54 percent of NFL fans would rather be at a game than watch it at home. When that poll was taken again in 2011, only 29 percent of fans wanted to be at the game, an alarming change. According to college football writer Jon Solomon this is showing in the college football stands as well, as the average announced attendance for Football Bowl Subdivision home games has been below 46,000 after it peaked in 2008 at 46,456, with trends showing steady declines year-over-year.
At the same time that the explosive growth in revenues have occurred, expenses in college athletics have increased at an astounding clip. Interestingly, a vast majority of schools across the NCAA are operating at a loss annually and are unable to support themselves. According to a 2013 NCAA study, out of 125 DI programs, only 20 were cash flow positive and the average loss among the Power 5 conferences was $2.3 million. At all other FBS schools, it was $17.6 million. The cause of this concerning issue is a sharp increase in spending during this period of growth. Expenses have risen dramatically, and at a rate that surpasses the revenue growth. Median annual revenue generated through ticket sales, broadcast agreements and other sources increased by 3.2 percent from 2012 to 2013, the study found, while median total expenses rose by 10.6 percent.
Coming up next in part two: A New Generation of Sports Fans, Unorganized Data & Lack of Funding, and Big Data as a Solution
Click here to view a complete list of references for this series.