Lightning Strikes Twice at Amalie Arena
Today's post is courtesy of guest blogger Jared Frank, Editor of SEAT Magazine, published by the Association of Luxury Suite Directors (ALSD).
Attendees of the 2013 ALSD Conference and Tradeshow will remember one of the show's signature events – a visit to what is now known as Amalie Arena, home of the Tampa Bay Lightning. The large-scale renovation of the arena, which included massive upgrades to experiential destinations and game presentation, was a main driver for the ALSD selecting Orlando-Tampa as its host region in 2013.
As a refresher, the 2012 renovation phase rebuilt much of the upper and lower levels, installed a new grand plaza entrance, updated each suite unit, built a new outdoor deck, implemented a new pipe organ destination, and introduced two Tesla coils that create actual lightning inside the building.
But what that first phase of construction did not touch was the club level in the middle of it all.
"In that original transformation, [Lightning owner] Mr. Vinik wanted to make a clear statement that this [arena] is about everybody, not just about corporate partners," says Tom Proebstle, Founder and Design Director for Generator Studio, the architects behind the Amalie Arena renovations. "So on the club level, we just put down some new carpet and some new paint."
Tampa's Club Level
The transformation of Amalie Arena bled into the 200 level prior to the current NHL season. And with a renovation budget of $25 million for this phase, the new Tampa Bay Club received much more than a treatment of new carpet and paint this time around.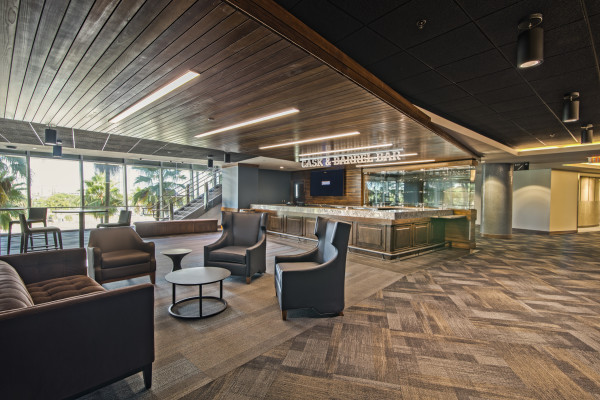 Consistent with the brand established back in 2012, the Tampa Bay Club embraces a set of materials and a color palette that inspires the feeling that this space belongs in Tampa and offers experiences that are unique to the region. Originally, the art deco style associated with Miami was discussed, but quickly dismissed.
"This is not Miami. This is Tampa," Proebstle says. "Things are relaxed, a little laid back. They're not bold and in your face. And that mentality set the materials."
As with the 2012 look and feel, those materials are dominated by stained natural woods and calming blue colors.
The club level was originally designed for in-seat service, an amenity that never materialized. So there was an existing level of vast concourse prior to the renovation, but very little programming. And what programming there was showcased less than a premium experience.
"Previously, it was a 200 level with a couple carts and concession stands," says Steve Griggs, CEO of the Tampa Bay Lightning. "It didn't have a level of sophistication."
"What we were challenged to do was create a more premium approach to food and beverage," says Mike Kress, Founder and Chief Architect at Generator Studio. "We came up with different zones with different thematic overlays. There's a story that unfolds as you walk the horseshoe."
Three Distinct Zones
The club level was ultimately carved into three zones: a large market experience, a café experience, and a bourbon experience, all with plentiful real estate that permits these concepts to spill out beyond the concessions into the furnishings, allowing fans to linger in the unique experiences.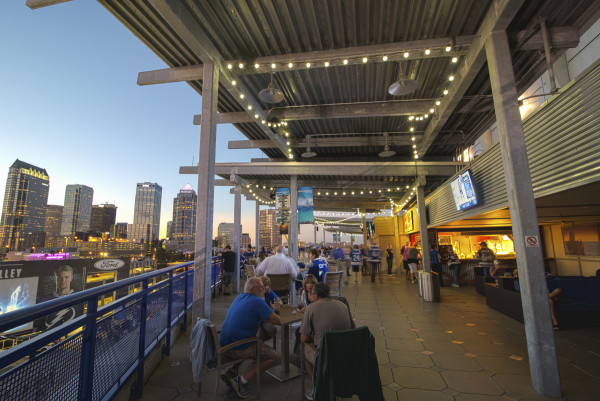 "We felt like those three ideas were different enough, but had enough depth to them so that we could wrap menus around each of them and ultimately wrap finish around those ideas," Kress continues. "There is a marked difference in these premium offerings that you can't get elsewhere in the venue."
"The three distinct districts give it a different feel than most club levels," adds Griggs. "The different destination spots provide a different feel as you move through the club level."
The club level upgrades at Amalie Arena are representative of larger trends in hospitality, both in their layouts and in their programming.
"Bourbon is such a hot item right now," says Matt Hill, Senior Director of Suite Sales and Service for the Tampa Bay Lightning. "[The Cask & Barrel Bar] is probably our number one concession stand in the building right now."
Throughout, the hospitality overlays are transparent, with food prepared in open kitchens in front of fans, who have a multitude of choices now. Not only has the food and beverage experience been elevated with items like pastries, ice cream, and wine, but fans have a choice of pastry, ice cream, wine, and many other offerings.
"The club concourse is about providing a premium hospitality experience," says Proebstle. "Fans expect that now. It's about hospitality at the end of the day, where in the bowl, it's about hockey."
The Vology Loge
Previous to the renovation, Amalie Arena's seating bowl was asymmetrical, something felt to be disruptive to the in-seat experience. To make the bowl more consistent with the building's overall appearance, Generator Studio expanded two hospitality spaces and created an entirely new premium experience in the Tampa market.
The keystone for the club level redefinition is the new Vology Loge, whose naming rights are owned by a local IT firm. Located at the attack-twice end of the ice and facing the stage in concert layouts, the 156 seats in the 34 loge boxes are some of the best in the house. And while not new to the industry, it is a new product for Tampa.
"We built 34 of them, and probably could have built 54 of them," says Griggs. "We are the first to come into this market with this seating product. Having seen it work perfectly in the Orlando market, I knew it would be a sweet spot here in this market."
He continues, "There aren't really any Fortune 500 companies here in the Tampa Bay area, so we had to look at our product mix in order to hit the sweet spot."
Despite their instant popularity, the Lightning have no current plans to construct more of them, because according to Griggs, "Scarcity drives demand."
The four-, six-, and eight-seat loge boxes are sold on three- or five-year deals at $15,000 per seat. The food and beverage (including liquor) is all-inclusive and features experiential offerings. For example, the Lightning, with foodservice partner Delaware North Sportservice, have experimented with cooking food in front of guests using the sous-vide method, which introduces fans to a new style of cooking as well as reduces waste, which reduces costs. In addition to its high-end menu, the Vology Loge also offers arena staples, such as pizza and hot dogs.
Each loge box is furnished with its own mounted tablet, which greets guests with a custom message upon arrival. On the tablets, loge seat holders can also watch up to six television channels which are programmed each night, purchase merchandise and have it delivered, as well as summon in-seat service with a server call button. The space is staffed with one server for every three boxes.
The Lofts
The Vology Loge is flanked by two existing loft spaces that doubled in size, now accommodating 80 people in each loft, in order to meet high demand for premium group sales opportunities that were missing before from the Lightning's arsenal.
Between the Verizon and Tampa Bay Times Lofts, these two destinations offer unique fan amenities in Amalie Arena, such as cell phone chargers and self-serve beer and wine stations.
A Community Link
Completed in just 100 days, this $25 million iteration of renovations to Amalie Arena was a construction marvel, and one that bridged the remodeled upper and lower levels from the first round of transformations, serving to further connect the Tampa community to each other and to its hockey team.
"The end result [of the renovation] is these view corridors," Kress says. "There's the organ presentation on one end, and then this gesture on the other with the loges, flanked by the symmetrical lofts. There's a calming of the bowl now. It's a classic presentation now."
"We're the benefactors of an owner who has done such great things in this community," Hill adds. "People have such civic pride now that it's almost their civic duty to get invested in what we're doing. It's a partnership between our hockey team and the Tampa Bay community."