2nd Appearance on The Tao of Sports Podcast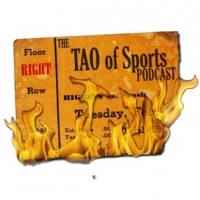 Hopefully if you are reading this, you already know of Troy Kirby's "The Tao of Sports" podcast series, where he has interviewed over 600 sports business professionals – if not, I suggest you go check it out right away.
Troy was nice enough to have me back on as a guest and we talked about a bit of everything! Here's the show notes from his website and you can listen to the entire podcast below or by subscribing through iTunes or Stitcher.
Two years ago, Russell Scibetti was on the podcast (Ep. 347), and returns now to talk about helping foster the big data revolution to sports business. Scibetti talks about some of the ways which is the conversation has changed from two years past, his involvement with the SEAT Conference, the National Sports Forum, and the 2015 Sports Sales Boot Camp in San Francisco. Scibetti discusses his thoughts on where the industry is headed when it comes to data, especially in terms of education at the franchise level. Twitter: @rscibetti