On National Signing Day, Athletes and Institutions Get Creative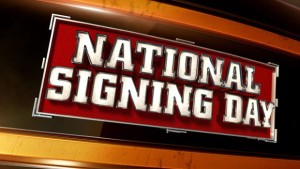 Over time, National Signing Day – the first day on which high school football players are eligible to declare their intent to play for a particular university or college by signing a National Letter of Intent – has become a media spectacle. Outlets like ESPN now devote wall-to-wall coverage to the day (this year, they delivered 11 hours of footage on ESPN2 and ESPNU, including live broadcasts of 13 athletes' commitments), #NationalSigningDay spent hours trending on twitter, and both schools and players have become increasingly creative with regard to breaking news, welcoming new recruits, and marketing both their programs and their players.
This year's National Signing Day brought us star-studded spectacles (like the University of Michigan's "Signing of the Stars" event, live streamed on The Players' Tribune and attended by no less than Tom Brady, Derek Jeter, and, um… Ric Flair), a player announcing his choice of program in a combination music video/interview with Snoop Dogg (that player, Jack Jones, played in Snoop's youth league as a child; his family has a long relationship with Snoop), and another top recruit announcing his choice via skydive (yes, skydive).
All in all, enough National Signing Day content was generated to keep even non-fans entertained. At Turnkey, though, we were focused on two stories in particular, one starring a fax machine and one orchestrated by a compassionate program for the best possible reasons.
We'll begin on the light side with @GatorsFax, a twitter account created on January 29, 2016 to share the thoughts and musings of the University of Florida's fax machine as it waited for National Letters of Intent to come pouring/slowing creeping in. The account quickly gained steam on National Signing Day, and was lauded by Rolling Stone and ESPN for its cover of Adele's "Hello". That wasn't all it had to share with the world, though – @GatorsFax graced us with some childhood footage:
These old videos of me are so embarrassing. #NationalSigningDay #babyfax #90s #PaulaCole #oldschool #DawsonsCreek pic.twitter.com/K7qdeNrNJI

— GatorsFax (@GatorsFax) February 2, 2016
… updates on old friends/colleagues:
Fax Facts: ND's fax machine has been staying on my couch ever since. #16ators

And by "couch", I mean "countertop". https://t.co/NMnrloFrLl

— GatorsFax (@GatorsFax) February 3, 2016
… awkward moments/potential world records on the making:
Fax Facts: @CoachMcElwain just stared at me for 24 minutes straight without blinking. Be right back… I'm gonna fax Guinness. @GWR.

— GatorsFax (@GatorsFax) February 3, 2016
… and even romance!
.@GatorsFax you have a secret admirer ? #CreatingConnections #TeamCRC #NationalSigningDay pic.twitter.com/z7uJkN6wP2

— CareerResourceCenter (@UF_CRC) February 3, 2016
Maybe we at Turnkey are just extra-susceptible to fax humor, but we couldn't get enough of @GatorsFax, which did a great job of cutting through the clutter with a combination of actual news (in the form of signing announcements) and toner puns.
The other story that captivated us yesterday came out of California, where UCLA signed 5-star recruit Cade Spinello. This is unique because Cade is 9 years old, and battling blindness and a brain tumor. UCLA hosted Cade on an official visit last Saturday, where he met with coaches, players and other recruits. The visit (one of several occurring over the past five years) ended with Cade signing his National Letter of Intent in front of family, players and press.
The Bruins went all in with their star treatment of Cade – you'll find him listed on their "2016 UCLA Signee" webpage. He also has a profile on Scout.com.
With the ever-growing hype surrounding National Signing Day – and the inevitable accompanying spectacles – it's truly touching to see an entire football program put a huge chunk of time, energy and attention to doing something so meaningful.
For more on Cade, check out his Facebook page.
Today's post was courtesy of Emily Huddell, Vice President, Marketing at Turnkey Sports & Entertainment. You can follow her on Twitter at @emhuddell.