What We Learned From John Scott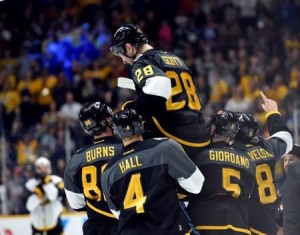 All of you already know the story of John Scott's selection to the NHL All-Star Game, the "will they/won't thet let him play" controversy and his own perspective on the story shared via The Players' Tribune. Hopefully you also watched last night's game where he scored two goals and (surprise, surpise) got voted as the game's MVP even though he wasn't a finalist (again, got to love that fan vote!).
So now that the game has passed, here are three things we can all learn from the experience:
1. Don't underestimate the voice of the fan
When all the "will he/won't he" stuff was going on, if you looked at pretty much any NHL created content on Instagram, this is what you'd see:
I think the fans are trying to tell the @NHL something – look at these Instagram comments #FreeJohnScott #sportsbiz pic.twitter.com/KRx8HcnmWN

— Russell Scibetti (@rscibetti) January 17, 2016
Fans made their feeling loud and clear, and will continue to do so for any topic they feel strongly about. Ignore them at your own peril.
2. Influencers are powerful but cannot be controlled
Everyone loves the idea of identifying influential fans, those with large social followings or spheres of influence, with the idea that they can become a natural advocate for your team/brand/product. True, it can work this way, but sometimes those influencers can have their own agenda, whether you like it or not. In this case, there were definitely some key hockey influencers that created momentum for the John Scott vote (click here for a great SI article and scroll down to the section "Then how did he end up getting voted in?").
The entire reason why influencers exists is that people trust their influence. It cannot be controlled or manipulated. It's important to maintain a relationship with these individuals so they understand
3. Fan voting is a GOOD THING!
Wait, did I just write that? Hasn't the story for weeks been around removing the fan vote, whether it's John Scott, Zaza Pachulia, the Kansas City Royals or any other story where "the fans got it wrong?" Maybe, just maybe, the fans know more about what they want to see than the teams and leagues do. So much of sports is in the story-telling, whether it's an incredible comeback, an underdog story, a gutwrenching tale, or an unbelievable accomplishment. Does anyone really mind that Kobe Bryant is an all-star this year?
Here's an idea for you – why not create an extra spot on each year's All-Star/Pro-Bowl roster for an non-traditional honoree? Every year, maybe we can honor the top write-in candidate regardless of if they actually make the roster.
There are so many wonderful stories to tell, and these games that don't count in the standings give us a great platform to use for them. The way to make these games relevant isn't by making them count more, but by telling a great story that we all want to be a part of.