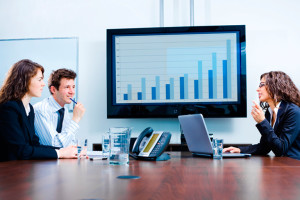 Today's post is courtesy of guest blogger Brett Zalaski, Founder of Get After It Sales. It was originally published in the Fall 2015 issue of SEAT Magainze, an ALSD publication.
While attending quite a few sports conferences this past year, I have been blown away at the advances being made in understanding the analytics that measure fan behavior. The ability to track, connect with, and monetize fans attending sporting events is truly at an impressive level. The smarter we get, the better we get, especially now that we know what we're doing.
Look Away from Customer Analytics
One of the biggest challenges for premium departments is that the fans mentioned above are just that, fans. They buy tickets, hats, hot dogs, and beers, but what they don't buy is premium seating. The vast majority of premium seat sales are B2B, which means, unfortunately, that for our highest value seats, those customer analytics can be thrown right out the window.
At one of the conferences I attended, a friend told me that he hadn't looked at a sales rep call report in months. This confession struck me a bit. I'm fully on board with the idea that number of calls or talk time do not necessarily correlate to revenue generated from rep to rep. But aren't they at least symptoms of performance?
We are obsessed with understanding our fans' processes and what causes them to spend money, so why aren't we equally obsessed with looking at our staff and understanding its processes for generating money? Especially when those seats generate millions of dollars a year in revenue.
Look Toward Your Reps' Most Effective Processes
The challenge of that idea is that it takes time, effort, and thought. Just as sports have taken the lead from corporate B2C efforts to use analytics to understand their customers, perhaps sports teams should take a look at what corporate B2B does to ensure they maximize the efforts and energy of their sales reps.
Here are a few immediate ways to start analyzing your processes:
Can we define the B2B process that is the most efficient for our team? 
When I was with the Columbus Crew SC, we identified that the most efficient process for our sales team was to use the first phone call to engage and to set up an informational meeting, and then to execute a detailed proposal. We invested in this process. We spent time each week breaking down and teaching each aspect of this process. Each inside sales rep had to sign off on each step of the process before he or she could sell B2B. We invested in a company that allowed us to create e-proposals that helped dynamically sell our product.
The result? A 100% increase in premium seat revenue in only two years. The time used to define our process was clearly well spent.
Can we stop crediting "hustle" stats (calls made, talk time, meetings attended, social media activity, etc.) as the sole reasons for our reps' success? Instead, see them as symptoms of success or failure.
When a salesperson has a good month, do we pat him or her on the back or do we search to find out why he or she was successful? For example, when were the companies that we closed put into the pipeline? How many calls a day were the sales reps making that led up to their most successful months? How many calls a day were they making that led up to their least successful months? How many meetings per week led up to their most successful months? How many meetings a week led up to their least successful months?
Instead of standardizing a sales process for everyone on our staff (i.e. sixty calls a day and seven meetings a week…FOR EVERYONE!), can we look at activity to help us determine how individual sales reps can maximize their time for the best, consistent results?
Stop using the pipeline management document only to forecast to senior management. Instead, teach your sales team to use it as a self-management tool.
One of the biggest breakthroughs in my personal sales career came when the importance of a pipeline management document was explained to me. Understanding where I stood against my monthly goal allowed me to focus my time as a salesperson most efficiently.
If my pipeline said that I would end the month over goal, I needed to focus the majority of my immediate time and resources on ensuring those sales I was counting on came to fruition. If my pipeline said that I was behind goal, I needed to ensure I went into fire drill mode to get new, qualified opportunities into my pipeline as quickly as possible. Are you teaching your reps how to use, read, and execute a proper pipeline management document for their benefit, or for your benefit?
Teach Reps to Self-Manage for Best Results
While the above are three places to start, there are a ton of innovative ways to utilize your CRM system to help with this process. In fact, while attending HubSpot's incredible Inbound conference this year, I saw a presentation, entitled How to Run Your Sales Team Like a Data Scientist.
The presentation showed attendees how to document and utilize conversion rate, how reps can create performance question spreadsheets to analyze their own metrics, how to use analytics to understand where one is wasting time in the sales process…on top of quite a few others.
Citing Harvard Business Review, the seminar leaders showed us how "companies that use a scientific approach to sales force effectiveness have found that reps in the lower quartiles show dramatic improvement, with productivity jumps of 200%." I would imagine that improving their worst B2B salespeople by 200% by adopting an analytical approach would appeal to teams.
The speaker in that presentation was Steve McKenzie, Vice President of Sales for Insight Squared, a business analytics company. I've been fortunate to have a few conversations with Steve in this area over the past few months, and I'll give him the last word here:
"Taking a leaf out of the sporting world, in sales, we all tend to focus on or obsess over results. If you pivot and focus on performance, results will take care of themselves. In order to successfully do this, you need a measurement tool to see what impact each performance measure is having. Use analysis to measure the correlation between performance and results. This will help you figure out how to and where to improve."
You can reach Brett Zalaski at brett@getafteritsales.com.