Not Our Job – Excerpt and Contest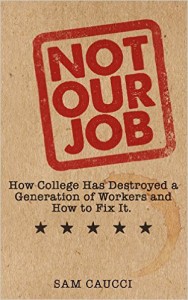 Today's post in an excerpt from the introduction of "Not Our Job," a new book by Sam Caucci, CEO of Sales Huddle Group. The Training Game by Sales Huddle is a very popular training program among professional sports sales and service teams.
Anyone who tweets a link to this post with the hashtag #NotOurJob will be entered to win a free copy of the book. (the Tweet button on this post has already been set up for you). The contest ends at 11:59PM ET on December 31st. You can also order your own copy at Amazon.com.
So here I was in the boardroom at a major New York City area university surrounded by the Dean, the Director of Career Services and several key professors, all the people who play a major role in creating the university's curriculum. The Dean was seated at the head of the table.
I was there to present my plan on how to bring a sales and customer service curriculum addition to the university and I was getting ready to begin. I put up my power point deck and got started. I explained the realities of opportunities in today's workforce. I shared feedback I heard from employers about what they want from graduates. I began to present on why teaching sales and customer service principles to students is important – a subject in which fewer than 1 percent of universities offer a major or even a minor. And quickly I was interrupted by the Dean.
"That's not our job," said the Dean.
Me, a bit shocked, "What do you mean?".
"It is not our job to prepare students for the workforce," he said. "It's not our job to spend time on customer service or sales training. It's the responsibility of the employer to do that. It is our responsibility to educate."
I was shocked. And frankly I was disturbed. I had worked with colleges in the past for a number of reasons. From hiring interns to guest lecturing in classes, I had been very active in trying to stay connected to local universities knowing that our community is stronger when companies and universities stay engaged to create opportunities for young workers. Sharing my experiences with classrooms and professors had become routine. And I expected the point of view of all universities to be to constantly find ways to create more value for the students that are spending so much to attend.
As I look back, this Dean's response really didn't shock me. It pissed me off.
Recently I sat in a different conference room. This time at a major corporation which primarily hires young talent right out of universities, a major corporation that spends a great deal of its human resources budget on recruiting, interviewing and hiring new employees to step into their company. And, in that presentation – one in which I was promoting tools to help better train and better prepare employees, I was interrupted again. This time by the CEO.
The CEO said, "Training things that our people should already know is not our job. If they can't figure it out then they won't last working here."
A job means so much more than a paycheck. A person that has a job has a vehicle to deliver their purpose. And when properly prepared they feel that sense of purpose fulfilled. People being proud of the work they do in their job and in turn doing well at their job – should be an important goal for all organizations. People that are prepared not only do better work, they also deliver a better experience to customers and to their organization. People that are prepared for their job, and are empowered and confident in the work they do everyday, become better spouses and even better parents. They are more likely to give back to the community and they are less likely to be incarcerated.
See, a job is so much more than a paycheck. And it is our job as employers, teachers, politicians, policy makers, lawmakers, parents, students and employees – to ensure that our people can succeed in their job.
This Book
I am not a writer. And becoming an expert in an area such as workforce training and development was something of an accident. On my journey in several businesses I have gained tremendous experience finding, training and coaching people. I have worked at all ends of the training spectrum. From re-training young workers coming out of college in New Jersey on how to use email and PowerPoint correctly, something that is somehow always left out of a well rounded college education, to working with leading companies like Madison Square Garden and over 100 other companies to re-design training and development programs to improve employee success. These experiences have given me a front row seat to observe how the problems I will address here have emerged.
A few years ago I was in a coffee shop on a trip to San Francisco. Sitting at the counter sending emails I eavesdropped on the interaction of the cashier and the manager in what appeared to be a trial by fire initial training during a primetime morning rush. Clearly aggravated at not understanding the manager's directives on how to operate the register and manage the flow of orders, the employee became frozen. You know that look when you have no idea what is happening in Calculus class so you stare at the board and pray for the bell to ring? This employee had zoned out. She was clearly not understanding what was happening and was a bit embarrassed that her struggle was being put on display for so many customers. And now for the best part. The manager, putting years of leadership training into action, responds, "This is how I got trained. You will be fine."
It is debilitating to our society and workforce when workers come out of a university and step into their first role without the tools to be successful. And it drains the energy from a worker when they get hired and receive the minimum in formalized training to prepare them for their work.
This book started as a simple idea and grew into a keynote that I have delivered dozens of times across the country to rooms full of people ranging from educators to corporate business leaders. In it we will explore the problem that we currently face in regards to the future of the people that drive our workforce. We will look at the problem that has been fueled by four key groups, Educators, Employers, Employees, and Lawmakers. All have played a critical role in creating this crisis.
I will also provide a few thoughts regarding the solutions to correct this problem, solutions that I have made my career goal to see implemented. That I have made it my career goal to address. And yes, this book is a bit of a tirade. Just bear with me. The facts I have unearthed should shock you. But I hope my thoughts will impress upon you the need for action. And regardless of the role you play in our workforce it is important you understand where we are so that you can help to right our track forward.