Golfers to Play Turkish Airlines Open for Another Three Years

Today's post is courtesy of guest blogger Brooke Kornberg.
The Turkish Airlines Open kicks off today for the third year in a row. Top players from around the world are vying for position atop the Race to Dubai. In the field, there are 78 players from 21 different countries, of which 59 are European Tour winners with a combined 264 victories. Headliners of the tournament include Rory Mcilroy, Lee Westwood, Ian Poulter and Darren Clark.
Turkish Airlines has been the headline sponsor since the tournament began in 2013. This week the airline announced that it has renewed its deal for title sponsor of the Turkish Airlines Open for another three years. It ensures that the important tournament near the close of the European Tour calendar will stay on the rich soil of Antalya, Turkey.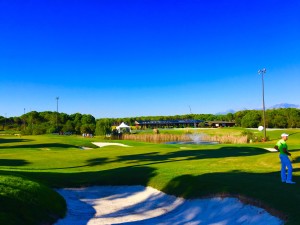 "Turkish Airlines has been magnificent in their support of golf in Turkey. The difference it has made, especially in raising the profile of the Turkish Airlines Open, has been incredible to see. It is therefore fantastic that together we have agreed to extend the tournament for a further three years – we cannot wait to grow the game in Turkey even further," said Ahmet Agaoglu, President of the Turkish Golf Federation.
The airline has made golf sponsorship a priority. In addition to the Turkish Airlines Open, it sponsors The Turkish Airlines Challenge, The Turkish Airlines World Golf Cup, The Turkish Airlines Ladies Masters and is a Premier Partner of The Porsche European Open.
"We are delighted to be able to commit to sponsoring this fantastic tournament for a further three years. Turkish Airlines is committed to supporting golf across the world, but in particular in Turkey. That is why it is so heartening to see Turkey's golf offering develop over the time we have been supporting the sport. It really is the rising star of golf destinations," said Ahmet Bolat, Executive Vice President of Turkish Airlines.
Through its sponsorship of many golf tournaments, including the noteworthy Turkish Airlines Open, the airline has been able to further establish itself as a leader within Turkey and around the world. It has captured applause of Turkish leaders and golf's greatest, including McIlroy, whose endorsement goes a long way in the game of golf.
"It is great to see the work Turkish Airlines is doing for golf in the country," said McIlroy. "I'm delighted to be a part of anything that brings more people into golf, especially younger players. I really welcome the fact that golf is showing some of the greatest growth in countries, Turkey included, not traditionally known for the game. Only by encouraging this can we call golf a truly global sport."
Brooke Kornberg is a Mergers and Acquisitions consultant at PwC. Connect with her at www.linkedin.com/in/brookekornberg.