Bringing Real World Expertise Into the Classroom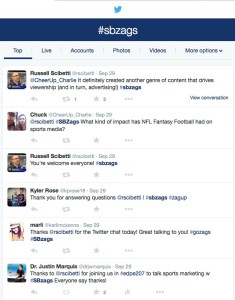 Today's post is courtesy of guest blogger Justin W. Marquis PhD, Director of Instructional Design at Gonzaga University.
I am a fan of sports. I like my hometown Boston teams, and my graduate work at Indiana University made me a permanent Hoosier fan, but sports are not an area I research, (usually) teach or work in. So I was quite surprised when, over the summer, I was approached to teach Sport & Fitness in the Digital Age for Gonzaga University's Sport Management program. My areas of expertise are in digital media, instructional design and marketing, and those areas are broad enough that I could focus on sport and fitness to create a viable course filling in for another instructor. So I focused the course on teaching the students media design and production skills that they apply in various sport and fitness contexts, often with a marketing focus.
The obvious gap in the class, and one I'm not trained to fill, is in the practical application and day-to-day business of sport. I recognized this shortcoming when designing the course and put out a call via social media to experts working in the sports business and marketing fields inviting them to share their expertise and experiences with my students.  Russell Scibetti, the founder of The Business of Sports and an expert in CRM and and digital marketing, was kind enough to volunteer to participate in a Twitter chat and Skype debrief with the students to provide them with an insider look at the specific training, skills and daily activities of someone who is in the trenches doing the work. Here is a recap of the takeaways from the session that highlight the value of the experience for my students.
Build Essential Skills Through Experiences
The most important takeaway from the session from my perspective trying to prepare students to actually work in the sport media industry is that they need to focus on developing solid skills that translate to any sport, team, or market. Russell's advice was to develop a broad range of skills in targeted areas that will open doors for the students when they go on the job market. Among the skills he mentioned were business fundamentals such as marketing, finance, technology, statistics, and communications. I've been targeting many of these skills in this project-based class and it was encouraging to hear that the skills my students are developing will help them when it comes time to get a job.
Internships, Internships, Internships
Russell's next point of emphasis, which he reinforced with several examples from his own university experience, was that internships are crucial to help students gain access to jobs within the sports industry. Internships are essential for two reasons: 1. They provide students with opportunities to utilize skills and knowledge learned in the classroom and supplement it with additional experiences gained in the field and, 2. Internships are a great way to make the personal connections that are extremely important for securing employment in the industry. Russell's examples of interning with collegiate sports teams during his studies really resonated with the students and I have since had conversations with several of them about seeking internships either with some of the Gonzaga teams or one of the several minor league or professional franchises here in Spokane.
Preparing for the First Interview
Russell shared the details of one of his early job interviews (with the New York Jets) with the students as a way of illustrating how to sell yourself in an interview. The key takeaway from his story was that he went to the interview prepared not only to answer questions about himself, but with a plan for how he would add value to the organization. His plan was specific and detailed what he would do within 3 months, 6 months, 1 year, etc. I have taken this point as a mantra for my students when we discuss careers. I find myself routinely reminding them to think about how they, as unique individuals add value both to the organization they are applying to and to the specific position. One of the ways that I'm having the students demonstrate that added value is through the construction of a portfolio to showcase their work. The intent is for them to collect all of their course projects into a single online repository that they can add other projects to through internships or other opportunities.
Developing a Presence
Sports are really an entertainment industry (as distinguished from fitness) and as such many of my students are interested in having their voices heard in the myriad conversations that pervade the sports landscape since the advent of the Internet and social media. Russell's advice to the students was to develop an authentic voice that is true to themselves and adds value to conversations to cut through the noise. We discussed using humor or another gimmick, but Russell's advice to be authentic rings true for me. This is an area I will discuss in depth with the class when we work on podcasting and video production later in the semester, but Russell's advice provided the students with a head start on cultivating that authentic voice. This is advice that will bear fruit for many of the students who already demonstrate that they are articulate, well informed, innovative, and enthusiastic about the business of sport.
On the Business of Sports
In addition to the personal pointers and insights that Russell provided to the class he also talked a good deal about the actual business of sport and his current work. We learned about upcoming trends in CRM and marketing via social media. We learned the value of developing a "long tail" revenue stream through fan engagement, and some of the technological innovations that current sports organizations are using to distinguish themselves and provide amazing fan experiences. This was the area of content that I lacked the hands-on experiences to share with my students, and I am very grateful to Russell for volunteering his time to provide that valuable insight to a previously unknown group of students 3,000 miles away.
The class session was only an hour and fifteen minutes, but reflecting on it now it's hard to believe that we crammed so much rich content into such a short amount of time, primarily using Twitter! To see the stream of tweets for yourself, please search for the #SBZAGS hashtag.
You can reach Justin by email at marquisj@gonzaga.edu or via Twitter at @drjwmarquis.