Trends and Thoughts on Sports TV Viewership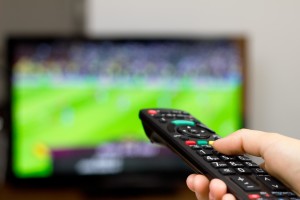 Today's post is courtesy of guest blogger, Steve Seiferheld.
If you keep up on the various sports blogs and media outlets, including The Business Of Sports, you surely read a lot about modeling, predictive analytics, the use of CRM systems, and the overall infusion of statistical analysis within the industry.  And for good reason; ticket revenue is one of the major sources of revenue for any type of sports or live event.
However, when it comes to sporting events that receive national or otherwise substantial TV coverage, the number of TV viewers will dwarf the size of the crowd in attendance.  And you don't even need to look to the extreme cases (e.g. Super Bowl) to make the point.  Consider for example the broadcast of NCAA basketball game Villanova v. Creighton, which aired on FS1 on Tuesday March 3, 2015, at 9:15 pm EST.  Per Nielsen, FS1 had 136,000 viewers, or nearly 8x the max capacity of roughly 17,400 at CenturyLink Center in Omaha where Creighton plays.
Sports media rights draw big bucks because they deliver instant DVR-proof content that draws ratings anywhere from "relatively good" to "hot damn"!  So it makes sense to peruse ratings and see what's happening from time-to-time.  Looking at some trends over the past 12 months or so, here are some fascinating tidbits about sports on TV.  (Data sourced from Sports Media Watch and Nielsen.)
– Ticket holders gripe all the time about NFL preseason games. Well, for the week ending August 3, 2015, the most watched program on Primetime Network TV was…. preseason football on NBC.  And the #4 program?  The preseason football pregame show.
For the African-American demographic, the preseason game and pregame show were #1 and #2 respectively.
Ironically, despite the clout of ESPN, only one sports program made the top ten for Cable Network TV week ending August 3, 2015 – and that was #10, the NASCAR Sprint Cup race at Watkins Glen on NBCSN.
– Despite NASCAR getting that #10 ranking, overall viewership is hurting. According to Sports Media Watch, all 13 Sprint Cup races on cable in 2015 have scored record lows, or worst ratings/viewership in this decade.  The shift from ESPN and TNT to NBCSN and FS1 surely hasn't helped.
– Big buzz this past week about the 2015 Video Music Awards on MTV. The VMAs scored a Nielsen rating of 2.8, just 0.1 less than the 2.9 rating for the Cincinnati v. Tampa Bay preseason game on ESPN.  Take that, Miley.
– Perhaps most fascinating to me, what follows is some information regarding the top 50 sports programs through the first half of 2015. Here is a synopsis of the top events by sport:
| | |
| --- | --- |
| NFL | 13 |
| CBB | 12 |
| NBA | 9 |
| CFB | 4 |
| Horse | 3 |
| Auto | 3 |
| FIFA | 2 |
| Golf | 2 |
| MLB | 1 |
| NHL | 1 |
First, notice that the NFL is on top. No surprise – except that one of those 13 events is the NFL draft, which at #41 had nearly 9 million viewers.
MLB and NHL really struggle to come up with must-see moments. The lone NHL entry was game 6 of the Stanley Cup finals – at #48.  And MLB made the list with its All-Star Game at #31.  It's just difficult to make early-season MLB games compelling enough to draw monster ratings.
– Just to see if things look different for a calendar year, here's a synopsis of 2014 top 50 events by viewership.
| | |
| --- | --- |
| NFL | 37 |
| Oly. | 8 |
| FIFA | 3 |
| CFB | 1 |
| MLB | 1 |
Yeah, NFL is clearly dominant. Top-rated Olympic broadcast?  The opening ceremony – which corroborates NBC's longtime stance that the Olympics are a lifestyle event, not just a sports event.
So what's the point?  The point is that sports marketers are, more so than ever, focused on driving ticket sales.  Beware the marketer who forgets about TV viewership.  Low ratings –> low ad sales –> lower desirability to air events –> lower TV contracts –> less dollars distributed to teams from TV contracts.  So, engage those fans and get them to tune in, if not show up.
Steve Seiferheld is the President and founder of Insight For All, a consultancy focused on customer insights, marketing strategy, and data analysis/visualization.  You can reach Steve at InsightForAll@outlook.com or at www.InsightForAll.com.