Super Bowl XLIX Economic Impact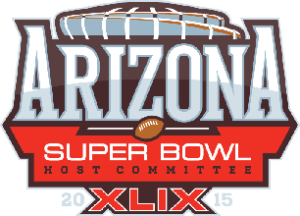 When I was working on my MBA at the W.P. Carey School of Business at Arizona State University, I had the chance to participate in the data collection efforts for the Super Bowl XLII economic impact study. When I saw that the latest economic impact results were released last week, it brought back some fond memories. I was also quite impressed with the results – only seven years earlier, Super Bowl XLII had just cracked the $500M threshold of economic impact, compared to over $700M from the most recent game!
Here is the full release with the results of the study and information about how the study was conducted.
—–
SUPER BOWL XLIX AND RELATED EVENTS GENERATE AN ECONOMIC IMPACT OF $719.4 MILLION ACCORDING TO STUDY COMPLETED BY ARIZONA STATE UNIVERSITY
A study completed by the Seidman Research Institute, W.P. Carey School of Business at Arizona State University, determined that Super Bowl XLIX, the 2015 Pro Bowl and related events produced a gross economic impact of $719.4 million in the region. The announcement was made today at The Governor's Conference on Tourism at the JW Camelback Inn in Scottsdale.
This is the largest economic impact of any special event ever held in the state of Arizona, as well as the highest for any Super Bowl for which publicly released figures are available. By comparison, Super Bowl XLII played at University of Phoenix Stadium in 2008 generated a gross economic impact of $500.6 million (2008 dollars) based on research also conducted by the W.P. Carey School of Business.
"This is tremendous news for our economy and a strong testament to the exceptional work of everyone involved," said Arizona Governor Doug Ducey. "The eyes of the world were on Arizona, and we delivered in a big way. I look forward to our state hosting many more successful championship games and major events in the future."
Commissioned by the Arizona Commerce Authority in partnership with the Arizona Super Bowl Host Committee, the study focused on the nine-day period from January 24th through February 1, 2015 coinciding with the Pro Bowl and Super Bowl which were played at University of Phoenix Stadium on January 25 and February 1, respectively.
The gross economic impact is defined as the direct amount of spending by visitors and organizations arriving from outside the state to participate in or create events directly related to the Super Bowl, as well as the indirect and induced impacts of those expenditures, often described as "ripple effects." Resident and local business spending was not included.
To gather data about spending and duration of stay from visitors, on-site surveys were conducted at events around the Valley over the nine day period by teams of trained individuals from the W. P. Carey School of Business. Data was collected from out-of-town visitors who stated that the main reason for their visit to the Phoenix Metropolitan area was for the Super Bowl, Pro Bowl and/or associated events. The data was collected across multiple days at multiple sites to sample diverse socio-economic and demographic groups.
The indirect and induced economic impacts were calculated using an IMPLAN (IMpact analysis for PLANning) model originally developed by the University of Minnesota. This commercially licensed linear input-output model is widely used for economic assessment throughout the United States and is populated with local, regional and state data for Arizona.
Other findings from the Seidman Research Institute at W.P. Carey School of Business report:
An estimated 121,775 visitors came to Arizona for Super Bowl XLIX and/or the 2015 Pro Bowl; those visitors stayed an average of 3.99 nights.
An estimated 5,033 out-of-town media members came to Arizona and stayed an average of 7.1 nights (up from 4.1 nights for Super Bowl XLII in 2008).
The $719.4 million economic impact for Super Bowl XLIX represents an increase of 30.8% over Super Bowl XLII in Arizona (adjusted using the Bureau of Labor Statistics Consumer Price Index, or BLS CPI, inflation calculator which expressed that the 2008 economic impact dollars have the same buying power as $550.1 million in 2015).