New Rules in the Game of Sports Marketing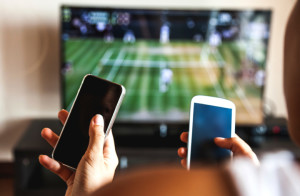 Today's post is courtesy of Research @ W.P. Carey, a digital publication from the W.P. Carey School of Business at Arizona State University. This is an excerpt from an article earlier this spring featuring insights from an on-campus event with local sports business industry leaders.
When Jeramie McPeek, the Phoenix Suns' vice president for digital media, started with the Phoenix Suns more than 20 years ago, the chief way to communicate with fans was a 15,000-circulation magazine sent to mostly to local season-ticket holders. Not so anymore.
McPeek was a speaker at the W. P. Carey School of Business' Sports Business Association Second Annual Symposium. The symposium started with the Sports Business Radio Road Show, featuring Arizona Diamondbacks president and CEO, Derrick Hall, followed by panels with professionals from sponsorship, digital media and analytics. The topics covered — digital and social media, sales trends and marketing — are evidence of how much sports business is changing.
These days, Suns.com is visited by three million fans yearly. The team has attracted 1.7 million followers to its Facebook page, 400,000 to the Twitter feed and 200,000 to Instagram. Suns' games also are streamed live on an app called Fox Sports Go.
The Suns are not unique in the use of digital media; virtually every team is using it in marketing and sales. At the symposium, some of the leaders in the industry shared what they've learned.
The new courtside seat
That Fox Sports Go app is part of the way teams responding to changes in fan behavior.
"A lot of people are going away from television," said Brett Hansen, director of communications and marketing for Fox Sports Arizona. "People are looking for other ways to watch. People are busy. You can't always be home to watch your TV. This gives you the opportunity to watch the Suns on your phone. You've got to give them the opportunity to watch on another device."
Hansen said that Fox Sports would love to have something similar in place with the NHL and MLB: "That's the next thing on the horizon."
Other trends may include wearable apps — such as watches that will send fans data — and an increase in fan-generated content.
Said McPeek, "Now it's really more about the mobile experience: making sure they're getting the real-time stats, play by play, the shot chart and the radio feed, if they want to listen to Al McCoy while in their seats."
For example, next season, the Suns plan to have in-arena highlights on demand. "So if Gerald Green Jr. has an amazing dunk, within 10 to 15 seconds, you can open your app and see that dunk from four different camera angles," McPeek explained.
A brand new season for marketing
"It's an incredible time to get into sports marketing," said Alan Young, who has been involved in the Arizona sports scene for decades and now heads the Arizona Sports and Entertainment Commission. "Sponsorship sales and sports marketing has probably never been at a higher level. There are so many opportunities."
Greg McElroy, who led the negotiations for the Dallas Cowboys to name their palatial football stadium, told the symposium's audience, "For nine years, I woke up every morning with the sole purpose of trying to make Jerry Jones richer."
McElroy decided to try something else. A year ago he joined Arizona State University Athletic Director Ray Anderson, who had been a high-ranking NFL official. McElroy is now an associate vice president and chief business developer for Sun Devil Athletics. He recently negotiated a multi-million dollar deal for ASU with Adidas AG and soon will be pursuing an even bigger fish: naming rights for Sun Devil Stadium as part of the revenue drive to rebuild the stadium.
"Sponsorship," McElroy told the audience, "is truly relationship selling. You can be book smart. But you've got to be able to relate to people, listen to people and build that rapport with your customer," he said. "It's just so critical because it is so competitive. We're selling intangible stuff. We're not selling the fastest car or the fastest computer."
This is why ticket sellers sometimes have trouble making the switch to selling sponsorships, he said. "You've got to be able to sell conceptually. Being personable, having an outgoing personality, that you can tell people want to be around that person: those are the most important traits I look for."
In Dallas, McElroy arrived in 2006 to find a mom-and-pop organization that had only two people in sales and marketing: "We built it to 67 people, from 20 sponsors to 280 sponsors." At ASU, McElroy took over a situation where, as at most universities, a third party was in charge of sales and marketing. The relationship ended, with McElroy hiring his own staff.
"We are one of only two schools in America to do that. We're going to control our future. We're going to control the branding, the messaging, the relationships," he said. So far, sponsors like the change. "They want a direct relationship."
Ray Artigue, an ASU graduate and former Suns' official who now is a local advertising executive, advised, "The biggest challenge is getting in front of the right person, the decision-maker. You can spend a lot of time talking to the wrong people. Once you do, what are their hot buttons? What are their needs?"
Click here to continue reading the full article at research.wpcarey.asu.edu.