Stepping Outside The Box With A Fantasy Mission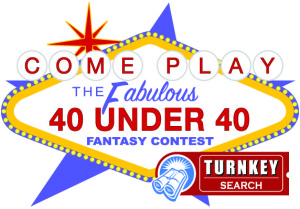 Today's post is courtesy of guest blogger Emily Huddell.
What makes someone great at their job? Intelligence? A particular skill set, or personality trait? The way a person learns, communicates, or builds a team?
There's no question that many factors (on both the candidate side and the employer side) combine to make a particular person great in a particular position. The challenge when hiring is to identify those factors, which is something Turnkey Search focuses on.  Over time, we've closed more than 500 executive-level searches in sports and entertainment by doing just that: matching the right candidates with the right positions so that both sides' opportunities for success are maximized.
This week, we've taken a step towards communicating that message in what we hope is a fun, tongue-in-cheek way. As The Business of Sports readers may already be aware, we've launched a sports business fantasy contest. The premise: Turnkey Search identified four fantasy missions, each of which is focused on saving the world from a serious threat. When we say "fantasy", we meant it – we're talking Earth-smashing asteroids, AI-takeovers, etc. Then, we evaluated this year's class of SportsBusiness Journal Forty Under 40 winners to identify which individuals would be best-suited to tackle each mission, relying on our 20-year track record of building winning management teams, data and personality test results to match each individual with the mission s/he'd be most likely to excel at.
The next part is where the sports business community comes in – entrants can visit our website (you have until noon on April 7, 2015) and try their hands at evaluating talent by creating their own fantasy team for each mission. Anyone who assembles a "mission team" that's identical to Turnkey's will win up to $100,000 for themselves or their favorite charity.
Our goal with this campaign has been to increase industry awareness of how executive search analyzes and identifies the optimal match between candidate and team need while at the same time offering the sports business community a chance to participate in a quick exercise that we hope is both fun and relevant. What do you think? Did the #40U40Contest catch your eye?
Let us know if you accepted our mission to build a top-flight sports business fantasy team – we'd love to hear your take on this promotion!
Editor's Note: I just entered the contest myself (full-disclosure), and I have to say it was interesting thinking about the various roles and skills that the 40 Under 40 honorees have and how they can be combined to create the strongest team for each challenge. It's a good reminder for anyone who manages staff that the right hiring decisions are about a blend of individual strengths and team dynamics.