Sports Events Worth More Than Dollars and Cents

Today's post is courtesy of the W.P. Carey School of Business 'Research and Ideas' newsletter from February 19, 2015.  
W. P. Carey researchers say the Phoenix area benefits greatly — both economically and otherwise — from its portfolio of major sporting events. Not all cities can say the same.
The United States Olympics Committee surprised sports-watchers nationwide in January, when it announced that it had selected Boston — rather than the favored cities of Los Angeles or San Francisco — as its bid city for the XXXIII 2024 Summer Olympic Games.
The announcement, which officially put Boston in competition with cities worldwide to host the '24 games, spurred celebrations around Beantown, as locals pondered the excitement that would come along with Olympic baseball being played at iconic Fenway Park, beach volleyball on the Boston Common and rowing on the Charles River.
Then reality set in — and as local officials and residents began tallying up the projected costs (one early projection put those costs at $4.5 billion) some began to wonder whether hosting the Olympics would actually be worth it. Within weeks of the excitement of that January announcement, a grassroots effort was launched to keep the games out on Boston altogether. The group's argument was simple: the costs of the games would far outweigh the benefits.
According to two W. P. Carey experts, the protesters are probably right about that — but they add that doesn't necessarily mean that certain events aren't worth the time and effort, nor that certain cities are naturally equipped to profit from them.
Indeed, according to W. P. Carey's John Eaton and Michael Mokwa, when it comes to a city like Phoenix — a town that has a become regular host to some of the biggest events in American sport and just this month hosted the Super Bowl for the third time — being a hotspot for major sporting events can be a boon. Importantly, however, they note that the benefits go far beyond mere dollars and cents, and firmly believe, based on their years of study, that the true impact of these events on a city and region can't be fully understood through economic studies alone.
Coveted assets
"Economic impact studies are tightly focused on the 'infusion' of dollars into the economic area and sector surrounding an event, most commonly limited to the amount visitors to the area spend," says Michael Mokwa, the Pat Tillman Foundation Distinguished Professor at the W. P. Carey School of Business. "So these studies do not capture all the money circulating around the event, or the intangibles. The events provide opportunities for the local residents to easily partake in experiences that can provide lifelong memories, and as John notes they build the brand (identity) of the area. As such, they are coveted assets."
Eaton, Mokwa and their W. P. Carey colleagues first began analyzing the impact of huge sporting events in the region back in 1995, when the Arizona Department of Tourism hired them to complete a demographic study of all the myriad sporting events hosted in the state. That charge saw W. P. Carey researchers compile information on a half-dozen events that year, including three major golf tournaments, two college football bowl games and the Super Bowl.
That baseline effort was so successful that, three years later, officials from the Fiesta Bowl hired W. P. Carey to measure the game's economic impact, with a specific impact on spending by out-of-state visitors, and the school has since done similar studies for the BCS National Championship Game, the Waste Management Phoenix Open and NASCAR races at Phoenix International Raceway.
Each of these studies, of course, had their genesis in basic concerns about costs. Public officials or event organizers were trying to find data to support their suspicions that these events, while often costly, ultimately made the region money. Each event brought its own pluses and minuses, its own costs and problems and indeed, the city of Glendale —home to the University of Phoenix Stadium — has said that while it may be true that the Phoenix region sees as much as $500 million infused into its economy by the event, its own coffers were dented to the tune of more than $1.5 million. That's why the city asked the state this year for more financial support.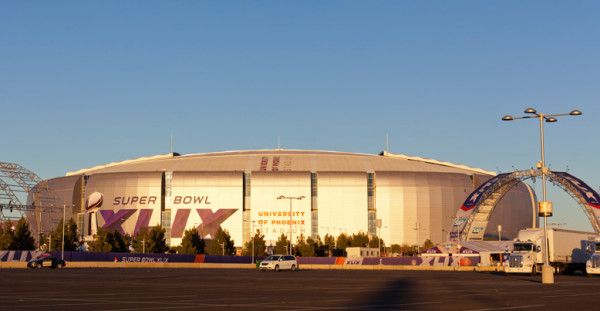 Long-term intangibles
Putting the costs aside, however, Mokwa and Eaton say that civic leaders would be wise not to limit their evaluation of these events to cost and return alone. Because while the financial angle is certainly critical, there are longer-term benefits at play, as well.
"We can do a sophisticated job of measuring direct spending by out-of-town visitors," Eaton says. "But the benefit, in my opinion, extends beyond these tangible dollars. The challenge is to measure the intangible benefits of the exposure the area receives as a result of these events. Analytically we're able to do a better job of capturing the amount of exposure the city and state gains by hosting a world class event such as the Super Bowl through mentions in broadcast and social media vehicles … hopefully (with that exposure), the area becomes a viable destination in consumer minds."
These "soft" benefits — the benefits that go beyond the dollars injected into the region — are important, Eaton says, because they ultimately create long-term value that strict economic studies might miss. And given that not all locals in all host cities are necessarily thrilled with the costs associated hosting such events — the grassroots anti-Boston Olympics campaign is a notable example — organizers can use that information to make the case that, even taking those costs into account, many of these huge events are worth the time, effort and cost associated with them.
"Some people feel the public money and sponsorship funds invested around an event are not worth it," Mokwa says. "They don't care about sports, or they are myopic in understanding the value to community and the experiences that are readily available to their neighbors. But this problem exists when we invest in schools and libraries or give tax incentives to corporations, too."
Not all in the same league
Of course, Eaton and Mokwa are quick to point out that not all events bring the same value — and not all cities and regions are equipped to capitalize on hosting them. Brazil, for instance, spent an estimated $15 billion on the 2014 FIFA World Cup, but many believe several of the stadiums built will eventually prove to be massively wasteful white elephants. Russia, meanwhile, dropped a staggering $51 billion on the 2014 Sochi Winter Olympics, and the formerly sleepy seaside resort is unlikely to see any long-term benefit.
"The Olympics and World Cup are different animals altogether, as infrastructure and venues likely need to be built to host the games," Eaton says. "I can't imagine the weeks of hosting these events turning a profit."
And this, of course, is where a city like Phoenix is better positioned to benefit from its portfolio of annual events. While the city and region still incur costs — sometimes substantial costs — to host these events, and while new facilities occasionally need to be built or old facilities upgraded, there is no massive outlay of cash each time an event like the Super Bowl comes calling. Thanks in part to its years of experience, and thanks in part to the infrastructure it's built up over several decades, Phoenix has both the facilities and know-how to not only show its visitors a great time, but just as importantly, to capitalize on each and every one of those visits, too.
"Some communities have the reputation of pulling together more effectively, and some have demonstrated superior competencies managing these events and leveraging them for their communities," Mokwa says. "(The Phoenix area) has achieved this reputation across the many mega-events that we have hosted. We work well together as a community, we work well with the presenting organization and all of their partners and we carefully manage the cost and benefits for the state of Arizona."
For more great content from the W.P. Carey School of Business at Arizona State University, please visit research.wpcarey.asu.edu.