From the Top with Chris Granger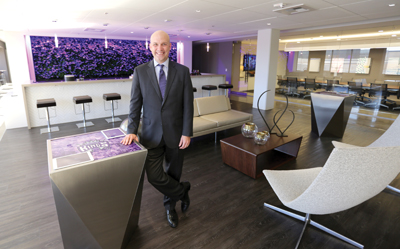 Today's post is courtesy of guest blogger Jared Frank, Editorial Director of SEAT Magazine, a quarterly publication by the Association of Luxury Suite Directors. This article appeared in their Fall 2014 issue.
The President of the Sacramento Kings discusses NBA 3.0, increasing reach and control for marketing partners, the Kings' commitment to community leadership, and how technologies such as augmented reality, drones, and Bitcoin are enhancing the experiences of Kings fans.
JF: How does your experience from working in the league office assist you now in leading one team exclusively?
TMBO (Team Marketing & Business Operations at the NBA) is one of the greatest training grounds in the world. You are exposed to every best practice, every terrible practice. You get a great sense of what is going to work or not work in any situation, whether it's a big market or a small market, a winning team or a losing team. The breadth of exposure you get in TMBO provides you with lessons that can be put to immediate use, whether it's here in Sacramento or anywhere else across the country. The TMBO experience is an accelerator like nothing else I can imagine.
A side benefit of my TMBO experience has been my ability to come to Sacramento over the last ten years, so I'm not coming into the market cold. I'm not coming to a staff that I've never met before.
JF: Can you elaborate on some of the benefits of being in the trenches everyday with one team instead of having a wide-angle view of them all?
It's fun because you get to build longer relationships with employees, and with customers. It's rewarding to be able to have an extended stay. It's rewarding more than anything else to be able to spend as many hours of the day as we do with our staff, our clients, and our community to help on a project that's going to be transformative for this region for decades to come.
JF: What factors did you account for when setting up your staff and your culture here in Sacramento?
First and foremost, we want to be the best in the world at everything we do. We want to be the best sellers. We want to be the best at service. We want to be the best at activation. We want to be the best at marketing. We want to be the best at incorporating analytics in all areas of the business.
From a recruiting standpoint, we're looking for people with that mentality, people who want to be great every single day, people who understand that in Sacramento, we don't have much margin for error. It's not a big enough market where if you make a mistake, there are people to backfill from a client standpoint. We have to get every interaction right the first time and every time. So we want to be perfect.
We want people who are service-oriented. We want to make sure from an analytics standpoint that we are well informed before we make a decision. And we want to make sure from a sales standpoint that we are handling our valuable leads with the utmost of care and precision. All of that blends into wanting people who are achievers, people who are relationship-oriented, and people who are community-minded in the broad sense of the word community. I want to make sure [our staff] understands how important this [team] is to Sacramento. I also want everyone to be nice and fun to work with. Given the hours that we all work, and it's a lot, and the pace at which we work, everyone has to enjoy it along the way.
JF: In your quest to be the best, whom are you benchmarking against?
Again from the TMBO experience, there are so many teams who do different pieces of the business better than anyone else in sports, so you look to team x for building a culture in ticket sales. You look to team y for best practices in activating a sponsorship. You look to team z in terms of how they quantify the impact of their marketing efforts. From my standpoint, we take bits and pieces from everyone. I wouldn't say there are one, two, or three teams we look at the most. We pull the best ideas from everywhere, whether they are from NBA teams or not.
JF: Have other teams been coming to you asking about the components that are in this Experience Center and will be in the arena, things like the tablets, the augmented reality?
Sure. In the NBA, we share with each other. [Former and current NBA Commissioner] David Stern and Adam Silver have done a great job of instilling that mindset in all the teams. We are happy to share best practices on sales events. We are happy to share all our new technology from the Oculus to the drones to how we work with Bitcoin. We're part of the bigger NBA family, so we're sharing all the time.
JF: How do drones enhance the message that you're trying to communicate to Sacramento and potential buyers?
[Sacramento Kings owner] Vivek [Ranadivé] talks all the time about what he calls NBA 3.0. NBA 3.0 is using technology to enhance the fan experience, using basketball as a mechanism for doing good in the community, and communicating the values of Sacramento to the rest of the world. Those are the three things we talk about when we talk about 3.0.
From a technology standpoint, we want to continue to push the boundaries in ways that enhance the fan experience. So from the drone standpoint, the utility answer is that they provide people a vantage point that they couldn't otherwise get. As we tear down this mall across the street here, we'll be able to fly a drone over everyday and give people an insider experience of what's happening behind the scenes in a way they could never get otherwise.
In addition to that, they're just fun. Drones are fun. And that's what we want to be as well. So it's not just about the insider experience, although that's great. It represents who we are in terms of wanting it to be fun for our fans. Drones are a way to demonstrate that we have a different outlook on the world.
JF: Sometimes the simple answer is the best answer.
That's right. They're just fun, and that's what we want to be.
JF: Bitcoin as a currency is still a foreign concept to most people at this point. Does your community understand the idea of virtual currency?
We've been floored at the uptick of Bitcoin usage in and around our business. People have purchased tickets, season tickets, merchandise in store and online, as well as different VIP experiences using Bitcoin. It has truly exceeded our expectations in terms of one, the number of individuals who have used Bitcoin in various transactions with us, and two, the aggregate dollar amount that's been transacted in Bitcoin.
JF: How do you differentiate the Kings for prospective buyers from all the other entertainment options in your region?
One of the things we're focused on is providing a turnkey solution to market dominance for our partners. We've been partnering with other organizations in order to extend the reach of our marketing partners. For example, we have a partnership with the Sacramento Sports Commission, where we control the marketing and sponsorship rights not just for the Kings, but also for the USA Outdoor Track and Field Championships. So now when you partner with the Kings, you don't just get the Kings, you also get the Outdoor Track and Field Championships.
We also have a deal with the Sacramento Convention & Visitors Bureau, where you get the Kings, the Outdoor Track and Field Championships, and you get Farm-to-Fork Week, the Gold Rush Days, and the Fourth of July fireworks. We do a deal with the ten largest farmer's markets in Sacramento. If you're interested in reaching that demographic, you get the Kings, the farmer's markets, and the fireworks. We do a deal with USA Snowboarding. We're the exclusive marketing agent for USA Snowboarding. So now you get the Kings and Lake Tahoe and Park City.
We're always looking to piece together assets in strategic ways that give our marketing partners greater reach and greater control of the market that they can't get anywhere else. That's a marketing proposition that's resonating with our partners right now.
JF: What does our association need to be paying attention to in the coming years? What are the issues that are going to be driving our industry?
I think you hear it in our 3.0-vocabulary. From our standpoint, we place a significant emphasis on our community efforts. And by community, we don't just mean Sacramento; we mean the global community as well.
Whether it's a portion of your season ticket payment going to literacy programs in Sacramento to a portion of your concessions purchase going to UNICEF to provide clean water throughout the world, we're focused on not just being community citizens, but leaders as it relates to how corporations interact with their communities. I hope there will be an increased emphasis on that throughout sports. Sports gets so much attention, sometimes more than it should, so we want to lean into that and make sure people know we can do great things if we do them together.
Technology is two. There are so many interesting things right now related to technology, whether it's virtual currencies or things like Google Glass or Oculus that give you an insider experience. Imagine how the broadcast is going to look completely different in the future, because you have a virtual headset on with surround sound, and it feels like you're watching the game courtside, even though you're sitting in the movie theater across the street.
###
Jared Frank is in his seventh year with the Association of Luxury Suite Directors (ALSD), serving as the Editorial Director for SEAT Magazine and ALSD.com. He can be reached at jared@alsd.com and on Twitter at @JChrstophrFrank.
The ALSD provides its member teams and venues with accurate and timely information from across all layers of the premium seat industry in stadiums and arenas throughout North America with a growing global reach. For more information on the ALSD and the association's 25th Annual Conference and Tradeshow in San Francisco in 2015, visit ALSD.com. You can also read additional coverage of the Kings Experience Center and the under-construction Sacramento Sports & Entertainment Center in the current issue of SEAT Magazine and coming in January, on ALSD.com.