In my most recent perusal of team marketing emails, I noticed one from the Minnesota Timberwolves with the subject line "Win a Suite for the Lakers Game by Completing Your Pack Profile." Being as data and CRM oriented as I am, I decided to take a closer look at how the team was using this email and incentive to learn more about their fans, and I came away very impressed with the process.
To start, here is the email which does a great job highlighting the valuable incentive and giving a brief, honest explanation as to why the team wants to know more about them.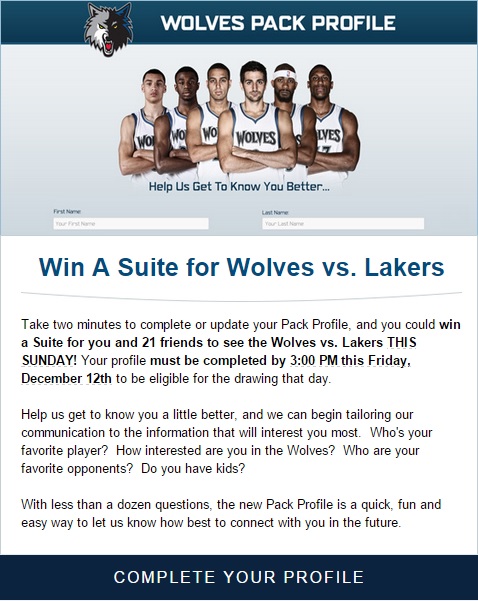 I imagine that when the Timberwolves segmented their database, I was included because as a generic newsletter subscriber, they don't know enough about me to try and qualify my as a prospect. So, they can either attempt to call through their entire database, which will take an incredible amount of staff and time, or they can try to learn more about these semi-anonymous fans and target them with the appropriate products and messaging. Fans are typically quite willing to share information about their fandom to the team, and when you combine that with a valuable incentive such as the chance for a free suite night, the data you get back can have a huge impact on your sales and marketing efficiency
The Timberwolves did a really nice job with this particular data collection effort, breaking the process down into seven simple steps, focusing on key data points that align with their sales, marketing and communications processes. For those interested, I'll walk you through each step of their process below with some of my thoughts. You can also click on the email image above to go through the process for yourself.
Step 1: The Basics – You always want to make sure you have the most accurate name, email address and phone number. Without this, you cannot connect with the fan or personalize the message in any way. Also, by splitting the process into steps, the entire process seems simpler for the user. If this was displayed as one large list, the fan might not even start, where as even if the fan stops after step 1, the team is already better off.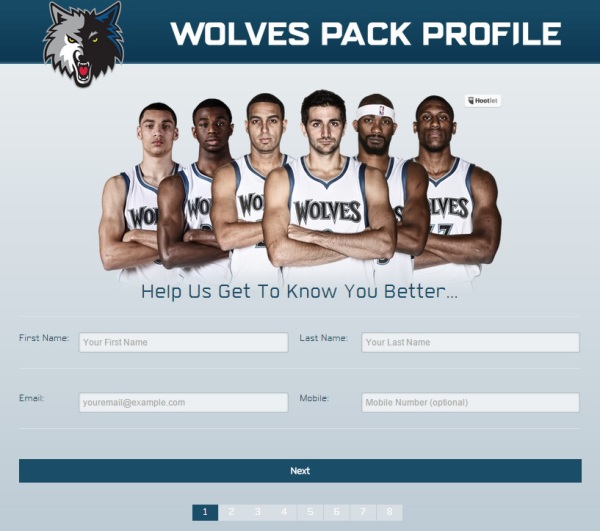 Step 2: Basic Demographics – Age, gender and relationship status are all data points that via simple regression or correlation can start pointing a prospect towards a likelihood to purchase calculation for various products. For example, I've seen general metrics where over 90% of season ticket buyers are male, but it can approach a 50/50 split for single game tickets. Additionally, having the date of birth gives the team an opportunity for a quality touchpoint every year. Finally, notice that birth year is not required ("It's a Secret…"). By splitting date of birth into three separate fields, you can get the date from everyone for your automated birthday message campaign, without pushing away fans that may not want to reveal their age. If this was a single date entry field, the fan would have to enter a year.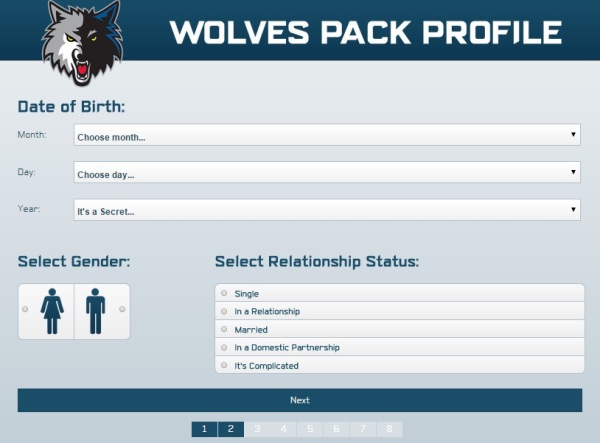 Step 3: Fan Type – Now we're starting to identify what type of buyer this fan represents but presenting it in a fun way that makes it easy for the fan to self-identify. This simple, one-click question can be used for targeting a wide range of future product offers.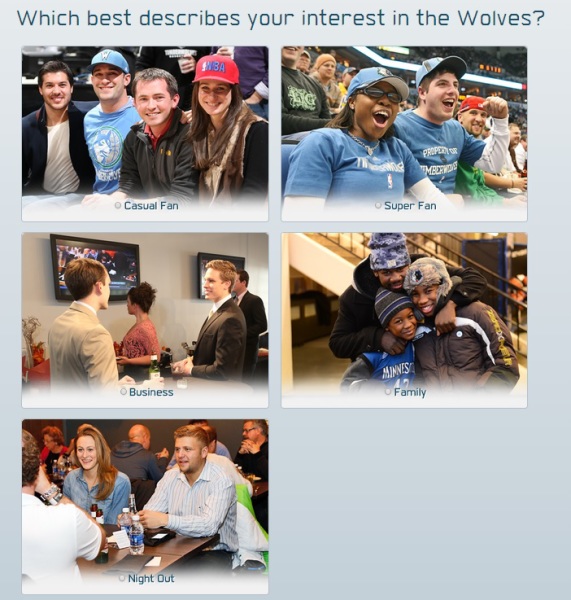 Step 4: Children – If the fan clicks no, they go right to step 5. If they click yes, they see the additional section where they can enter their kids' names, genders and birthdays. This section serves two purposes. Just having or not having children is often a significant variable when segmenting specific campaigns or building likelihood to purchase models for different products. Additionally, collecting the actual child information can help grow a team's kids club, which I've seen more emphasis on recently. As Scott O'Neil mentioned at the recent Ivy Sports Symposium, "research suggests the core time people become a fan is between 5 and 9 yrs old."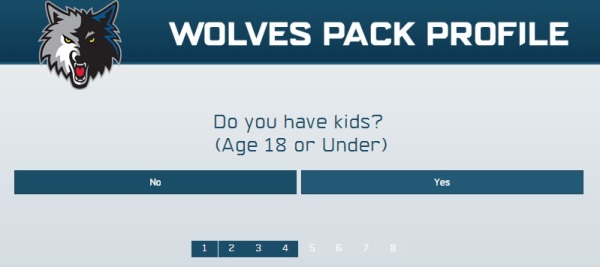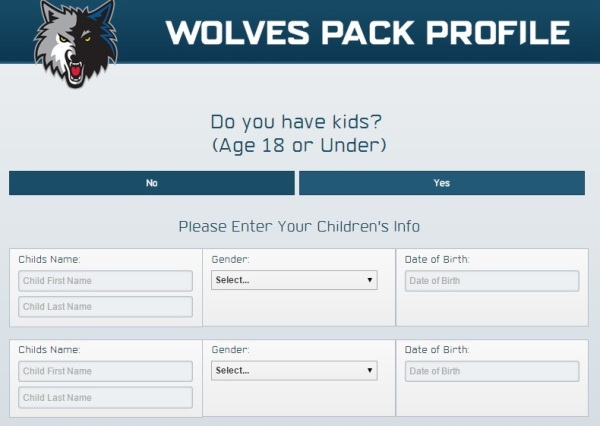 Step 5: Favorite Player – This question is all about creating more effective messages through personalization. Email campaigns can contain images featuring a favorite player. The team can have multiple players record voice messages and each fan receives the automated call from their favorite player. Merchandise offers and even ticket packates can be branded based on the favorite player (e.g Rubio's 9 Pack). This is another simple, one-click question that can have a large impact on fan engagement.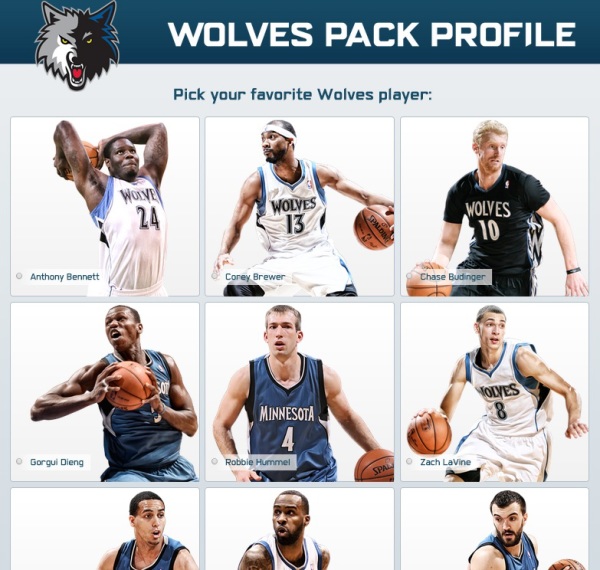 Step 6: Favorite Opponents – Besides the ability to target fans based on specific opponents, this question can also be used internally when created new mini-plan packages, identifying common trends that could lead to well-received ticket packages.
Step 7: Games Attended and Watched – Another simple but effective question that can tell the team a lot about the fan's viability as a ticket buyer (game attendance) and general avidity (television viewership). For example, if someone does not attend games but watches a lot, exclude them from your season ticket emails and focus on smaller opportunities.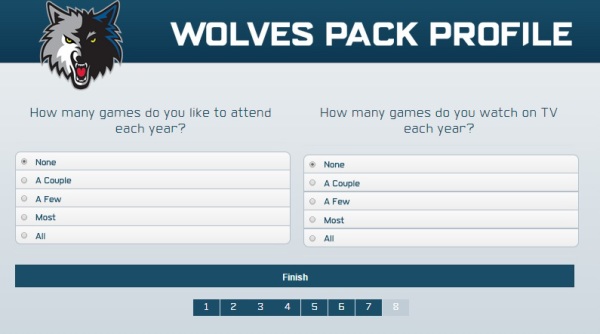 Confirmation Page – Always end with a thank you and an opportunity to continue engaging with the brand via the team website. Very nice job overall by the Timberwolves!