The Job Everyone Should Have At Least Once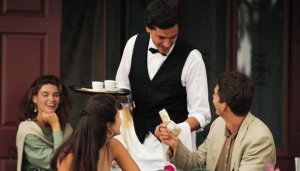 Today's post is courtesy of guest blogger Marc Riccio (originally published via LinkedIn)
I recently spoke to college students at a career symposium. "What do you look for on a resume when hiring people?" came the polite, but eager question from the back of the room.
"I look for people who have successfully spent time as a waiter or waitress!" was my quick and emphatic answer.
The room went quiet and the students looked at me a little bewildered — except the students who actually had waited tables. They understood. And that's exactly why I'd hire them.
People who are good at waiting tables have learned to:
1. Work Hard. Yes, that's right…you actually need to have a strong work ethic to be successful.
2. Manage Multiple Tasks at One Time. Nobody works just one table, and nobody works just one project on the job.
3. Sell. Have you ever been up-sold the special appetizer and not realized it? Aren't we all 'selling' something every day?
4. Communicate. Restaurant owner, manager, bartender, chef, line cook, busboy, fellow waiters sure looks a lot like business owner, manager, sales, marketing, operations, colleagues. To produce you need to effectively communicate across ALL of those functional areas.
5. Deal With Difficult Customers. Because the filet is never overcooked, the salad is never wilted, and we all have customers that are happy, every day, all the time. Not! But you better make it right or you won't get a decent tip and they won't be your customers for very long.
6. Work as a Team. Ever been 'In the Weeds'? If you've waited tables, you know exactly what this means – and you know trying to get out of it on your own might be too late. One person alone cannot make an entire restaurant successful – and one person alone cannot make a business come to life.
7. Manage Up. Everyone has a boss. Enough said.
8. Handle Money (aka Trust). Do not mess with other people's money – whether it's the customers, the owners, or your fellow wait staff's pooled tips.And lastly, it's about
9. Commercial Darwinism. Only the good survive – if you can't cut it you don't last.
Wouldn't you want to work with someone who had those traits?
Marc Riccio is President and CEO of LXL Sports and Lifestyle Entertainment and former senior executive at the New York Jets. Connect with LXL and Marc on LinkedIn and follow on Twitter @LXLexperience and @MarcRiccio21.