Infographic Friday: Red Sox Twitter Audience
It's time for another edition of Infographic Friday, and this one comes to us from StatSocial via MarketingLand.com (click here for their original post and analysis).
Now I have seen LOTS of infographics that essentially just list a bunch of teams and show how many Twitter followers and/or Facebook fans they have, which to me is not very interesting. This led to the following tweet from yesterday:
I love #sportsbiz infographics but can we PLEASE stop making the same "who has the most followers" charts over and over again? #smsports

— Russell Scibetti (@rscibetti) November 6, 2014
So this morning, when I was looking for content for a new infographic to publish, I almost overlooked this one because it looked like another generic list of audience size. However, in taking a closer look, the folks at StatSocial were using a proprietary measure called "Twitter Pull" to try and demonstrate not just the size of a team's audience but their actual influence and popularity compared to a league average. You can click here to view a larger PDF version of this infographic with additional statistics at StatSocial.com.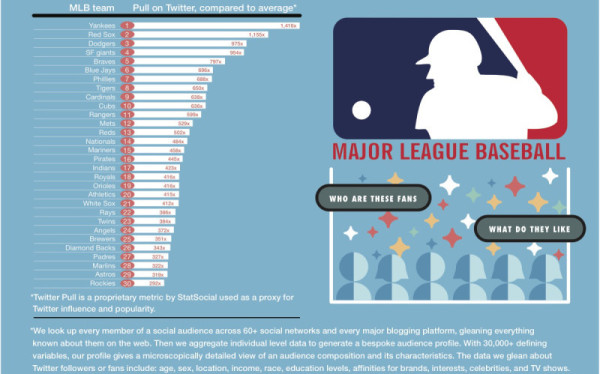 From there, they did a deeper dive specifically into the Boston Red Sox (@redsox) with some demographic breakdowns and other interesting consumer preferences around food, alcohol, celebrities, cars, newspapers and more.