Debating the Simmons vs. ESPN Controversy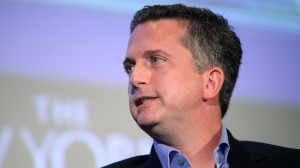 What happens when two friends who both work in sports business start talking about a controversial sports media topic? You get the dialogue below between myself and Brian Connolly, a former MBA classmate of mine and founder of Victus Advisors. Here is our take on ESPN's suspension of Bill Simmons.
Brian: First of all, let me preface this debate by saying that I've never been much of a "respect authority" and "toe the line" guy. There's a reason I started my own company! So that side of me always gets a kick out of a public figure challenging the powers that be.
Russell: I've always liked Simmons, but this wasn't challenging authority, this was flipping it off. He comes off way too full of himself, like a petulant child. What did he think would happen when he starts cursing and screaming about a media partner? It crossed the line from a media member stating an opinion to unprofessional behavior and crude accusations.
Brian: However poorly executed, I think his goal was to call out ESPN on their awkward/conflicted relationship with the NFL. He even said in his rant that suspending him for speaking the truth about Goodell would only make ESPN look even worse. And he might be right about that based on the online reaction so far from the general public and other media outlets.
Russell: Other sports media outlets are certainly trying to take advantage and make ESPN look worse by saying they suspended him because he called Goodell a liar, when I think they really suspended him for the manner in which he did it and how we challenged ESPN. He wasn't "speaking the truth" – he was ranting an opinion and openly criticizing his own company in a very public manner. In what company or business does that person NOT get suspended or even fired?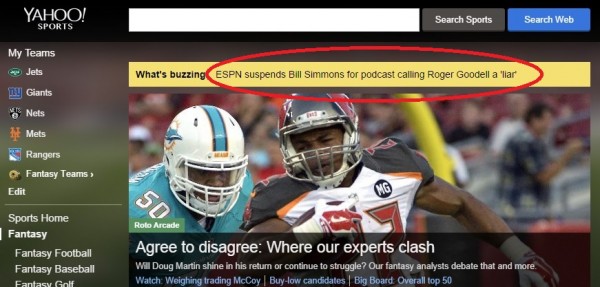 Brian:  But doesn't it seem like the vast majority of the general public thinks he was quite clearly speaking the truth about Goodell? Even ESPN's own "Outside the Lines" reported recently that four different sources told them that Rice gave Goodell a truthful account that he struck his fiancée, despite Goodell's repeated claims otherwise.
Russell: I just think there is a huge difference between sharing an opinion and "telling off" your boss and business partners in a public forum. He could have shared his opinion without getting suspended. It was the manner in which he did it that put him at fault.
Brian: I think he wanted to get suspended, though. He wanted a public debate over ESPN's conflict of interest when it comes to the NFL.  I think a lot of people are just getting more and more tired of the for-profit news model where there are clearly several corporate agendas that come before honest-to-god reporting and accountability. The disconnect between our media giants and public opinion/perception seems to be rapidly expanding.
Russell: It's great that he wants to voice out against conflicts of interest, but I'm sure he also wants ESPN to keep funding Grantland. If he wants "purity", he can quit and go do something on his own.
Brian: I do agree with you on that last point to a certain extent. Simmons certainly had the opportunity to start Grantland on his own, but he chose to take ESPN's guaranteed money and promotional platform. I'm sure he knew the trade-offs. It's almost like he needs to push the boundaries and get himself suspended every once in a while so he can tell himself he's not "selling out"!
Russell: Yep, he wants the ESPN financial engine. Not just for Grantland, but also for his "30 for 30" film series.
Brian: At least we can agree on that!