Fantex's Approach to Athletes as Investments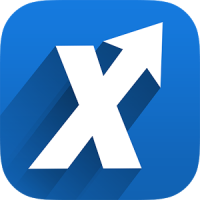 Today's post is courtesy of Tanner Simkins (@TannerSimkins) via our partnership with the Columbia University Graduate Program in Sports Management. 
One of the year's most intriguing sports business innovations has been Fantex and their investable security offerings linked to the performance of athlete-entertainer brands. Since their launch, Fantex has tremendously increased their awareness – albeit not yet top of mind to the average fan – but now more than a disruptive niche.  Their roster of athletes now includes San Francisco 49ers TE Vernon Davis (prospectus), Buffalo Bills QB EJ Manuel (prospectus), and more recent additions of Cincinnati Bengals WR Mohammed Sanu (prospectus) and Chicago Bears WR Alshon Jeffery (prospectus forthcoming).
"We think they are young, dynamic individuals and we think there is a lot of potential there, so it's exciting" Fantex CEO Buck French told me in our recent interview.
Currently, only Vernon Davis and EJ Manuel have completed their offerings and are trading on the Fantex platform.  Other assets like Sanu and Jeffery are in the IPO stage.  Quick note on how it works: the athletes benefit from an advance – a one lump sum payment for an agreed-upon percentage of their discounted future earnings on and off the field.  The offering then breaks down into tracking shares via an investable security traded on the Fantex platform. Fantex through investor activity and other measures raises the capital for the brand contract and Fantex then retains the balance. The investor benefits like in any traditional investment through positive return.
New additions
As Fantex grows, they are committed to working with a range of athletes – established stars and emerging players alike.  For example, Manuel, Sanu, and Jeffery, are only in their 2nd, 3rd and 3rd seasons respectively. "We think individual [investors] will want to support the brands of different players at different stages in their careers and [our platform] gives them the opportunity to do so." So in the sense of the normal stock market, "Davis is more of a GE, predictable, sustainable" said French.  Continuing with real stock comparisons – Sanu and Jeffery are growth stocks, which means higher risk, higher reward. "That's why we find this fascinating from a brand perspective…it's going to be great to watch how it all develops" added French.
Considering their total brand, the newest additions may not yet be household names, but that's potentially valuable as Fantex expands their roster – there now is a security for you regardless of risk profile.  French reminds us that when "someone does become a household name, from an investing perspective, the return profile has changed. It all depends on how people build out a portfolio. Our goal is to work with guys who have potential and because they're at different stages of their growth curve from a brand perspective, we can acquire that future cash flow stream at different rates than we otherwise could have."
For example, the weighted average discount rate on Sanu is higher than both Vernon Davis and EJ Manuel. The higher the risk profile, the higher the discount rate. Potential investors should look at it like, "Ok yeah, he is less known, more risk, but more potential upside," said French. They go hand in hand.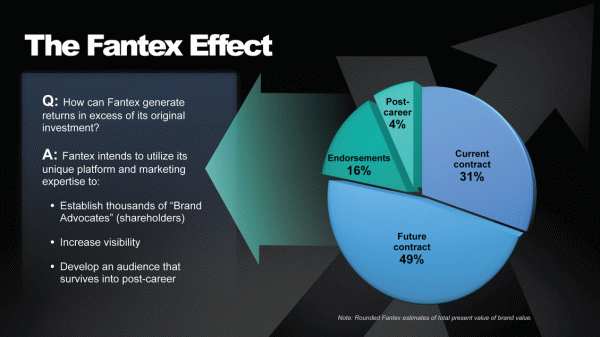 The brand building company
The key is the off field branding. Fantex is interested in long term propositions with athletes that have potential for a sustainable brand. "We aren't looking for someone who is just a great football player or potentially a great football player. That obviously creates more awareness. But really, we're looking for that unique individual that we believe we can build a sustainable brand around." The effort to generate continued brand income is extended long into the Fantex athlete's post playing career.  Their goal is to look for individuals beleived to have untapped potential and then help them realize it. "That's really our business. That's how we've ended up with people like Vernon Davis, EJ Manuel, Mohamed Sanu, and we'll continue to look for others. "
The business model is designed to increase the branding associated with athlete entertainers. "Ultimately everyone's interests are aligned" French told me. "If we can generate awareness and interest with the brand then the brand can activate on that awareness. This turns into income, which then flows into Fantex. This is all positive for everyone."
Athlete selection
Fantex does thorough due diligence prior to selecting an athlete to bring aboard. The vetting process begins with their business development team that narrows down the sport, then both cursory and background checks are conducted on a short list of target athletes. Everything from interview skills to digital presence is taken into account. "We then look at them as a player: their success, their injury history, and all those type of things. Then we have a committee that is made up of different functional areas of the business chime in. We have our General Counsel, our CFO, our quantitative team, and we have our sports specific domain experts in on it. We review the target athlete entertainers and decide whether this is someone we would be interested in moving forward with" added French.
Then the negotiation process takes place – this is where Fantex pays the athlete a lump some to own a percentage of their future earnings. After an agreement is made "we then go and work with them. It's actually very healthy for us because that becomes the next phase of getting to know the individual at a deeper level. So as opposed to what we read and ascertained, we now can understand who they are and who their team is. That's an important component."
Competitor set
There is a significant barrier to entry given with respect to gaining the SEC's support like Fantex has.  But the space is continuing to blend with fantasy sports, real-time fan engagement, and other creative ways to activate around instant information – so although a direct competitor doesn't exist it goes without saying that loose alternatives even as a marketplace compliment will inevitably appear.  "You don't have a market unless you have competitors. I never worry about that. How you beat competition is executing properly." French said. "We have a great team here and as we continue to build out and create our deeper relationships both in the sports industry, to an investor base, to financial services industry, I imagine someone will attempt to do it."