The Green Sound of Racing: Formula E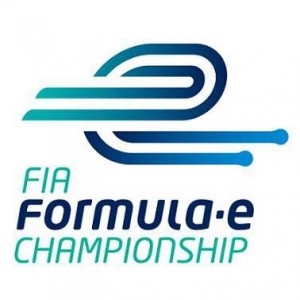 Today's post is courtesy of guest blogger Karan Popli.
In the wee hours of September 13, 2014, while most were nursing their hangover or busy letting their hair down, Formula E, a new motorsports property successfully launched its first race in Beijing. For most Americans racing is all about NASCAR or IndyCar, maybe a bit of NHRA and Drift racing, however globally Formula One is considered the NFL of motorsports. This new racing series is not trying to compete with Formula One, however it wants to create a niche of its own. A few things that make this series extremely unique include:
The races take place in the heart of the City
They use electric vehicles to race
The entire race weekend has been shortened into a race day
During a race each driver changes cars during a pit stop as the batteries of the car aren't powerful enough to last the entire distance.
Starting a new racing series is an extremely tough ask, but Alejandro Agag and his business partners have been extremely successful in inspiring automobile companies and getting sponsors onboard for this new series. The organizers have partnered with the likes of Renault, Mclaren and Williams F1 to help develop the car which will be used by all teams in the initial two seasons. It has the backing of BMW as a safety car sponsor, Audi and Mahindra as participating teams, and Drayson racing as a technical partner. Some of the names might seem unfamiliar but these are global brands that are considered pioneers in the electric vehicle space. Each participating team is expected to partner with an OEM to develop their own electric vehicle in the future, so it seems logical to have partners on board first and later ask them to use existing technology to build their own car from scratch than have them invest money before the first race.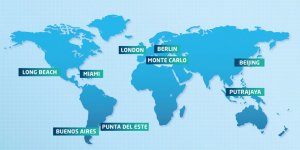 Formula E is scheduled to travel to ten different cities, including races in Miami and Los Angeles. The racing series follows a cluster pattern starting from Far East in September moving to South America then North America and finally ending in Europe. This format allows its sponsor DHL to keep Formula E cars at nearby hubs within each continent until race day  thereby reducing the burden for teams on the logistics front and the carbon footprint left behind. Having DHL choose the calendar in this fashion is a PR ploy backed with the simple idea of reducing costs. What's interesting to note is that while most race series organizers charge track owners a hosting fee, Formula E isn't charging the city any such hosting fee for most cities instead they are asking for access to the most iconic landmarks in each city along with unprecedented access to these locations for a week prior to each race thus ensuring that the track can be setup and broken down after raceday. In return Formula E promises that there will be over 250 temporary jobs that will be created and a total average spend of $10 million by visitors at each race event.
Each automobile manufacturer has been provided tax breaks for investing in a factory to develop electric vehicles industry in the UK and all team offices have their headquarters at Donington Park, thereby reducing operational costs. Each race team consists of two drivers and it is estimated that each driver needs to bring roughly £3-£4 million in sponsorship funds to be a part of the series. As the driver market is so huge, the organizers of Formula E had created a pool of over forty drivers that were already interested in being a part of the series and teams had the option of selecting a driver who wasn't a part of the pool but had to be approved by the organizers. The driver line up for the series includes of a good mix of former Formula One, IndyCar and touring car race drivers, while another differentiating factor for this series is that its driver lineup consists of two female drivers.
The racing series will be used as a platform by Qualcomm to promote its Halo technology which allows for wireless electric vehicle charging. Selling sponsorship for a series like this has been one of the biggest hurdles for teams so far as they don't have access to any past data that they can rely on and most sponsorship deals have been through personal relationships or through personal sponsors of the drivers racing for each team. To make it easier for teams to pitch to brands for sponsorship deals, the organizers Formula E Holdings partnered with Formula Money to provide all the brand exposure data that can be used by teams.
The organizers wish to focus their energies towards the millennials who are more conscious about the environment and hyper connected. Keeping this in mind, the tickets for each race venue are moderately priced. There will be a concert at each race venue to engage with fans on raceday, which one can hear during the live broadcast on TV. One might assume it to be extremely irritating, however due to moderate use and low volume it's not that annoying or at least it didn't seem to be. The organizers hope that while someone might not be a fan of motorsports or cars, it could entice millennials to the concert and thereby expose them to Formula E. To further engage with hyper connected millennials, the organizers have created a Fanboost feature where fans can vote for their favorite driver and the driver with maximum votes on each raceday gets a temporary boost allowing the car to go faster. The Fanboost feature is another gimmick and there seemed to be no mention of anyone using Fanboost at the first race, to ensure that there are no gaps in this system the organizers have hired PriceWaterhouse Coopers as its independent consultant to monitor all activity related to Fanboost.
On the digital front, Formula E Holdings has created an application where fans can watch videos and catch up on all the latest happenings on social media or any news related to the series. It is expected in the future that a separate option to cast your vote for Fanboost will be included as the series progresses. A feature similar to Fanvision that allows fans to watch only a particular driver or listen to the driver's radio feed will be added as well.
To build buzz about the series, the organizers of Formula E have been making announcements every one to two weeks since September 2013 or attending important trade shows to pitch the idea, but they haven't been able to win the hearts of purists in the world of motorsports.  The organizers have time and again gone on record to mention that this series isn't for purists but a new breed of motorsports fans, however the negative press received based on comments from key figures in the world of motorsports has somewhat overshadowed the PR efforts of the organizers.
The organizers have taken notes from every major sports league across the globe to ensure that Formula E is an attractive product on paper and have tried to position it as a pioneer in technology and a green racing series. According to FIA, over forty million viewers saw the first race live on television and over 75000 fans attended the first race in Beijing. However time will tell how successful their marketing strategy is, rest be assured that in the next few years your Nissan Leaf or Mahindra GenZe will be capable of going as fast as any other vehicle and last more than seven hours without being required to charge.
Karan Popli (@KP031) recently graduated from San Diego State University and his looking for his next opportunity in the sports industry. He has over three years of experience in international markets and his interests lie in marketing and digital media.  You can reach him on LinkedIn.