#SBNight New York Networking Event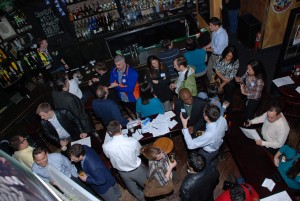 I'm excited to announce that we've scheduled our #SBNight New York – Fall 2014 Sports Business Networking Event!
What: Casual networking with your industry peers
When: Tuesday, September 16 from 6:30 to 9:30PM
Where: The Liberty NYC (29 West 35th St.)
Why: Because we can all benefit from growing our professional networks!
Come out and network with other sports business professionals that work or live in the New York area. All backgrounds are welcome, from those just starting out to industry veterans. Our New York events are always the biggest, with up to 150+ attendees. Remember, there is one "rule" for these events – no resumes. This event is all about networking and making valuable connections, so bring plenty of business cards and good conversation, but please, no resumes.
Tickets are $5 per person, with 100% of this money going to the NYC Chapter of Team in Training, raising money for the Leukemia & Lymphoma Society. We do NOT make any profit from these events, but it is an opportunity for all of us to contribute to a great cause while growing our professional network, so everybody wins!
Special thanks to Joshua Duboff from The Sports Business Exchange for all of his help in organizing and promoting our New York events. None of this would be possible without his help.
Editor's Note: Just in case there is any confusion, we have decided to use "#SBNight" to designate any individual city networking events that are held throughout the year. We will still host "#SBWeek" once per year, most likely in late February or early March, where all the cities will host events during the same week.