A Conversation with Michele Campbell, Executive Director of the LeBron James Family Foundation
Here is another installment from our partnership with the Columbia University Graduate Program in Sports Management. You can follow them on Twitter at @CUSportsBiz. Today's post comes from their Full Court Press interview series with leaders in sports business.
**********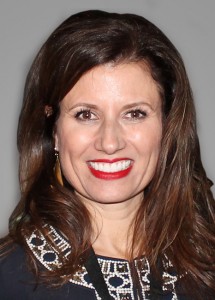 With LeBron's return to Cleveland we wanted learn more about his community work with his Akron based foundation and other initiatives. Michele Campbell is the Executive Director of The LeBron James Family Foundation.  The organization helps at-risk youths progress from third grade to successful high school graduation. With LeBron's vision in tact, Campbell has infused long-term commitment into the operation of The Foundation's programs to combat low graduation rates in Akron, Ohio.  Concurrently, Campbell serves a Chief Operating Officer for LRMR Management Company, also run by LeBron.  We sat down with Campbell, LeBron's right hand woman, for a discussion on The LeBron James Family Foundation, the positive impact in the community, and more. (A detailed biography of Michele Campbell is provided after the Q&A)
Full Court Press: For those who may be unfamiliar tell us a little about yourself and The LeBron James Family Foundation [LJFF].
Michele Campbell: I am Executive Director of the Foundation. My day-to-day role, well I get to exercise LeBron's vision for him. He is pretty busy with his day job. [laughs] He has a vision and I get to put it into action.
FCP: Tell us about Wheels For Education? What about I Promise?
MC: Prior to Wheels for Education, LeBron held an event called the Bikathon in Akron. Here we had churches, schools, and other groups get together for a community bike ride.  We had carnival like activities; we gave away bikes and helmets, and more. But after the event, we never heard from the kids or families again.  We never heard how they were or what they were doing. LeBron then decided to no longer be involved with what we now call one-and-done, or these single types of events.  Instead, we wanted to do something that really made a difference, particularly a long-term difference.
There was a lot of research on what LeBron could do. We held meetings with the city and other groups.  But after one meeting with Akron Public School System, [where LeBron went], we learned that high school dropout rate was 24%. This was definitely not where we wanted it to be.  To LeBron education is very important so we decided to take this problem and turn it into a program. This program had to have a long-term commitment for the children, to help them graduate, to see them through graduation, and help them through the ups and downs [of adolescence]. Between 2nd and 3rd grades, children are identified by Akron Public Schools as potentially at risk, and then they are invited to our program.  The only requirement is for the students to attend a two-week camp prior to the school year. LeBron established this as well. They must attend 8 out of the 10 camp days.  Here we teach [intervention tactics, technological skills, and more] so they feel equal or closer to their peers that may have a little more opportunity.
Once they complete camp, they are with Wheels for Education program. [Unlike a one-and-done] We closely follow the students' progress and have a family reunion every year.  Its cool for the students to be a Wheels For Education Kid in elementary school but not for the 7th and 8th graders. As interests change at this age, we move them into the I Promise network.  Our initiatives here are designed for these older students.
The first question you asked about me, I answered very short, but when you get me talking about the program, I can talk all day.  I really love the work we are doing.
FCP: What is your most positive memory with The LeBron James Family Foundation?
MC: I also serve as COO for the business side of the house [LRMR] I do a lot of budgets, insurance, and legal work. So I see both sides.  The work I do with The Foundation is very rewarding. The letters I get, the calls I receive; they are all wonderful memories.  We invite parents and children to our advisory board meetings.  In a recent meeting we had a mother tell us that prior to our program her daughter couldn't read and she didn't want to go to school.  The mother was crying and said that now the daughter gets straight O's [grade for 'outstanding]. The help that she got from the program– and there are a million other stories. That's the best part of my work with The LeBron Family Foundation.
FCP: What is one challenge you had to overcome in your current role?  What have you learned from that?
MC: LeBron is popular and well-known world wide, naturally people hear about the program.  I am contacted all the time by people asking to bring the program to Seattle, Detroit, Chicago, etc. The program works because of the authenticity and connection LeBron and our Foundation shares with the community of Akron.  What I tell them is if you have someone in your community who is an influencer like LeBron is in Akron; then we can help tailor fit a program around that.  But, our exact model can't be picked up and used in any city; we work very hard to be authentic to the community. We aren't trying to spread this foundation to 20 different locations. I always try and explain that.
Also, it is challenging for a growing program to attract sponsors. Many potential sponsors aren't interested in Akron, Ohio. It's a challenge when we have the high goals that we do to only lean on LeBron and fundraising to fuel everything.  We simply need more funds to activate our goals [scholarships, etc]
What I learned is that if you stay genuine and authentic to LeBron, his vision, and what we have done; then people truly connect. LeBron has made a promise to these kids.  He wears his I Promise band everyday. People ask what its for, they make their own promise, and the mFCPion is spread from there. These are sold for 1$ and these funds do help dramatically.
FCP: Following the class until graduation, the open updates from LeBron to the kids, or any of the other unique approaches LJFF has taken — How did these ideas originate?
MC: LeBron's ultimate goal was to promote education.  This was important. Especially after identifying very low graduation rates.  He wanted to fix that.  We have three different advisory boards of experts [education, youths, other]. We rely on them to say what specific efforts will help.  LeBron created the vision and the drive.  His personality is highly evident as well.
FCP: Is there a negative development or trend with youths that you find most alarming?  Do you have a potential solution?
MC: For us, it is key to understand individual circumstances.  One of the things I've honed in on is the perspective of a parent. For the single parent, with two jobs and three kids, it is a challenge to be at everything at once. Parents and caregivers like this take the brunt of it.  [With our events] I always think about time of day and small things like that with the parent in mind to help alleviate the struggle.
FCP: Shifting gears a bit, what is your favorite book?
MC: Little Women. When I was young I wouldn't really read in my free time, and if I did I wouldn't have chose this one.  Having said that, it was the first book that I can remember thoroughly. I enjoyed reading and talking about it with my mom. The special memories attached to this always stuck out.
Right now, I am reading The Story of Greater Akron. It is really thrilling if you're not from Akron, Ohio. It helps me learn more about the city and its intricacies.  I look forward to using this to help influence our program.
FCP: Lastly, do you have advice or tips for young people? This could be in general or in the philanthropy space
MC: Make good decisions and get help.  It's all about working hard without giving into outside pressures. In a nutshell, that's my best advice.
**********
Michele Campbell has spent many years pursuing her passion in the education sector. The Akron native attained her education from Ohio institutions including a Bachelor's degree in Business Management from Ashland University, a Master's degree from Kent State University's Higher Education Administration, and a Doctorate from the University of Akron as a Doctor of Education. Following her own educational achievements, Campbell went to work at the University of Akron to help others pursue theirs. Beginning in 1993, Campbell served on several posts at the University including Coordinator of Greek Affairs, Associate Director of the Student Union, Interim Director of the Student Union, and finishing her service as the Assistant Dean for Student Life.
In 2006, Campbell set her educational sights on a new vision as the Chief Operating Officer of LRMR Management Company and the Executive Director of the LeBron James Family Foundation. Through the Foundation, which aims to positive affect the lives of children and young adults through education and co-curricular educational initiatives, Campbell brings LeBron's vision to create positive and lasting change in his hometown of Akron to life through real, executable initiatives. Under Campbell's direction, in 2011 the LeBron James Family Foundation began working on the high school dropout crisis facing the Akron community and launched its "Wheels for Education" program in partnership with the Akron Public Schools. This groundbreaking initiative targets third graders and provides them with the programs, support and mentors they need for success in school, following them all the way through graduation. Now in year three of the program, Campbell's guidance has helped grow this thoughtful, research-based, and powerful program to more than 700 students, and will continue to expand as it takes on a new class of third graders each year. Capitalizing on the positive influence of LeBron and executing with the help of Akron community and educational leaders, the Foundation has successfully engaged and encouraged students to create positive change in their lives. With Campbell at the helm, the Foundation has taken this initiative nationwide to reach others passionate about personal and social responsibility through the I PROMISE network.
Special thanks to Tanner Simkins for conducting the interview. Follow him at @TannerSimkins  for sports business insights and analysis.